Duncan Aviation Develops ACA Ionizer Installation Packages for Challenger Aircraft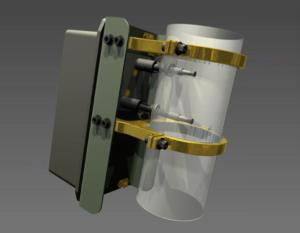 LINCOLN, NEB — As the pandemic continues unabated, Duncan Aviation is doing its part to keep aviation enthusiasts safe in their aircraft. Duncan Aviation's Engineering & Certification Services and Parts Manufacturer Approval (PMA) departments created an installation package for the Aviation Clean Air (ACA) ionization system for Challenger 300 and 350 aircraft. The packages include everything necessary for installing the ACA Ionizer system, including the Supplemental Type Certificate (STC), the ionizers, and PMA parts kits.
"Although our facility in Lincoln, Nebraska, has been modifying the air ducts for the installation, any of Duncan Aviation's three main facilities (Battle Creek, Michigan, Provo, Utah, and Lincoln) or many of the company's 27 Satellite Shops, are able to perform the necessary modifications prior to installing the ACA Ionizer system," said Manager of Avionics Install & Avionics Line Pat Mapes. "When we say the kit includes everything, we mean every screw, nut, bolt, and switch necessary for the installation."
The teams have also created ACA Ionization installation packages for the Global models. Kits are currently available for those aircraft and can also be installed at any of the three main Duncan Aviation facilities or Satellite Shops. Additional STCs and PMA kits are in work for the Falcon 2000 and 7X models and should be available in the coming months.
"There's been great interest in the industry for the ACA system," said Mapes. "Our sales teams are fielding calls from customers who are interested in other makes and models of aircraft, too. This system is designed to neutralize harmful pathogens, including those that cause COVID-19, so if customers want peace of mind as they fly, this is the system for them."
Designed to be installed in an aircraft's existing environmental control system, the ACA ionizers operate in the aircraft's ductwork. The ionized hydrogen molecules neutralize pathogens and remove allergens and unpleasant odors, including those from pets, cigarette and cigar smoke, engine exhaust, cooking, lavatories, and VOCs (volatile organic compounds).
In May 2020, testing conducted by independent lab Innovative BioAnalysis found the ACA ionizer effective at rendering harmless the novel coronavirus that causes COVID-19. The lab test showed that 99.4% of the virus particles were inactivated within 30 minutes. The system has been tested and proven to kill the coronavirus that caused SARS (Severe Acute Respiratory Syndrome), as well.
As we add cold and flu season into the mix of the global pandemic, it's good to know that the ACA Ionizer also deactivates other viral, bacterial, and fungal pathogens, such as those that cause the common cold, flu (swine, avian, etc.), MRSA (methicillin-resistant Staphylococcus aureus), C. diff (clostridium difficile), E. coli (Escherichia coli), pneumonia, polio, and mold.
For more information on the installation packages or to schedule a time to install the ACA system at one of Duncan Aviation's three main facilities or at any of the company's 27 Satellite Shops or workaway stations around the country (https://www.duncanaviation.aero/locations/#satellites), contact Regional Avionics Sales Manager Michael Kussatz at +1 531.207.3951 or email Michael.Kussatz@DuncanAviation.com.
For more information on the ACA air purification system, watch the Duncan Aviation Straight Talk webinar, "Sorting Through The Facts Of COVID-19 & Ionization Systems," featuring epidemiologist Dr. Rachel Sippy (https://www.duncanaviation.aero/resources/straight-talk/sorting-through-the-facts-of-covid-19-and-ionization-systems).
About Duncan Aviation
Duncan Aviation is an aircraft service provider supporting the aviation needs of business aircraft operators, government agencies, and other aircraft service providers. Services include major and minor airframe inspections, engine maintenance, major retrofits for cabin and cockpit avionics systems, full paint and interior services, engineering and certification services, fabrication and manufacturing services, and preowned aircraft sales and acquisitions. Duncan Aviation also has international aircraft components solutions experts available 24/7/365 at +1 402.475.4125 who can handle any aircraft system problem with immediate exchanges, rotables, loaners or avionics/instrument/accessory repairs and overhauls. Complete service facilities are located in Battle Creek, Michigan; Lincoln, Nebraska; and Provo, Utah. We also have dozens of other facilities strategically located throughout the United States to provide customers with scheduled regional support and the quickest response possible to avionics, engine and airframe Aircraft On Ground (AOG) situations.
For more information about any of Duncan Aviation's services, call +1 402.475.2611 or visit https://www.DuncanAviation.aero/services