Duncan Aviation Develops AML STC for Flight Data Recorder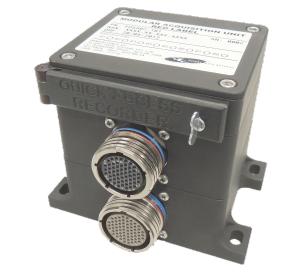 LINCOLN, NEB. — Duncan Aviation is pleased to announce it is developing a Supplemental Type Certificate (STC) for Flight Data Recorders (FDRs) for numerous Hawker aircraft models. The STC will be the basis for an Approved Model List (AML) that will initially provide a certification path for Hawker owner/operators worldwide who need to install an FDR in order to operate in Mexican airspace or in airspace worldwide where FDRs are required, to meet the requirements of their Safety Management Systems (SMS) and/or to meet other industry standards.
The new STC is for Collins Aerospace Pro Line 21-equipped Hawker models 750, 800XP, 850XP, and 900XP. The STC is for the installation of an AeroCorder 100 FDR from BendixKing and a Modular Acquisition Unit (MAU) and Quick Access Recorder (QAR) from Flight Data Systems.
The AML STC will meet the mandate established in 2020 by the Mexican Agencia Federal Aviacion Civil (AFAC) regarding the performance and functionality of Flight Data Recorders on aircraft flying in Mexican airspace. After gaining approval from the FAA and the AFAC, Duncan Aviation will seek approval for its STC from the European Union Aviation Safety Agency (EASA) and Brazil's National Civil Aviation Agency (ANAC).
The Duncan Aviation Satellite Shop in Houston, Texas, is installing the equipment for a Hawker 900XP customer who routinely flies in Mexican airspace.
"We want to be able to help those Hawker owner/operators worldwide whose aircraft are not equipped with FDRs or whose FDRs are obsolete," says Manager of the Houston Satellite Shop Mark Winter. "Although the mandate went into effect in 2020, we're just now seeing rules of engagement, and our STC addresses all of the issues. The Hawker series aircraft will be the first model to be added to this AML STC."
Supporting a range of signal inputs, including digital, analog, and discrete, Flight Data Systems' MAU allows multiple aircraft sensor feeds to be harmonized into one, which will be received by the BendixKing AeroCorder 100. Customizable and expandable, Flight Data Systems' MAU can be installed in a variety of aircraft and can record additional parameters.
"Our customizable MAU offers a cost-effective means to fully conform to international regulations," said Flight Data Systems Business Development Executive Scott Hall. "We are excited to work alongside Duncan Aviation to implement this solution onboard the Hawker, and, in time, to as many aircraft that require this solution."
For more information, visit the Duncan Aviation at booth #2401 during this year's NBAA convention from October 12-14, in Las Vegas, Nevada, or watch for announcements at www.DuncanAviation.aero/news.
About Flight Data Systems
Flight Data Systems, founded in 1990 and based in Irving, Texas, seeks to drive operational efficiencies in aviation using their portfolio of data acquisition, data recording, data storage, and data analysis tools. Flight Data Systems aims to become one of the world's leading providers of end-to-end flight data solutions within the aviation segment. For more information, visit www.flightdata.aero.
About Duncan Aviation
Duncan Aviation is an aircraft service provider supporting the aviation needs of business aircraft operators, government agencies, and other aircraft service providers. Services include major and minor airframe inspections, engine maintenance, major retrofits for cabin and cockpit avionics systems, full paint and interior services, engineering and certification services, fabrication and manufacturing services, and preowned aircraft sales and acquisitions. Duncan Aviation also has international aircraft components solutions experts available 24/7/365 at +1 402.475.4125 who can handle any aircraft system problem with immediate exchanges, rotables, loaners or avionics/instrument/accessory repairs and overhauls. Complete service facilities are located in Battle Creek, Michigan; Lincoln, Nebraska; and Provo, Utah. We also have dozens of other facilities strategically located throughout the United States to provide customers with scheduled regional support and the quickest response possible to avionics, engine and airframe Aircraft On Ground (AOG) situations.
For more information about any of Duncan Aviation's services, call +1 402.475.2611 or visit https://www.DuncanAviation.aero/services