Duncan Aviation Develops STCs For Gogo AVANCE L5 System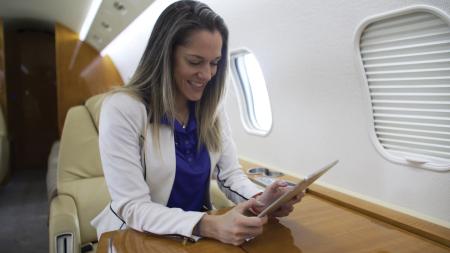 LINCOLN, NEB — Duncan Aviation is pleased to announce that its Engineering and Certification Department has developed six Supplemental Type Certificates (STCs) for the Gogo AVANCE L5 system. The STCs cover the Wi-Fi certification and full equipment and antenna installation required to provide in-flight connectivity for the following makes/models:
Challenger 601-3A, 601-3R, 604, 605, and 650
Challenger 300 and 350
Global Express, XRS, 5000, and 6000
Gulfstream G-IV, G300, G400, GIV-X, G350, and G450
Falcon 900, 900C, and 900EX (EASy, LX, DX)
Falcon 2000 and 2000EX (EASy, DX, LX, LXS, S)
Duncan Aviation has installed the Gogo Biz 4G AVANCE L5 system in more than 50 aircraft and has contributed to more than 65 additional installations with the use of its STCs. In addition to installations at the three full-service facilities in Battle Creek, Michigan; Lincoln, Nebraska; and Provo, Utah; the techs at many of the Satellite Avionics Shops in Duncan Aviation's extensive Satellite Avionics network have also performed installations.
"Connectivity has and will continue to be a large part of business aviation," says Duncan Aviation Manager of Completions/Modifications Service Sales Nate Klenke. "Duncan Aviation will continue to partner with innovators such as Gogo Business Aviation to develop paths for integration of inflight connectivity into the business jet fleet."
All of Duncan Aviation's Gogo AVANCE L5 STCs have been developed with advancements in technology in mind. Installing the AVANCE L5 equipment and Wi-Fi using one of the Duncan Aviation STCs will provide customers with a roadmap for future upgrades.
The desire for inflight connectivity and the need for more bandwidth is only going to continue to increase," said David Salvador, Vice President of Aftermarket Sales for Gogo Business Aviation. "We sincerely appreciate the long-standing partnership we have with the Duncan Aviation team and the organization's investments to provide quality installations on the latest Gogo inflight connectivity and entertainment (IFEC) solutions for our mutual customers' aircraft."
The Gogo AVANCE L5 system connects to the Gogo Biz 4G network, delivering faster speeds and enhanced network capacity and enabling activities such as live-streaming video and audio, video conferencing, on-demand movies, personal smartphone use, real-time data for cockpit apps, and remote diagnostics and support while in flight.
For more information about the Gogo AVANCE L5 or any avionics equipment, visit with Nick Huskey, Tim Kelly, Dennis Kruse, Justin Vena, or any of the Duncan Aviation team members at booth #3896 during this year's NBAA convention. The avionics reps will join numerous other Duncan Aviation representatives at NBAA from October 16-18 at the Orange County Convention Center at the Orlando Executive Airport in Orlando, Florida. Watch for announcements at www.DuncanAviation.aero/nbaa.
About Duncan Aviation
Duncan Aviation is an aircraft service provider supporting the aviation needs of business aircraft operators, government agencies, and other aircraft service providers. Services include major and minor airframe inspections, engine maintenance, major retrofits for cabin and cockpit avionics systems, full paint and interior services, engineering and certification services, fabrication and manufacturing services, and preowned aircraft sales and acquisitions. Duncan Aviation also has international aircraft components solutions experts available 24/7/365 at +1 402.475.4125 who can handle any aircraft system problem with immediate exchanges, rotables, loaners or avionics/instrument/accessory repairs and overhauls. Complete service facilities are located in Battle Creek, Michigan; Lincoln, Nebraska; and Provo, Utah. We also have dozens of other facilities strategically located throughout the United States to provide customers with scheduled regional support and the quickest response possible to avionics, engine and airframe Aircraft On Ground (AOG) situations.
For more information about any of Duncan Aviation's services, call +1 402.475.2611 or visit https://www.DuncanAviation.aero/services