Duncan Aviation Dramatically Modifies Hawker 800XP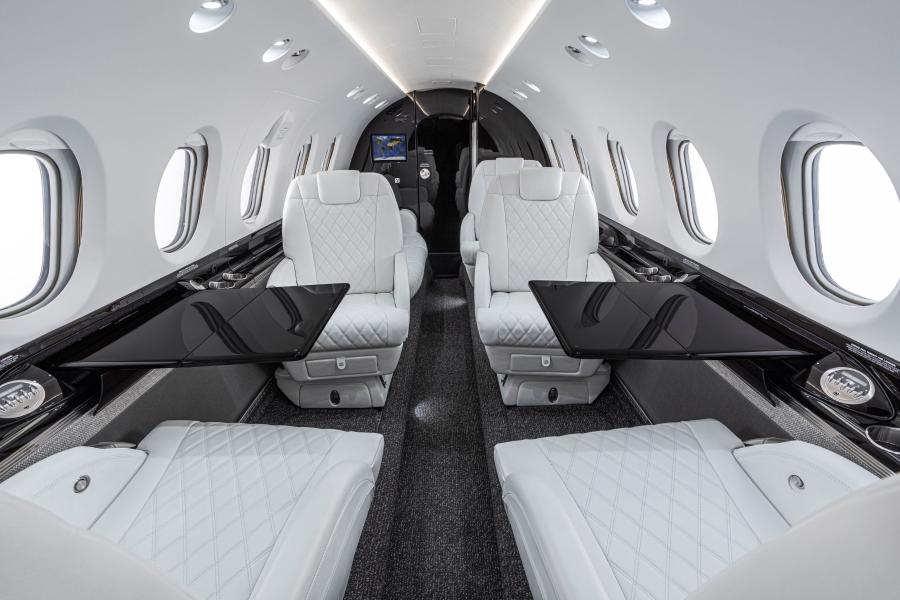 LINCOLN, NEB. — Duncan Aviation is excited to showcase this Hawker 800XP that is unrecognizable after a complete refurbishment by the team of experts at Duncan Aviation's full-service facility in Battle Creek, Michigan. The aircraft left the Duncan Aviation facility having received engine inspections, airframe maintenance, winglets, Gogo AVANCE L5, a stand-by instrument replacement, and a stunning paint and interior overhaul.
The owner wanted a clean, sleek, and modern interior, so Duncan Aviation Project Manager Carie Bruss, who was a Lead Designer at the time, gave the aircraft a "showroom" look by including white upholstery, dark woodwork paired with white-gold accents, and LED lighting.
Bruss was presented a photo of an interior color palette and seat design that the owner was drawn to from a different airframe. She took that inspiration and put her own spin on it by creating a diamond pattern design and modified the pulls and stitching so that it was tailored more towards the owner's particular seat frame and achieved what he was after.
There was a veneer trim piece on the lower sidewalls that the owner wanted the Duncan Aviation team to remove and replace with a plated trim piece. The Duncan Aviation technicians milled grooves into an aluminum strip to achieve an updated look, perfectly complementing the owner's vision.
While the cabinetry may appear black at first glance, it is actually a very dark chocolate-brown. The sunlight reveals the warm undertones of the veneer, preventing the interior from feeling too cold. The aft lav countertop received Duncan Aviation's hydrographic finish treatment with a white marble pattern, and Prizm color-changing LED lighting was also installed.
The owner knew he wanted the exterior to complement the interior, and already had an idea of what he wanted for a paint scheme. He came to the Duncan Aviation Design team for guidance on the final greys to use for the stripes and wanted to ensure the exterior would flow with the interior. The scheme they landed on was a white fuselage with a dark gray tail and horizontal stab. Flowing grey stripes on the fuselage and tail help visually lengthen the aircraft and tie in the interior color palette.
"This Hawker has by far one of the most stunning interior and exterior color palettes," says Bruss.
Jack Bauder, who was a Lead Designer at the time and assisted with this project, says when the aircraft delivered it was completely unrecognizable compared to its condition at input.
"If I hadn't been a part of the project, I wouldn't have believed it's the same aircraft," says Bauder. "The transformation was that dramatic. The transformation from what the aircraft looked like coming in, to what it transformed into was stunning."
About Duncan Aviation
Duncan Aviation is an aircraft service provider supporting the aviation needs of business aircraft operators, government agencies, and other aircraft service providers. Services include major and minor airframe inspections, engine maintenance, major retrofits for cabin and cockpit avionics systems, full paint and interior services, engineering and certification services, fabrication and manufacturing services, and preowned aircraft sales and acquisitions. Duncan Aviation also has international aircraft components solutions experts available 24/7/365 at +1 402.475.4125 who can handle any aircraft system problem with immediate exchanges, rotables, loaners or avionics/instrument/accessory repairs and overhauls. Complete service facilities are located in Battle Creek, Michigan; Lincoln, Nebraska; and Provo, Utah. We also have dozens of other facilities strategically located throughout the United States to provide customers with scheduled regional support and the quickest response possible to avionics, engine and airframe Aircraft On Ground (AOG) situations.
For more information about any of Duncan Aviation's services, call +1 402.475.2611 or visit https://www.DuncanAviation.aero/services