Duncan Aviation Expands Component Repair Service Capabilities on Honeywell Legacy Platforms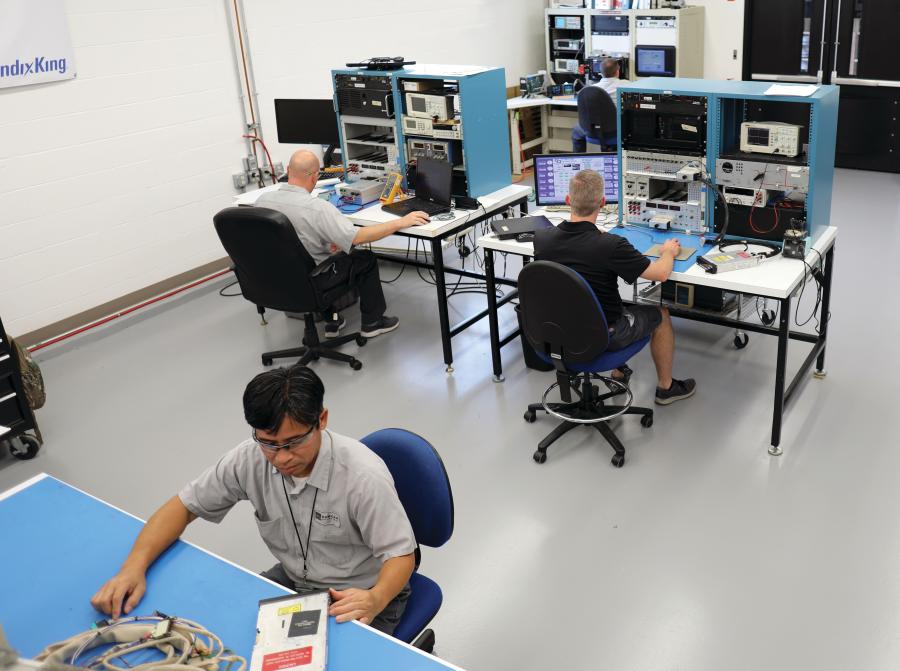 LINCOLN, NEB — Duncan Aviation is pleased to announce the company has assumed responsibilities for the component repair and exchange services for specified Honeywell Avionics Content, Flight Controls, Electronic Flight Control Instruments, Air Data, and Attitude Heading Reference Units on Legacy Platforms.
This is the final phase of a new sales and repair service agreement announced earlier this year with Honeywell Aerospace and covers a wide range of business jets, turboprops, rotor-wing, and regional/commercial make/model aircraft.

As a licensed Honeywell Authorized Service Center and Channel Partner, this agreement builds on Duncan Aviation's existing authorizations. The company now manages the repair services for more than 2,000 Honeywell part numbers on nearly 100 fixed and rotor-wing platforms.

Eight Duncan Aviation technicians received factory training with more onsite training performed at the Duncan Aviation Avionics Instruments Repair facility in Lincoln, Nebraska. One thousand square feet of shop service space was added to accommodate 50 additional test sets and 12 new workbenches measuring 60 linear feet. The repair facility is in the process of hiring up to 12 new avionics technicians and six sales and support personnel in the coming months.

"Our investment in the expansion of our component capabilities and product offerings is just the latest in a 50+ year relationship we have enjoyed with Honeywell," said Mark Cote, Duncan Aviation VP of Component Services & Satellites. "It is exciting to add these products and capabilities to the long list of Honeywell components we support today."

During the initial phase, Duncan Aviation assumed responsibility for the parts sales transactions for this new Honeywell inventory, including exchanges and AOG. The company increased customer support by adding sales and account reps online and is available 24/7/365 to serve customers, both domestic and international.

Duncan Aviation's Satellite network enhances repair capabilities by providing avionics line maintenance on Honeywell units for customers at strategically placed regional repair shops across the country where select inventory is onsite for easy access.
Contact Duncan Aviation
For repair services, contact Duncan Aviation Component Repairs at +1 402.475.2611 | 800.562.6377, or via email: CustomerSalesService@DuncanAviation.com.
To find available aircraft parts and service capabilities, search the Duncan Aviation online parts search database at https://myduncan.aero/online/parts.
For parts sales service, contact Duncan Aviation Parts & Rotables Sales at +1 402.475.4125 | 800.228.1836 or via email: 24-7sales@DuncanAviation.com
About Duncan Aviation
Duncan Aviation is an aircraft service provider supporting the aviation needs of business aircraft operators, government agencies, and other aircraft service providers. Services include major and minor airframe inspections, engine maintenance, major retrofits for cabin and cockpit avionics systems, full paint and interior services, engineering and certification services, fabrication and manufacturing services, and preowned aircraft sales and acquisitions. Duncan Aviation also has international aircraft components solutions experts available 24/7/365 at +1 402.475.4125 who can handle any aircraft system problem with immediate exchanges, rotables, loaners or avionics/instrument/accessory repairs and overhauls. Complete service facilities are located in Battle Creek, Michigan; Lincoln, Nebraska; and Provo, Utah. We also have dozens of other facilities strategically located throughout the United States to provide customers with scheduled regional support and the quickest response possible to avionics, engine and airframe Aircraft On Ground (AOG) situations.
For more information about any of Duncan Aviation's services, call +1 402.475.2611 or visit https://www.DuncanAviation.aero/services