Duncan Aviation FBOs Receive Stage 3 IS-BAH Accreditation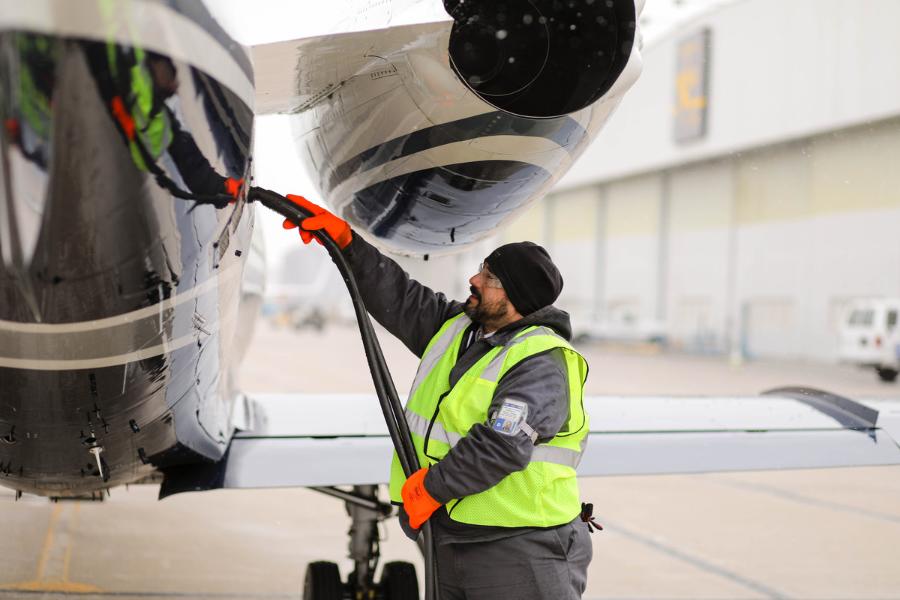 LINCOLN, NEB. — All of Duncan Aviation's FBO locations recently completed and passed the comprehensive safety audit required for Stage 3 of the International Safety for Business Aircraft Handling (IS-BAH) accreditation. As a result, the company's FBOs in Lincoln, Nebraska; Battle Creek and Kalamazoo, Michigan; and Provo, Utah; join the ranks of only three other FBOs in the United States and 16 worldwide that meet Stage 3 certification standards, none of which perform large-scale Maintenance, Repair and Overhaul services (MRO) to the extent of Duncan Aviation.
"It was a pleasure to work with the Duncan Aviation team on their audit to IS-BAH Stage 3," says Allison Markey, Senior Director of Audit Programs for WYVERN. "The organization is well-deserving of this high honor and I am honored to have participated in this important audit. Duncan Aviation's professionalism and enthusiasm, as well as preparedness for the audit process and the IS-BAH program is commendable."
The IS-BAH certification shows aircraft operators and flight departments that Duncan Aviation has a culture that promotes safety and is centered on a Safety Management System (SMS). Stage 3 is the highest level of SMS that can be obtained at this time, and verifies that safety management activities are fully integrated into the business and that a positive safety culture is being sustained. To maintain this highest level of certification, Duncan Aviation will need to have safety audits conducted every three years.
"The safety of customers and team members is a core value at Duncan Aviation, and the IS-BAH certification demonstrates that safety is not just a goal, but a daily practice," says Troy Hyberger, Duncan Aviation FBO Services Manager in Lincoln. "We are very proud of our FBO Services teams at all of our locations for their dedication to safety and desire to actively mitigate risk on a daily basis, enabling our leadership team to make immediate changes, if needed, to improve ramp safety."
This sentiment was echoed by Bob Cornett, the FBO Services Manager for Duncan Aviation's Provo location. "I am very proud to be associated with our Duncan Aviation FBO enterprise, which is full of dedicated individuals who continue to innovative, push boundaries and never back down from a challenge," Cornett says. "This is what makes being a part of Duncan Aviation so rewarding. The past five years have seen an already tight enterprise team between all of our FBO locations grow closer, support one another and push each other to be even better."
Trent Zwiers, FBO Services Supervisor for Duncan Aviation's AZO and BTL locations, agrees. "The Duncan Aviation FBO teams committed to continued improvement over the last three years to earn this accreditation. We have created a lot of change in our operations that was embraced by our teams at all levels. Without their daily engagement with the SMS, our safety culture would be nothing more than a concept and we are extremely proud of their accomplishments."
Duncan Aviation's FBO Line Service amenities include office space, conference rooms, pilot lounge, advanced weather planning, and café service. Customers can also receive De-ice/Pre-heat, GPU starts with fuel, baggage handling, on-site rental cars/courtesy cars, on-site fitness facilities, corporate hotel rates, Quick Turn service, NATA Safety 1st Certified Representatives, and certification to NATA's Sustainability Standard. The company has also earned the NATA Sustainability Standard.
Duncan Aviation is well-known throughout the business aviation industry as a full-service support facility of airframe and engine maintenance, exterior paint, interior completions and refurbishments, avionics installations, line service repairs, component and parts repair, and aircraft sales and acquisitions services. In addition to its full-service facilities in Nebraska, Michigan and Utah, the company offers avionics support through Satellites at 28 additional business aviation airports throughout the United States and in-field engine Rapid Response Team services worldwide.
About Duncan Aviation
Duncan Aviation is an aircraft service provider supporting the aviation needs of business aircraft operators, government agencies, and other aircraft service providers. Services include major and minor airframe inspections, engine maintenance, major retrofits for cabin and cockpit avionics systems, full paint and interior services, engineering and certification services, fabrication and manufacturing services, and preowned aircraft sales and acquisitions. Duncan Aviation also has international aircraft components solutions experts available 24/7/365 at +1 402.475.4125 who can handle any aircraft system problem with immediate exchanges, rotables, loaners or avionics/instrument/accessory repairs and overhauls. Complete service facilities are located in Battle Creek, Michigan; Lincoln, Nebraska; and Provo, Utah. We also have dozens of other facilities strategically located throughout the United States to provide customers with scheduled regional support and the quickest response possible to avionics, engine and airframe Aircraft On Ground (AOG) situations.
For more information about any of Duncan Aviation's services, call +1 402.475.2611 or visit https://www.DuncanAviation.aero/services