Duncan Aviation Installing Pro Line Fusion in Challenger 604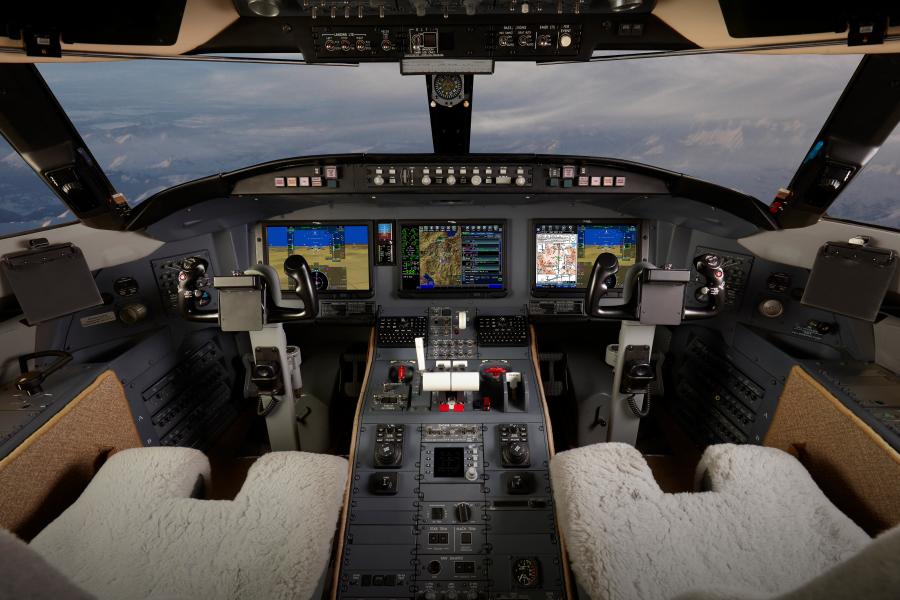 LINCOLN, NEB — Duncan Aviation's avionics teams are installing the Collins Aerospace Pro Line Fusion in a Challenger 604 at the company's full-service facility in Battle Creek, Michigan. This scalable, fully connected, integrated avionics system with advanced situational awareness and intuitive decision-making tools also features touch-control primary flight displays, heads-up vision systems, and weather-threat detection systems, all of which help pilots fly with greater precision.
Last year while their Challenger 604 was in Battle Creek for its 192-month inspection, a long-time Duncan Aviation customer approached Senior Avionics Sales Rep Justin Vena about updating some cabin and cockpit systems. Because the aircraft isn't flying as much due to COVID-19, the customer wanted to take advantage of the downtime and get all of the work done at the same time. Their Challenger 604 input early in 2021 for the installation of the Alto Aviation Cadence Cabin Management System (CMS) and Cadence Switches, and the avionics install teams at Duncan Aviation's Battle Creek facility are in the process of installing the Fusion flight deck, too.
"We've been installing the Collin's Pro Line Fusion in Citation CJ3s since 2016, and we've installed dozens of them. We're now able to offer this powerful suite to our Challenger 604 customers as well," says Vena. "This gives customers with CL-600-2B16 variants the option to visit any of Duncan Aviation's three main facilities or any of our Satellite Shops for this installation."
The Collins Aerospace Pro Line Fusion has the following, powerful baseline features:
Future Air Navigation System (FANS 1/A) capability and Automatic Dependent Surveillance-Broadcast (ADS-B Out) compliance to the DO-260B standard
Better landing minimums with WAAS and LPV approaches
Radius-to-Fix (RF) legs to access efficient curved routes
Synthetic Vision System with terrain, obstacles, and airport highlighting
High-resolution topographical maps
Touchscreen primary displays
Graphical flight planning
Memorized flight deck formats
Terminal charts and enhanced maps
Automatic display and sensor reversion
For more information about the Collins Aerospace Pro Line Fusion flight deck upgrade or to schedule an input date at one of Duncan Aviation's three main facilities in Battle Creek, Michigan; Lincoln, Nebraska; or Provo, Utah:
https://duncanaviation.aero/services/avionics-installation/contacts
For information about scheduling an installation at one of Duncan Aviation's 27 Satellites or workaways:
Regional Avionics Sales Manager Michael Kussatz, 531-207-3951 or Michael.Kussatz@DuncanAviation.com
Regional Avionics Sales Manager John Spellmeyer, 316-214-8867 John.Spellmeyer@DuncanAviation.com
About Duncan Aviation
Duncan Aviation is an aircraft service provider supporting the aviation needs of business aircraft operators, government agencies, and other aircraft service providers. Services include major and minor airframe inspections, engine maintenance, major retrofits for cabin and cockpit avionics systems, full paint and interior services, engineering and certification services, fabrication and manufacturing services, and preowned aircraft sales and acquisitions. Duncan Aviation also has international aircraft components solutions experts available 24/7/365 at +1 402.475.4125 who can handle any aircraft system problem with immediate exchanges, rotables, loaners or avionics/instrument/accessory repairs and overhauls. Complete service facilities are located in Battle Creek, Michigan; Lincoln, Nebraska; and Provo, Utah. We also have dozens of other facilities strategically located throughout the United States to provide customers with scheduled regional support and the quickest response possible to avionics, engine and airframe Aircraft On Ground (AOG) situations.
For more information about any of Duncan Aviation's services, call +1 402.475.2611 or visit https://www.DuncanAviation.aero/services