Duncan Aviation Installs ALTO Switches & Speakers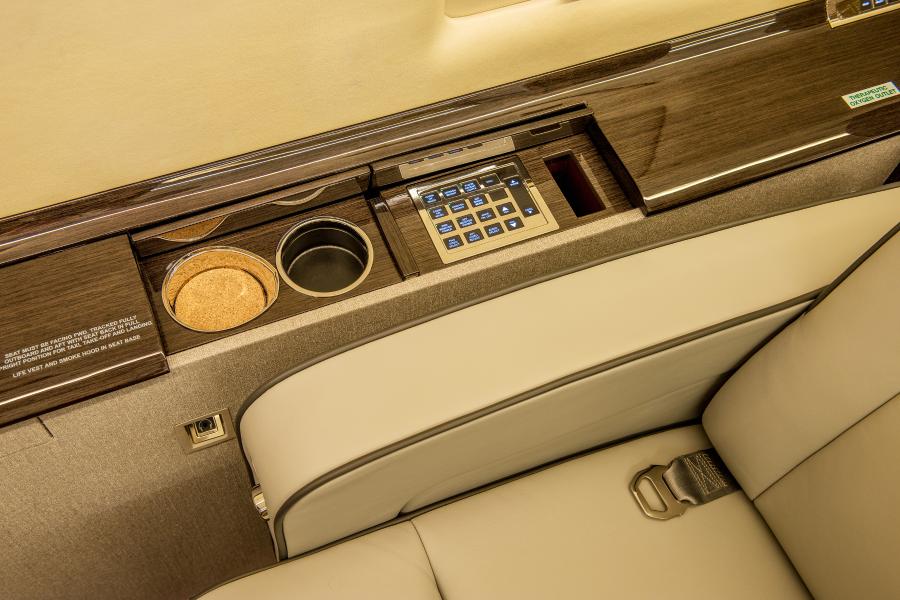 LINCOLN, NEB — Duncan Aviation is pleased to announce that its full-service facility in Battle Creek, Michigan, has installed an ALTO Cadence Cabin Management System (CMS) and speaker system in a Challenger 604. The ALTO system was a perfect fit for this customer, who did not want to replace the existing switches with touchscreen cabin controls.
"Although the switches that were in the Challenger were no longer supported, the switches for the Cadence system fit in the Challenger's existing cutouts, which saved the customer time and money because we didn't have to perform a series of interior modifications," says Avionics Sales Representative Justin Vena. "The ALTO Cadence is an affordable, scalable CMS for customers who like the retro look and tactile sensation of actual switches."
When the customer arrived in Battle Creek for exterior paint and an upgrade to Automatic Dependent Surveillance-Broadcast (ADS-B), the owner was so pleased with what he found at the Battle Creek facility, he requested additional work, including a 12-month inspection, refurbishing the interior and installing the new ALTO CMS.
In addition to the new ALTO Cadence CMS, the refurbished cabin included two new Rosen bulkhead high-definition (HD) monitors and new Blu-Ray source equipment. Those CMS components all integrate with the existing Satellite TV system, and the new ALTO switches will control the monitors, source equipment, and Satellite TV.
Additionally, the ALTO Cadence system fully integrates the Standard Defintion equipment with the new HD equipment, converting signals as needed. Passengers on the Challenger can use the new Blu-Ray source equipment for multimedia content or carry on their own sources, such as smartphones or tablets.
"I've heard nothing but good things from the customer about everything we did on the Challenger," says Vena. "And I believe we were able to accomplish so much because of the cooperation between ALTO and Duncan Aviation."
About Duncan Aviation
Duncan Aviation is an aircraft service provider supporting the aviation needs of business aircraft operators, government agencies, and other aircraft service providers. Services include major and minor airframe inspections, engine maintenance, major retrofits for cabin and cockpit avionics systems, full paint and interior services, engineering and certification services, fabrication and manufacturing services, and preowned aircraft sales and acquisitions. Duncan Aviation also has international aircraft components solutions experts available 24/7/365 at +1 402.475.4125 who can handle any aircraft system problem with immediate exchanges, rotables, loaners or avionics/instrument/accessory repairs and overhauls. Complete service facilities are located in Battle Creek, Michigan; Lincoln, Nebraska; and Provo, Utah. We also have dozens of other facilities strategically located throughout the United States to provide customers with scheduled regional support and the quickest response possible to avionics, engine and airframe Aircraft On Ground (AOG) situations.
For more information about any of Duncan Aviation's services, call +1 402.475.2611 or visit https://www.DuncanAviation.aero/services