Duncan Aviation Installs Bongiovi Audio System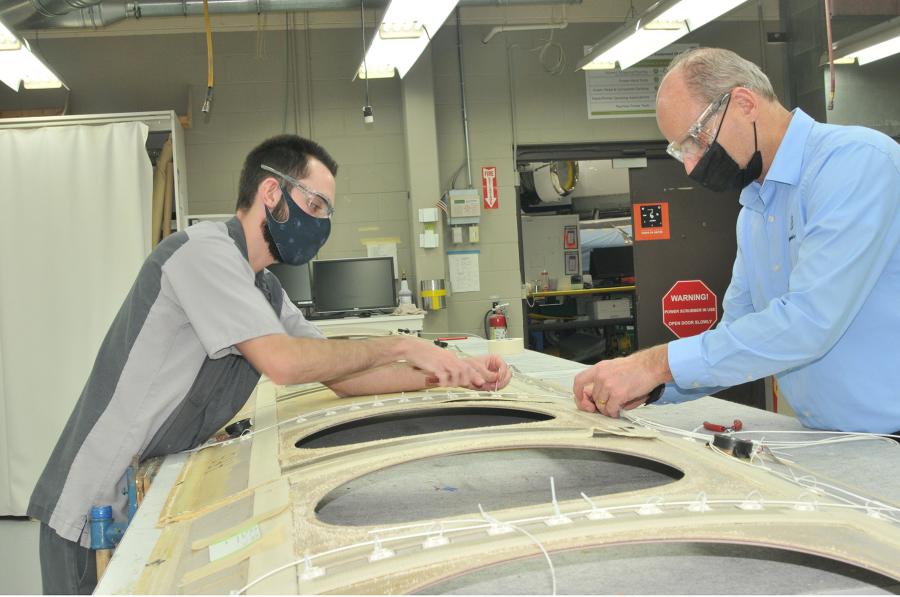 LINCOLN, NEB. — Duncan Aviation is pleased to announce that the MRO has installed a Bongiovi AcousticLabs Bongiovi Aviation system in a Dassault Falcon 7X aircraft at its full-service facility in Battle Creek, Mich. This state-of-the-art audio system is able to overcome a noisy cabin enviroment and reproduce high-fidelity audio. The integrated audio with patented signal-processing technology is combined with speakerless transducers that mount behind the interior panels in the ceiling and sidewalls to produce an immersive audio experience throughout the cabin.
In addition to the Bongiovi Aviation system, the 7X had a full cabin electronics upgrade that included the installation of a Collins Aerospace Venue Cabin Management System (CMS) and a Honeywell JetWave MCS-8000 Ka-band in-flight connectivity system. As a world traveler, this customer wanted the reliable, continuous connectivity that the JetWave system provides.
The Venue delivers the audio output for the Bongiovi speakerless system, and the 47 transducers mounted beneath the headliner and in the upper sidewall panels throughout the aircraft amplify the sound.
Avionics Sales Representative Mike Morgan heard a demo of the Bongiovi system prior to its installation in the 7X.
"The sound is impressive," said Morgan. "I'm excited to give our customers this additional option for high-end audio entertainment."
Duncan Aviation's Lead Designer Heather Pridemore collaborated with the customer's designer on an exterior paint scheme and an interior refurbishment that will give the aircraft a fresh look to go with its big new sound.
Because this customer travels the world, he's taken the lessons of this last year's pandemic to heart and installed the Aviation Clean Air (ACA) Ionizing system in his aircraft, as well. The system safely and effectively deactivates airborne pathogens during flight. Duncan Aviation's Engineering Team developed the Supplemental Type Certificate (STC) for the ACA system, making it the first ever installed in a 7X aircraft with an STC.
For more information or to schedule installations of the Bongiovi Aviation audio system, the Honeywell JetWave connectivity system, the Collins Aerospace Venue CMS, and the ACA environmental control system, contact one of Duncan Aviation's Avionics Sales Reps (DuncanAviation.aero/services/avionics-installation/contacts). For information or to schedule an interior refurbishment and new exterior paint for your aircraft, contact a member of Duncan Aviation's Interior Refurbishment team (DuncanAviation.aero/services/interior-refurbishment/contacts).
About Duncan Aviation
Duncan Aviation is an aircraft service provider supporting the aviation needs of business aircraft operators, government agencies, and other aircraft service providers. Services include major and minor airframe inspections, engine maintenance, major retrofits for cabin and cockpit avionics systems, full paint and interior services, engineering and certification services, fabrication and manufacturing services, and preowned aircraft sales and acquisitions. Duncan Aviation also has international aircraft components solutions experts available 24/7/365 at +1 402.475.4125 who can handle any aircraft system problem with immediate exchanges, rotables, loaners or avionics/instrument/accessory repairs and overhauls. Complete service facilities are located in Battle Creek, Michigan; Lincoln, Nebraska; and Provo, Utah. We also have dozens of other facilities strategically located throughout the United States to provide customers with scheduled regional support and the quickest response possible to avionics, engine and airframe Aircraft On Ground (AOG) situations.
For more information about any of Duncan Aviation's services, call +1 402.475.2611 or visit https://www.DuncanAviation.aero/services