Duncan Aviation Introduces FBO Services Calculator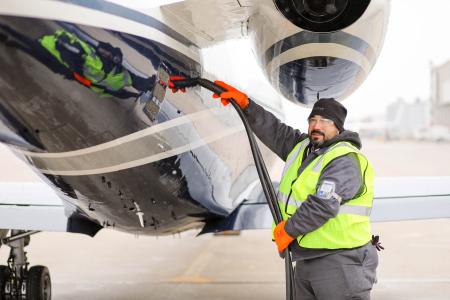 LINCOLN, NEB— Duncan Aviation recently introduced an FBO Services Calculator website app that allows operators to easily see their complete service charges and fees when stopping at a Duncan Aviation FBO facility for transient fuel services.
The FBO Services Calculator has operators select the Duncan Aviation FBO facility they will stop by, aircraft type, fuel type, gallons needed, and whether overnight parking is required. The calculator will then provide users with the price per gallon for fuel, any overnight storage fees, and whether the minimum fuel requirement will be met to waive the ramp fees. They are also able to notify the facility that they will be stopping, and make service requests as needed for things like catering, meeting rooms, crew cars, etc.
"The FBO Services Calculator is a great way for operators to know their final fuel service costs when planning for a trip," says Troy Hyberger, FBO Services Manager for Duncan Aviation's Lincoln, Nebraska, location. "It's also another way for them to let us know their plans and help ensure the quickest service possible upon their arrival."
The calculator was created in response to customer requests and the nationwide Know Before You Go campaign launched by NATA, AOPA, and other industry organizations.
"We agree that transparency in pricing is important in FBO services," Troy says. "We have listed our fuel prices and potential ramp fees on the internet for some time. This app takes that even further by allowing operators to calculate their exact invoice when they stop at a Duncan aviation facility for line service."
To find the calculator, go to www.DuncanAviation.aero/services/fbo/fbo-services-calculator.
Duncan Aviation offers FBO services at its facilities in Battle Creek and Kalamazoo, Michigan; Lincoln, Nebraska; and Provo, Utah. The LNK location has Stage I IS-BAH accreditation and IS-BAH accreditation is underway at the other locations.
For more information about Duncan aviation's FBO Services, please visit www.DuncanAviation.aero/services/fbo/
About Duncan Aviation
Duncan Aviation is an aircraft service provider supporting the aviation needs of business aircraft operators, government agencies, and other aircraft service providers. Services include major and minor airframe inspections, engine maintenance, major retrofits for cabin and cockpit avionics systems, full paint and interior services, engineering and certification services, fabrication and manufacturing services, and preowned aircraft sales and acquisitions. Duncan Aviation also has international aircraft components solutions experts available 24/7/365 at +1 402.475.4125 who can handle any aircraft system problem with immediate exchanges, rotables, loaners or avionics/instrument/accessory repairs and overhauls. Complete service facilities are located in Battle Creek, Michigan; Lincoln, Nebraska; and Provo, Utah. We also have dozens of other facilities strategically located throughout the United States to provide customers with scheduled regional support and the quickest response possible to avionics, engine and airframe Aircraft On Ground (AOG) situations.
For more information about any of Duncan Aviation's services, call +1 402.475.2611 or visit https://www.DuncanAviation.aero/services