Duncan Aviation Issues Rapid Response AOG Promise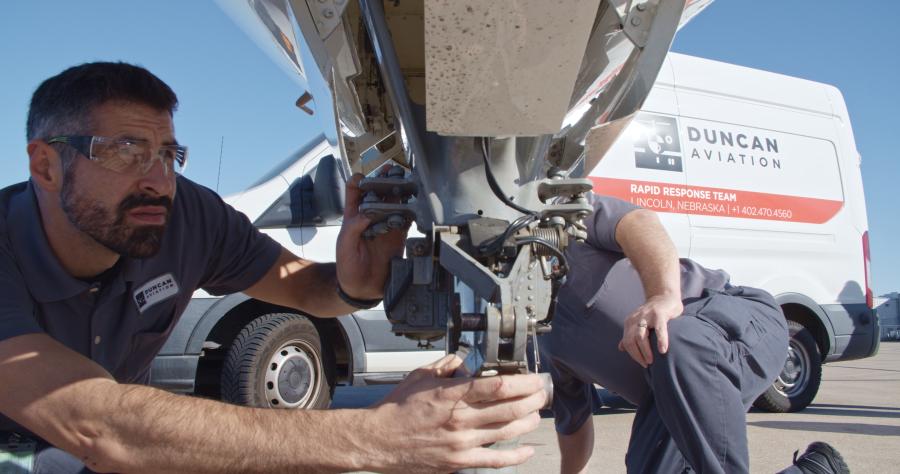 LINCOLN, NEB — Duncan Aviation recently issued a promise to all AOG customers.
Within 30 minutes, you will hear from a Duncan Aviation RRT (Rapid Response Team) member by phone to acknowledge your AOG request
Within one hour, we will follow up with labor availability and logistic planning
Within 24 Hours, we will be onsite at your location, pending agreements and approvals
We promise to do what it takes to get you returned-to-service as quickly as possible
This promise is backed by more than 175 Duncan Aviation airframe, engine, and avionics technicians strategically located across the United States, equipped and ready to respond with the right team closest to the aircraft's location.
"Being able to stand behind this promise with confidence began when we changed the way our teams communicated with each other," says Kasey Harwick, Duncan Aviation's Vice President of Aircraft Services. "We got together with our talented IT department to develop an internal communications app that facilitates getting an AOG customer to the right team as quickly as possible."
A call received through Duncan Aviation's published AOG number is answered by a team trained to ask the right questions to identify the customer's AOG issue, whether airframe, avionics, or engine. This information is immediately routed through the app to the person on-call and nearest to the event, putting the right person in contact with the customer as quickly as possible.
Duncan Aviation has had in-the-field, on-location services in place since 1985 through its Satellite Avionics locations. And in 2000, the company launched its engine Rapid Response Teams.
In 2019, the RRT AOG network experienced another expansion. Due to increased customer demand for more mobile airframe AOG and inspection services, three Rapid Response teams specializing in airframe services were formed and based at Duncan Aviation's three MRO (maintenance repair, & overhaul) facilities in Battle Creek, MI; Lincoln, NE; and Provo, UT.
"Being based out of the MROs gives us access to all of their available tooling and equipment," says Tyler Spurling, RRT Assistant Manager-MRO. "That greatly reduces the cost to and increases our efficiency for our customers."
When asked what AOG services are available through this mobile network consisting of 30 Satellite locations, 16 engine RRT launch sites, and three airframe RRT teams, Harwick said it was difficult to quantify.
"Our airframe and engine RRTs and Satellite shops can handle many different types of squawks and services, both planned and unplanned. However, when it comes to AOG events, we can be boots-on-the-ground troubleshooting the squawk while keeping in close contact with our main MRO facilities for tooling, GSE, and potentially additional support depending on the issue. We come prepared because it is our mission to ensure our customers don't miss theirs due to an AOG situation."
Harwick says the entire AOG team stands united to meet their customers' needs wherever they are and with whatever they need.
"It doesn't matter what the needs of our customers are. When we get the call, we respond accordingly," he says. "We promise."
About Duncan Aviation
Duncan Aviation is an aircraft service provider supporting the aviation needs of business aircraft operators, government agencies, and other aircraft service providers. Services include major and minor airframe inspections, engine maintenance, major retrofits for cabin and cockpit avionics systems, full paint and interior services, engineering and certification services, fabrication and manufacturing services, and preowned aircraft sales and acquisitions. Duncan Aviation also has international aircraft components solutions experts available 24/7/365 at +1 402.475.4125 who can handle any aircraft system problem with immediate exchanges, rotables, loaners or avionics/instrument/accessory repairs and overhauls. Complete service facilities are located in Battle Creek, Michigan; Lincoln, Nebraska; and Provo, Utah. We also have dozens of other facilities strategically located throughout the United States to provide customers with scheduled regional support and the quickest response possible to avionics, engine and airframe Aircraft On Ground (AOG) situations.
For more information about any of Duncan Aviation's services, call +1 402.475.2611 or visit https://www.DuncanAviation.aero/services