Duncan Aviation Makes Masks and Gowns for Front Line Workers Amid COVID-19 Pandemic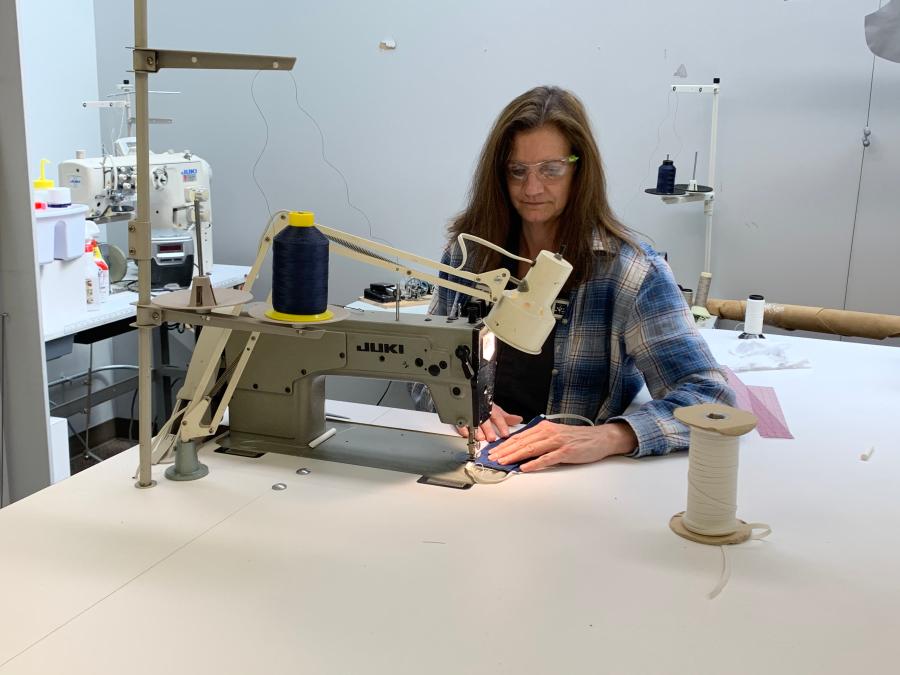 LINCOLN, NEB — In late March, Duncan Aviation had begun social distancing at work to prevent potential spread of COVID-19 and began looking to acquire face masks for use by team members when they absolutely had to work together in close quarters, like an aircraft flight deck, for a short period of time. It became obvious that mask supplies were depleted and that health care workers and those working directly with the public in service roles didn't have enough masks to meet their anticipated needs. Duncan Aviation's interior and upholstery teams reached out to a local hospital in Lincoln, Nebraska, and asked for help in designing a mask, as well as advice on what the company could do to support hospitals during this time of need.
The hospital shared specifics and two different mask templates were created. Using the hospital's instructions, Duncan Aviation digitized the designs for cutting with its automated fabric-cutting machine, which usually cuts leather, sheepskin and other durable materials for use in business aircraft. Depending on the width of the material used for the masks, Duncan Aviation can cut materials for up to 900 masks every hour. To date, the company has cut more than 15,000 masks.
Sewing the masks is a bit more time-consuming. Upholstery professionals with Duncan Aviation's full-service facilities in Lincoln, Battle Creek, Michigan, and Provo, Utah, have been sewing masks, as have more than 300 volunteers from local churches, fabric stores and hobby groups in the communities Duncan Aviation calls home. The company has also cut and begun sewing hundreds of medical gowns for area health facilities.
"This all started with a team of employees who recognized a problem and had the means and desire to solve it," says Aaron Hilkemann, President and CEO of Duncan Aviation. "It is indicative of the creativity, compassion and initiative found in our team members. And we are happy to help our communities in this manner. We feel it is the least we can do and appreciate the opportunity to show our concern and gratitude to those working on the front lines of this pandemic."
About Duncan Aviation
Duncan Aviation is an aircraft service provider supporting the aviation needs of business aircraft operators, government agencies, and other aircraft service providers. Services include major and minor airframe inspections, engine maintenance, major retrofits for cabin and cockpit avionics systems, full paint and interior services, engineering and certification services, fabrication and manufacturing services, and preowned aircraft sales and acquisitions. Duncan Aviation also has international aircraft components solutions experts available 24/7/365 at +1 402.475.4125 who can handle any aircraft system problem with immediate exchanges, rotables, loaners or avionics/instrument/accessory repairs and overhauls. Complete service facilities are located in Battle Creek, Michigan; Lincoln, Nebraska; and Provo, Utah. We also have dozens of other facilities strategically located throughout the United States to provide customers with scheduled regional support and the quickest response possible to avionics, engine and airframe Aircraft On Ground (AOG) situations.
For more information about any of Duncan Aviation's services, call +1 402.475.2611 or visit https://www.DuncanAviation.aero/services