Duncan Aviation Named 2018 North American Winner of Bombardier Authorized Service Facility Excellence Awards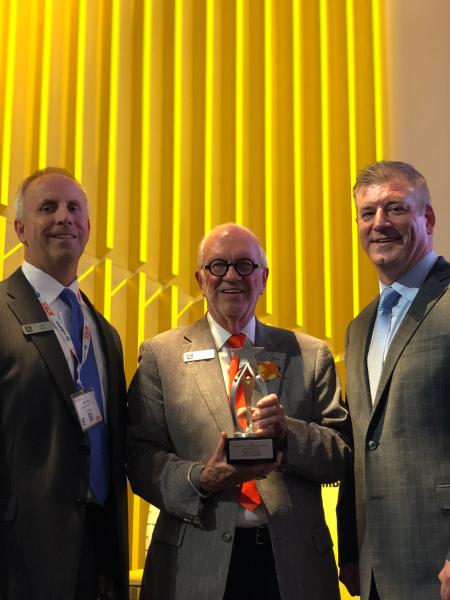 LINCOLN, NEB. -- Duncan Aviation today was recognized by Bombardier Business Aircraft for its performance in 2017 as a top authorized service facility in the support of Bombardier customers. Judged on a set of criteria that included quality, compliance, customer satisfaction and customer influence, Duncan Aviation's Lincoln, Nebraska, facility was named the winner of the North American category of the 8th Annual Bombardier Authorized Service Facility Excellence Awards.
Bill Molloy, Vice President of Aftermarket Sales and Commercial Strategy, Bombardier Business Aircraft, presented the awards at a ceremony at 4 p.m. Wednesday at Bombardier's booth at the Orange County Convention Center in Orlando during the National Business Aviation Association's (NBAA) Business Aviation Convention and Exhibition (BACE).
"These awards recognize our authorized facilities' commitment to serving operators of Bombardier business aircraft with superior quality and performance, effectively supporting our mutual goal to maximize the efficiency of our customers' operations," Molloy said.
Duncan Aviation Chairman Emeritus J. Robert Duncan and Vice President and Chief Operating Officer Jeff Lake accepted the award from Molloy.
"We have more than 200 dedicated Bombardier product team members with an average of 14 years of experience at Duncan Aviation," says Duncan. "Our team members are the reason Duncan Aviation is successful. We are proud of the services they provide and appreciative of the great support we receive from Bombardier. We have a long and strong relationship with Bombardier and continue to work together to provide the best service possible for operators of Bombardier business aircraft. We are proud to be recognized by Bombardier for our commitment to providing their aircraft operators with superior quality and performance."
Duncan Aviation representatives for airframe and engine services, paint and interior modifications, avionics and parts support and aircraft sales and acquisitions can be found at Duncan Aviation's NBAA booth, #3896, during this year's NBAA convention from October 16-18, in Orlando, or watch for announcements at www.DuncanAviation.aero/nbaa.
About Duncan Aviation
Duncan Aviation is an aircraft service provider supporting the aviation needs of business aircraft operators, government agencies, and other aircraft service providers. Services include major and minor airframe inspections, engine maintenance, major retrofits for cabin and cockpit avionics systems, full paint and interior services, engineering and certification services, fabrication and manufacturing services, and preowned aircraft sales and acquisitions. Duncan Aviation also has international aircraft components solutions experts available 24/7/365 at +1 402.475.4125 who can handle any aircraft system problem with immediate exchanges, rotables, loaners or avionics/instrument/accessory repairs and overhauls. Complete service facilities are located in Battle Creek, Michigan; Lincoln, Nebraska; and Provo, Utah. We also have dozens of other facilities strategically located throughout the United States to provide customers with scheduled regional support and the quickest response possible to avionics, engine and airframe Aircraft On Ground (AOG) situations.
For more information about any of Duncan Aviation's services, call +1 402.475.2611 or visit https://www.DuncanAviation.aero/services