Duncan Aviation Names Drew Heginbotham New Bombardier Airframe Sales Rep in Provo, Utah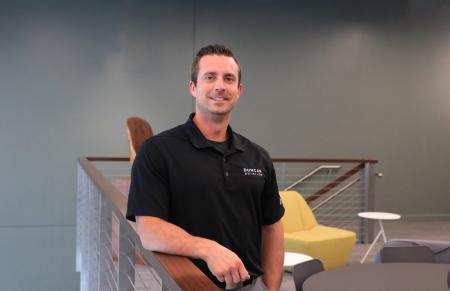 LINCOLN, NEB. — Duncan Aviation is excited to announce that Drew Heginbotham has accepted the position of Bombardier Airframe Sales Rep at the company's full-service facility in Provo, Utah.
Heginbotham said he has always had a passion for aviation, and was basically born at the airport. His father is the one who got him started in aviation.
"My father is Chief Pilot for a Part 91 operation and l, like him, loved airplanes," explained Heginbotham. "However, I did not love flying. I am a land-lover and went the maintenance route."
Heginbotham's career in aviation started by turning wrenches on Bombardier aircraft as an A&P for a Part 135 operation in Tulsa, Oklahoma. After several years, he moved on to the United States Air Force where he was an F-16 Crew Chief.
"I had great assignments and spent my first year in Kunsan, South Korea, and my last five years in Aviano, Italy," explained Heginbotham.
After separating from the Air Force, he moved to Wichita, Kansas, to be a Project Manager for Bombardier. He then moved back to Tulsa to be a Director of Maintenance for an oil and gas company. That company was bought out by another oil giant during the pandemic, so he moved along to his last role as a Director of Maintenance for yet another oil and gas company. Those roles brought Heginbotham to Duncan Aviation in Lincoln, Nebraska, as a customer.
"Duncan Aviation was the clear choice for me," said Heginbotham. "As a customer, I had always valued the family business feel. I enjoyed every person I met there. The professionalism is second to none, and I wanted to be a part of a team that makes a difference in my career space. Duncan Aviation excels in that."
As a Bombardier Airframe Sales Rep, Heginbotham will provide accurate and timely information and quotes to Duncan Aviation's valued customers by responding to their requests regarding current and future maintenance events on Bombardier aircraft.
"As a member of the Sales Team, we are a customer's go-to person to get their airplane in the door at one of our facilities with the schedule they need," explained Heginbotham. "With the help of our Regional Sales Manager team, we aid in establishing long-lasting relationships that are meaningful to the customer and Duncan Aviation."
Duncan Aviation Airframe Service Sales Manager Troy Nail said that Heginbotham brings a client perspective to the Sales Team.
"As a previous Director of Maintenance, he has tremendous industry knowledge and experience that will be an asset to the Bombardier team and Duncan Aviation in general," said Nail. "Drew comes with a very high upside in clientele relationship development and product knowledge. He has already proven to be a valuable asset to the team."
Heginbotham will be joined by his fiancé, Kylie, and their four-legged friend, Willy, in Provo, Utah. In their free time, you'll find them outdoors hiking, snowboarding, fishing, riding ATVs in the sand dunes, or buried in feet of snow while snowmobiling.
"We are absolutely looking forward to being a part of the Duncan Aviation family in Provo," said Heginbotham. "We plan on spending time with all of our team members there seeing some of their favorite spots and doing some of our hobbies."
About Duncan Aviation
Duncan Aviation is an aircraft service provider supporting the aviation needs of business aircraft operators, government agencies, and other aircraft service providers. Services include major and minor airframe inspections, engine maintenance, major retrofits for cabin and cockpit avionics systems, full paint and interior services, engineering and certification services, fabrication and manufacturing services, and preowned aircraft sales and acquisitions. Duncan Aviation also has international aircraft components solutions experts available 24/7/365 at +1 402.475.4125 who can handle any aircraft system problem with immediate exchanges, rotables, loaners or avionics/instrument/accessory repairs and overhauls. Complete service facilities are located in Battle Creek, Michigan; Lincoln, Nebraska; and Provo, Utah. We also have dozens of other facilities strategically located throughout the United States to provide customers with scheduled regional support and the quickest response possible to avionics, engine and airframe Aircraft On Ground (AOG) situations.
For more information about any of Duncan Aviation's services, call +1 402.475.2611 or visit https://www.DuncanAviation.aero/services