Duncan Aviation Offers Promotional Pricing, Scheduling and Parts Through New 5G Trendsetter Program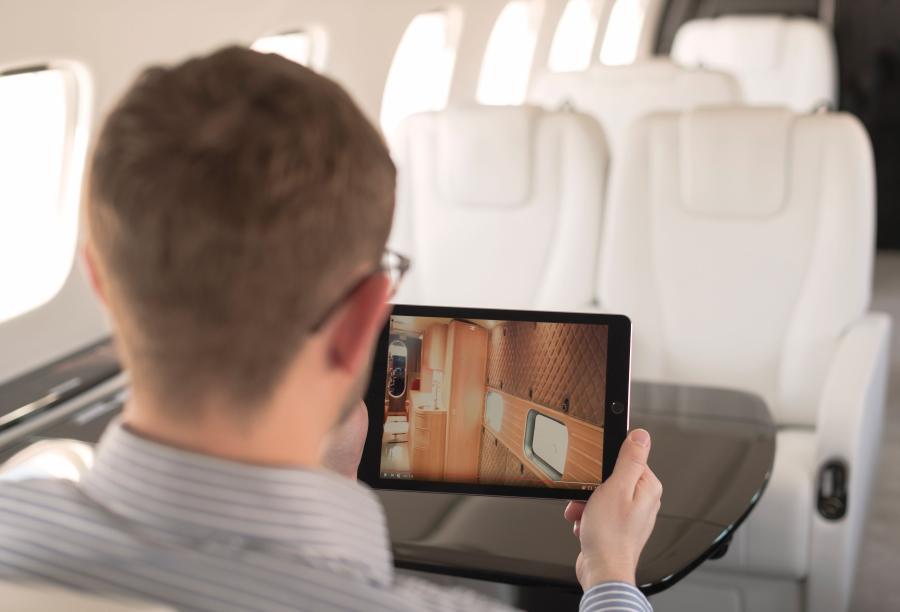 LINCOLN, NEB. — Duncan Aviation is pleased to announce its new 5G Trendsetter promotional program that gives incentives to the first 35 owner/operators who sign up to install the new Gogo X3 5G Line Replacement Unit. Adding the Gogo X3 5G LRU to the AVANCE L5 inflight Wi-Fi system lets passengers access the Gogo 5G network once it launches later this year.
Owner/operators who sign up for Duncan Aviation's Trendsetter program by October 20, 2022, the last day of the 2022 NBAA-BACE convention in Orlando, Florida, will lock in special pricing, parts, and priority scheduling.
"We're especially excited about our two-tier 5G Trendsetter program that's designed to let owner/operators reserve parts, take advantage of special pricing, and lock in priority scheduling at any of Duncan Aviation's three main facilities or select Satellites," says Manager of Completion/Modifications Service Sales Nate Klenke. "Owner/operators may also pair our 5G Trendsetter program with Gogo Business Aviation's 5G First-To-Fly promotion for additional savings."
The Duncan Aviation PLATINUM program is available to the first 15 trendsetters who sign up with a $25,000 deposit. The PLATINUM program includes: A 10-percent discount off the retail installed cost of $160,000 for the X3*; a $12,000 Duncan Aviation rebate to be used at any of the Duncan Aviation facilities for additional services within 12 months of installing the X3; preferred parts allocation for the X3; and priority scheduling into select Duncan Aviation facilities.
The Duncan Aviation GOLD program is available to an additional 20 trendsetters who sign up with a $25,000 deposit, and it also includes a 10% discount off the $160,000 cost of installing the X3*, preferred parts allocation for the equipment, and priority scheduling into Duncan Aviation facilities.
Currently, the Duncan Aviation 5G Trendsetter program is available for owner/operators of the following aircraft:
Gulfstream GIV/G450
CL 300/350
CL 604 variants
GL variants
Citation 560XL
Duncan Aviation has several Supplemental Type Certificates (STCs) in work and future plans for additional makes and models, so check with a Duncan Aviation Avionics Sales Representative (www.DA.aero/avionics/contacts) for more information and to sign up for the Duncan Aviation 5G Trendsetter program.
* The Gogo Business Aviation AVANCE L5 is a prerequisite before installing the X3 5G LRU
About Duncan Aviation
Duncan Aviation is an aircraft service provider supporting the aviation needs of business aircraft operators, government agencies, and other aircraft service providers. Services include major and minor airframe inspections, engine maintenance, major retrofits for cabin and cockpit avionics systems, full paint and interior services, engineering and certification services, fabrication and manufacturing services, and preowned aircraft sales and acquisitions. Duncan Aviation also has international aircraft components solutions experts available 24/7/365 at +1 402.475.4125 who can handle any aircraft system problem with immediate exchanges, rotables, loaners or avionics/instrument/accessory repairs and overhauls. Complete service facilities are located in Battle Creek, Michigan; Lincoln, Nebraska; and Provo, Utah. We also have dozens of other facilities strategically located throughout the United States to provide customers with scheduled regional support and the quickest response possible to avionics, engine and airframe Aircraft On Ground (AOG) situations.
For more information about any of Duncan Aviation's services, call +1 402.475.2611 or visit https://www.DuncanAviation.aero/services