Duncan Aviation Paints First PC-24 Outside Pilatus Production Facility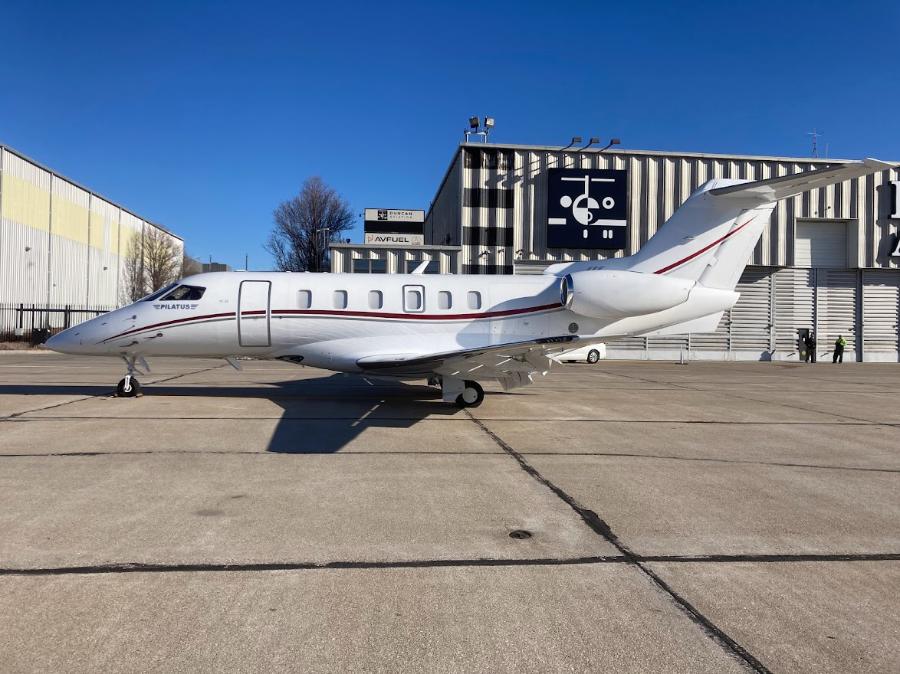 LINCOLN, NEB. — Duncan Aviation is excited to announce that the company recently painted the first PC-24 outside of a Pilatus production facility. The aircraft was brought to Duncan Aviation's full-service facility in Lincoln, Nebraska, to be repainted to better meet the style of the owner.
"As the leader in painting business jet aircraft, we often take on the challenge to be the first to provide paint services on newer business jet models," says Duncan Aviation Completions & Modifications Sales Rep Adam Beach. "It requires a trusted team to perform the additional research and planning on the front end to make sure all of the requirements for the aircraft are met."
Partnering with the Owner
The owner was understanding with the extra time required to plan for the PC-24 as it was the first to be repainted in the aftermarket.
"He gave us his full trust to complete the project and provide him with a design and quality paint completion to meet his expectations," says Beach. "He was a great partner throughout the entire process."
Duncan Aviation Paint Team Leader Brandon Mares says having an open-minded customer who is willing to assist makes these situations much easier. The customer knew he wanted Duncan Aviation to paint his aircraft, and had confidence the extra planning would pay off.
Duncan Aviation Paint Team Leader Cody Hasse walked through and detailed the entire paint process with the owner, giving a clear definition of what Duncan Aviation's paint process included and what the expectations would be, setting the foundation for the customer's confidence.
During the planning and research, Duncan Aviation noted guidance in the maintenance manual that chemical stripper could not be used. To adjust to the manufacturer's requirements, the decision was made to mechanically sand off the old paint by hand.
A True Team Effort
The Paint team came together in a positive way, and they were proud of themselves when the project was completed exactly how the customer expected. Mares described this project as a true team effort.
"We had open communication and navigated together throughout the entire process," explains Mares. "Every team member brought their A-Game. Weeks before the aircraft arrived, we had already started chipping away, asking the right questions and getting the information we needed to properly plan for the work. We took great care making sure everyone was on the same page."
Mares says this project shows the commitment, knowledge, and experience that Duncan Aviation team members have, and that each team member can take a little pride knowing they were behind the success of this project. There are a lot of projects that come through Duncan Aviation's doors, but this one truly stood out to the team. It showed how team members rallied within the different departments to overcome hurdles and ensure a satisfied customer.
Duncan Aviation Project Manager Janet Beazley says she kept calm and worked through each challenge as it arose.
"WE did this as a team. It's not just one person. We all had to rely on one another to bounce ideas off one another," says Beazley. "It was a fun and challenging project, and I'm glad we could deliver the aircraft to a happy customer as he understood all the challenges involved!"
A Satisfied Customer
Hardy Hay, the Director of Maintenance/Chief Pilot with Det 9 Aviation, was more than pleased at the time of delivery.
"Being a new design aircraft to the industry with very little history, this turned out to be a challenging project," he says. "Janet (Beazley) and her team took the responsibility very seriously, preparing and finishing the aircraft. I've had other aircraft painted by other companies in the past, but the professional service I received from the hospitality suite, fuel, maintenance, project coordination and all the way until delivery was impeccable. Janet and her team went above and beyond coordinating with Pilatus service centers, Pilatus in Switzerland and Pilatus North America in Colorado to ensure every process was done according to the Pilatus aircraft specifications. I will only use Duncan Aviation to paint my aircraft from this point forward."
About Duncan Aviation
Duncan Aviation is an aircraft service provider supporting the aviation needs of business aircraft operators, government agencies, and other aircraft service providers. Services include major and minor airframe inspections, engine maintenance, major retrofits for cabin and cockpit avionics systems, full paint and interior services, engineering and certification services, fabrication and manufacturing services, and preowned aircraft sales and acquisitions. Duncan Aviation also has international aircraft components solutions experts available 24/7/365 at +1 402.475.4125 who can handle any aircraft system problem with immediate exchanges, rotables, loaners or avionics/instrument/accessory repairs and overhauls. Complete service facilities are located in Battle Creek, Michigan; Lincoln, Nebraska; and Provo, Utah. We also have dozens of other facilities strategically located throughout the United States to provide customers with scheduled regional support and the quickest response possible to avionics, engine and airframe Aircraft On Ground (AOG) situations.
For more information about any of Duncan Aviation's services, call +1 402.475.2611 or visit https://www.DuncanAviation.aero/services