Duncan Aviation Partners With SmartSky On 4G LTE Network & Equipment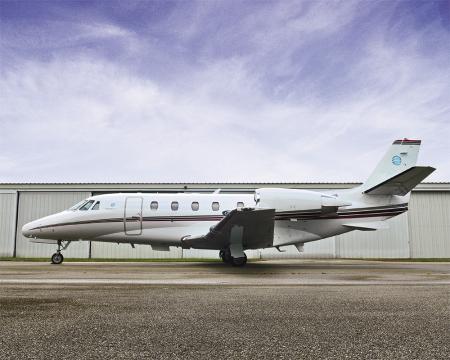 LINCOLN, NEB — Duncan Aviation is pleased to announce its partnership with SmartSky Networks, as the latter company launches its new 4G LTE-based inflight connectivity network. The air-to-ground (ATG) network delivers a true office-in-the-sky environment with unprecedented speed, reliability, and security. With low latency and high bandwidth, passengers will enjoy the same connectivity capabilities they do on the ground: streaming video, chatting, texting, playing games and video conferencing.
Working with SmartSky Networks, Duncan Aviation's Engineering & Certification department helped develop the first Supplemental Type Certificate (STC) for a Cessna Citation Excel.
""It is an honor to partner with Duncan Aviation, a company that has a well-deserved reputation for outstanding customer service," said Bryan Rapp, Account Manager with SmartSky Networks. "We believe this partnership confirms SmartSky's commitment to deliver the very best in resources for our customers as well."
The SmartSky 4G LTE system received FAA approval for the Citation Excel STC in January and aircraft Parts Manufacturer Approval (PMA) in March. Duncan Aviation representatives should be contacted to schedule installation on aircraft.
Duncan Aviation will also be working with SmartSky on exclusive STCs for the following aircraft:
Bombardier Challenger 604/605/650
Bombardier Challenger 300/350
Dassault Falcon 2000 (all variants)
Dassault Falcon 900 (all variants)
Bombardier Learjet 40/45/75
Not only does Duncan Aviation have the engineering expertise to develop the paths to certification for numerous aircraft models, but the company also has the technical knowledge and experience to install SmartSky Networks' certified equipment quickly and efficiently to meet its customers' flight schedules.
Contact one of the Duncan Aviation Avionics Sales Representatives (www.DuncanAviation.aero/services/avionics-installation/contacts) for information and to schedule installation of equipment needed for the SmartSky 4G LTE-based network, which is currently being deployed across the continental United States.
About SmartSky Networks
Headquartered in Charlotte, North Carolina, SmartSky Networks was formed in 2011 by senior aviation and telecommunications executives seeking to transform aviation through the use of disruptive communications technologies and related tools. Working with leading aerospace and technology partners, SmartSky has begun the rollout of its innovative, air-to-ground network, SmartSky 4G LTE. The network takes advantage of patented spectrum reuse, advanced beamforming technologies and 60 MHz of spectrum for significantly enhanced connectivity. SmartSky 4G LTE delivers data to the aircraft at rates comparable with next generation satellite solutions and provides unmatched capacity for data transmissions from the aircraft to the ground. This real-time, low latency, bidirectional data link makes SmartSky 4G LTE a key enabler for the new and enhanced apps, services, and hardware that will usher in the digitization of the aviation industry.
About Duncan Aviation
Duncan Aviation is an aircraft service provider supporting the aviation needs of business aircraft operators, government agencies, and other aircraft service providers. Services include major and minor airframe inspections, engine maintenance, major retrofits for cabin and cockpit avionics systems, full paint and interior services, engineering and certification services, fabrication and manufacturing services, and preowned aircraft sales and acquisitions. Duncan Aviation also has international aircraft components solutions experts available 24/7/365 at +1 402.475.4125 who can handle any aircraft system problem with immediate exchanges, rotables, loaners or avionics/instrument/accessory repairs and overhauls. Complete service facilities are located in Battle Creek, Michigan; Lincoln, Nebraska; and Provo, Utah. We also have dozens of other facilities strategically located throughout the United States to provide customers with scheduled regional support and the quickest response possible to avionics, engine and airframe Aircraft On Ground (AOG) situations.
For more information about any of Duncan Aviation's services, call +1 402.475.2611 or visit https://www.DuncanAviation.aero/services