Duncan Aviation-Provo Features Expanded FBO Services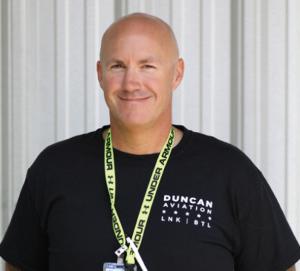 LINCOLN, NEB — Duncan Aviation is pleased to announce that although construction continues at its third, full-service Fixed-Base Operator (FBO) in Provo, Utah, the fully functioning, 90,000-gallon capacity fuel farm is online and its staffed, experienced Line Services Team is ready to help with aircraft fueling needs. Additionally, one new maintenance hangar and the new paint hangar are accessible from the ramp at the Provo Municipal Airport in Provo, Utah.
Last year, while gearing up for the opening of the first new hangar this January, Line Services Supervisor Bob Cornett began recruiting team members from the other Duncan Aviation FBO facilities in Lincoln, Nebraska, and Battle Creek and Kalamazoo, Michigan. He also recruited experienced individuals in the Utah Valley and Salt Lake City area. With 12 team members, who together have more than 100 years of aviation experience among them, the Line Services team is already meeting the needs of scheduled customers and drop-in customers from 6 a.m. to 10 p.m. Monday through Friday and 7 a.m. to 7 p.m. on Saturday and Sunday.
The Provo location recently received certification from the FCC for ARINC, and the radio frequency (131.575 MHz) is now operational. That allows pilots to now radio the front desk team to let them know their ETA, arrange for refueling, or seek drop-in services.
"At 6 a.m. one recent Monday, we towed a Global out of the new hangar to get it ready for its test flights, and we shifted the other aircraft in the hangar to make room for a Challenger 350 that had arrived for maintenance," Cornett says. "In the meantime, we towed out another Global that needed 5,800 gallons of fuel."
In the three months that the new hangar has been open, the Line Services Team has moved 538 aircraft, provided 85 fuel loads and pumped thousands of gallons of fuel. The team operates two 5,000-gallon-capacity fuel trucks, and the fuel equipment is certified and is capable of pumping an industry-standard 230 gallons per minute.
"We are set to have our Stage One International Standard for Business Aircraft Handing (IS-BAH) audit of our facility in May. We had an internal audit of our services in March, and we met the Air Transport Association of America (ATA) 103 standards for jet quality fuel, National Fire Protection Association (NFPA) 407 standards for aircraft fuel servicing and World Health Organization (WHO) standards for potable water and ice," says Cornett.
Soon, the Provo facilities will have 275,000-square-feet of maintenance, modifications, and paint facilities open. In the meantime, the Line Services team is providing a full array of line service support and all fuel services.
"We are very proud of the team that Bob has assembled," said COO Bill Prochazka. "We look forward to providing the same world-class service in Provo that has been Duncan Aviation's hallmark for more than 63 years."
For more information on the services Duncan Aviation's Provo facility has available now, including the recently completed paint complex, visit www.duncanaviation.aero/provo. For information about a career at Duncan Aviation, visit our career portal at www.duncanaviation.aero/careers.
About Duncan Aviation
Duncan Aviation is an aircraft service provider supporting the aviation needs of business aircraft operators, government agencies, and other aircraft service providers. Services include major and minor airframe inspections, engine maintenance, major retrofits for cabin and cockpit avionics systems, full paint and interior services, engineering and certification services, fabrication and manufacturing services, and preowned aircraft sales and acquisitions. Duncan Aviation also has international aircraft components solutions experts available 24/7/365 at +1 402.475.4125 who can handle any aircraft system problem with immediate exchanges, rotables, loaners or avionics/instrument/accessory repairs and overhauls. Complete service facilities are located in Battle Creek, Michigan; Lincoln, Nebraska; and Provo, Utah. We also have dozens of other facilities strategically located throughout the United States to provide customers with scheduled regional support and the quickest response possible to avionics, engine and airframe Aircraft On Ground (AOG) situations.
For more information about any of Duncan Aviation's services, call +1 402.475.2611 or visit https://www.DuncanAviation.aero/services