Duncan Aviation Receives TCCA Approval for Three More STCs for the Gogo AVANCE L5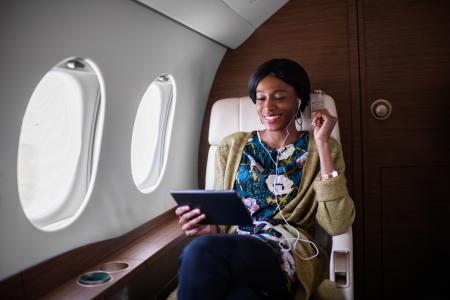 LINCOLN, NEB — Following closely on the heels of the release of its ninth Supplemental Type Certificate (STC) for the Gogo AVANCE L5 Wi-Fi system, Duncan Aviation is pleased to announce it has applied for and received Transport Canada Civil Aviation (TCCA) validation for the most recent three STCs. Duncan Aviation's Engineering and Certification Services Department has developed nine STCs for the AVANCE L5 system, and the STCs cover the Wi-Fi certification and the full equipment and antenna installation for each make/model of aircraft.
This most recent validation, sought by a team of Engineers from Duncan Aviation's Battle Creek, Michigan, facility, was led by Certification Coordinator Ayui Murata. Murata and her team received approval in mid-October for the Cessna Citation 680, Cessna Citation 750, and Gulfstream G200. Duncan Aviation has now secured TCCA validation on all nine of its Gogo AVANCE L5 STCs, which cover the following airframes:
Global Express, XRS, 6000
Global 5000
Challenger CL-650, CL-605, CL-604, CL-601-3A, CL-601-3R
Challenger 300, 350
Gulfstream GIV, G300, G400
Gulfstream GIV-X, G350, G450
Falcon 900
Falcon 900EX (EX, EASy, LX, DX)
Falcon 2000
Falcon 2000EX (EX, EASy, LX, DX, LXS, S)
Cessna Citation 680
Cessna Citation 750
"Many of the requests for quotes we've been getting are for connectivity, and we expect demand to remain strong well into 2021," says Regional Avionics Sales Manager John Spellmeyer.
Currently, the Gogo AVANCE L5 system connects to the Gogo Biz 4G network and delivers faster speeds and enhanced network capabilities. Passengers can stream live video and audio, watch video conferences, use their personal smartphones, access data for cockpit apps in real-time, and perform remote diagnostics in-flight.
For quotes and scheduling information, contact your local Duncan Aviation's Avionics Installation representatives (www.DuncanAviation.aero/services/avionics-installation/contacts).
About Duncan Aviation
Duncan Aviation is an aircraft service provider supporting the aviation needs of business aircraft operators, government agencies, and other aircraft service providers. Services include major and minor airframe inspections, engine maintenance, major retrofits for cabin and cockpit avionics systems, full paint and interior services, engineering and certification services, fabrication and manufacturing services, and preowned aircraft sales and acquisitions. Duncan Aviation also has international aircraft components solutions experts available 24/7/365 at +1 402.475.4125 who can handle any aircraft system problem with immediate exchanges, rotables, loaners or avionics/instrument/accessory repairs and overhauls. Complete service facilities are located in Battle Creek, Michigan; Lincoln, Nebraska; and Provo, Utah. We also have dozens of other facilities strategically located throughout the United States to provide customers with scheduled regional support and the quickest response possible to avionics, engine and airframe Aircraft On Ground (AOG) situations.
For more information about any of Duncan Aviation's services, call +1 402.475.2611 or visit https://www.DuncanAviation.aero/services