Duncan Aviation's first Honeywell TFE731 CZI Event: One Engine, One Build, One Run, One Exceptional Engine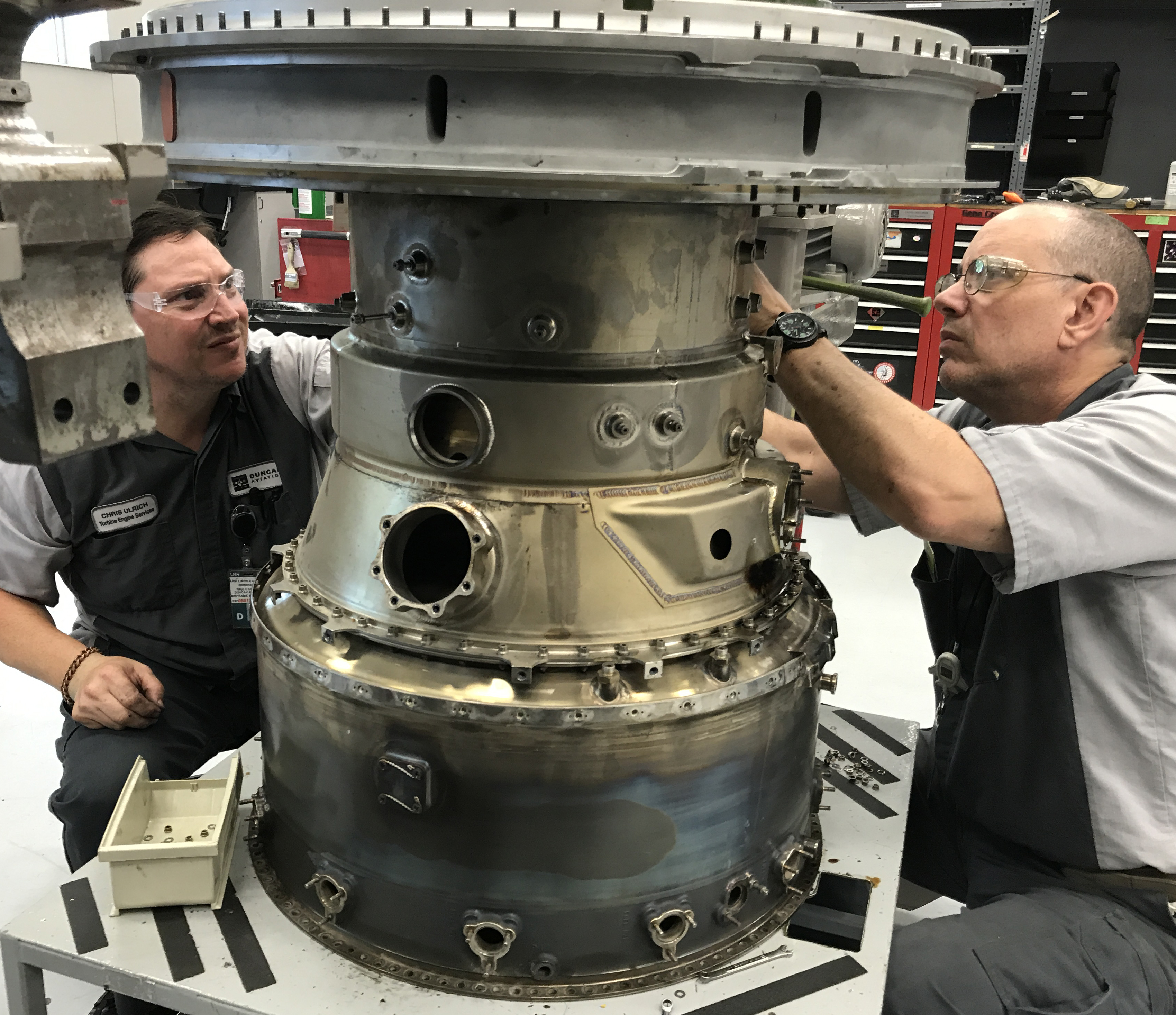 LINCOLN, NEB. — After performing its first official CZI (Core Zone Inspection) on a Honeywell TFE731 engine at its Turbine Engine Overhaul Facility in Lincoln, Nebraska, Duncan Aviation is pleased to announce the engine has been reinstalled on a Bombardier Learjet 45 operated by Jet Linx Omaha and that it is showing impressive performance margins after only one build and one test cell run.
The report received from the Test Cell Certification run performed by the OEM, resulted in 158 degrees ITT margin and 971 RPM N2 Margin, or 263% and 162% more than the maintenance manual requirements.
The test cell results did not come as a surprise to Mike Bernholtz, Duncan Aviation Turbine Engine Service Sales Rep. "The CZI process is not new to us. We have been in partnership with the OEM on core inspections and maintenance for decades. Because of our solid history of quality and pride of craftsmanship, engines just don't come back to us after they are released back to the customer in order to address additional maintenance or service issues."
James Prater, Duncan Aviation Manager of Turbine Engine Services, believes the impressive CZI margin numbers are simply another testament to the service quality their customers have experienced for years. "This was our first CZI. We built it once. It was tested once and delivered on the first try with performance margins that not only exceeded the maintenance manual requirements, but also exceeded nearly all of the engine's new production performance parameters."
Duncan Aviation's second CZI is in process now and scheduled to deliver in October. There are several more CZI events on Duncan Aviation's schedule for the rest of the year and into 2018. Duncan Aviation is also in the process of an engine facility expansion with a new test cell and control room. The test cell is under construction and is scheduled to be fully operational by the end of 2017.
For more information about Duncan Aviation, visit Duncan Aviation at booth #C9125 during this year's NBAA convention from October 10-12, in Las Vegas, Nevada, or watch for announcements at www.DuncanAviation.aero/nbaa.
About Duncan Aviation
Duncan Aviation is an aircraft service provider supporting the aviation needs of business aircraft operators, government agencies, and other aircraft service providers. Services include major and minor airframe inspections, engine maintenance, major retrofits for cabin and cockpit avionics systems, full paint and interior services, engineering and certification services, fabrication and manufacturing services, and preowned aircraft sales and acquisitions. Duncan Aviation also has international aircraft components solutions experts available 24/7/365 at +1 402.475.4125 who can handle any aircraft system problem with immediate exchanges, rotables, loaners or avionics/instrument/accessory repairs and overhauls. Complete service facilities are located in Battle Creek, Michigan; Lincoln, Nebraska; and Provo, Utah. We also have dozens of other facilities strategically located throughout the United States to provide customers with scheduled regional support and the quickest response possible to avionics, engine and airframe Aircraft On Ground (AOG) situations.
For more information about any of Duncan Aviation's services, call +1 402.475.2611 or visit https://www.DuncanAviation.aero/services