Duncan Aviation's Jesse Titterington Named Avionics Manager in Provo, Utah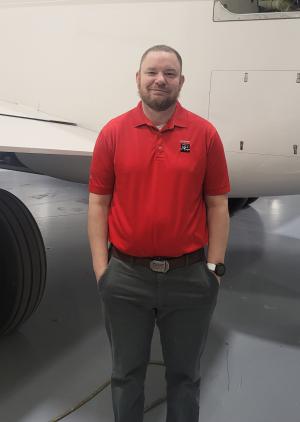 LINCOLN, NEB. — Duncan Aviation is pleased to announce that long-time team member Jesse Titterington has accepted the position of Production Manager of Avionics Install at the company's full-service facility in Provo, Utah. Titterington joined the Duncan Aviation team in 2006 on the avionics line at the company's facility in Lincoln, Nebraska. He's steadily assumed more responsibilities and learned more aspects of the company over the last 16 years, and he's excited to work with Duncan Aviation's customers and team members in the full-service facility in Provo.
"With his many years of experience throughout the Duncan Aviation enterprise, we're confident that Jesse will help grow our avionics teams as we meet the challenges of our increasing avionics business," says Vice President of Aircraft Services Cobi Lane. "Jesse's interpersonal skills make him the perfect fit to build new and strengthen existing relationships with our customers here in Provo, as well."
After high school, Titterington joined the United States Marine Corps, where he worked on the avionics for extended-range tankers, the KC-130s.
"My experience working on those aircraft in the Marines was the hook," says Titterington. "While in the Marines, I went to A School to learn basic electronics in Memphis, Tennessee, and I learned about the specific airframe, the KC130s, while in C School in Cherry Point, North Carolina."
Upon returning to Lincoln, Titterington took classes at the University of Nebraska Lincoln toward an Electrical Engineering degree, and he applied for a position on the Avionics Line at Duncan Aviation. Hired in April 2006, he spent more than 4 years learning all he could and then transferred to the Duncan Aviation Satellite Shop in Teterboro, New Jersey, where he found he had responsibility for a project from input through delivery.
"I sold the projects, did the work, signed off, and delivered the aircraft," says Titterington. "The entire time, I was in touch with the customer, so in addition to developing technical skills, I honed my communication skills, too."
After 10 years at the Teterboro Satellite, he was asked to join the Avionics Install team at Duncan Aviation's newest full-service facility in Provo, Utah. After nearly 2 years there, Titterington assumed his new role as Manager of Avionics Install for the Provo facility on Valentine's Day, which is fitting because he loves what he's doing.
"This is exactly where I want to be, and I really love being a part of the everyday decisions, helping the teams with the big projects we have going on here in Provo," says Titterington. "There's great opportunity in Provo to build relationships with new customers and help the newer team members grow and learn the Duncan Aviation way."
Titterington and his fiance Stephanie have an Australian Shepherd named Max and a Labrador Retriever named Vader. In their free time, they hike and explore Utah together. Although their cats, Cessna and Boeing, don't join them on the hikes, they do round out the family. In his free time, Titterington likes to hit mountain trails on his full-suspension Fezzari Delano, and he's discovered he works with plenty of kindred spirits.
About Duncan Aviation
Duncan Aviation is an aircraft service provider supporting the aviation needs of business aircraft operators, government agencies, and other aircraft service providers. Services include major and minor airframe inspections, engine maintenance, major retrofits for cabin and cockpit avionics systems, full paint and interior services, engineering and certification services, fabrication and manufacturing services, and preowned aircraft sales and acquisitions. Duncan Aviation also has international aircraft components solutions experts available 24/7/365 at +1 402.475.4125 who can handle any aircraft system problem with immediate exchanges, rotables, loaners or avionics/instrument/accessory repairs and overhauls. Complete service facilities are located in Battle Creek, Michigan; Lincoln, Nebraska; and Provo, Utah. We also have dozens of other facilities strategically located throughout the United States to provide customers with scheduled regional support and the quickest response possible to avionics, engine and airframe Aircraft On Ground (AOG) situations.
For more information about any of Duncan Aviation's services, call +1 402.475.2611 or visit https://www.DuncanAviation.aero/services