Duncan Aviation's Leah Lenardic Alexander Named IADA-Certified Aircraft Sales Broker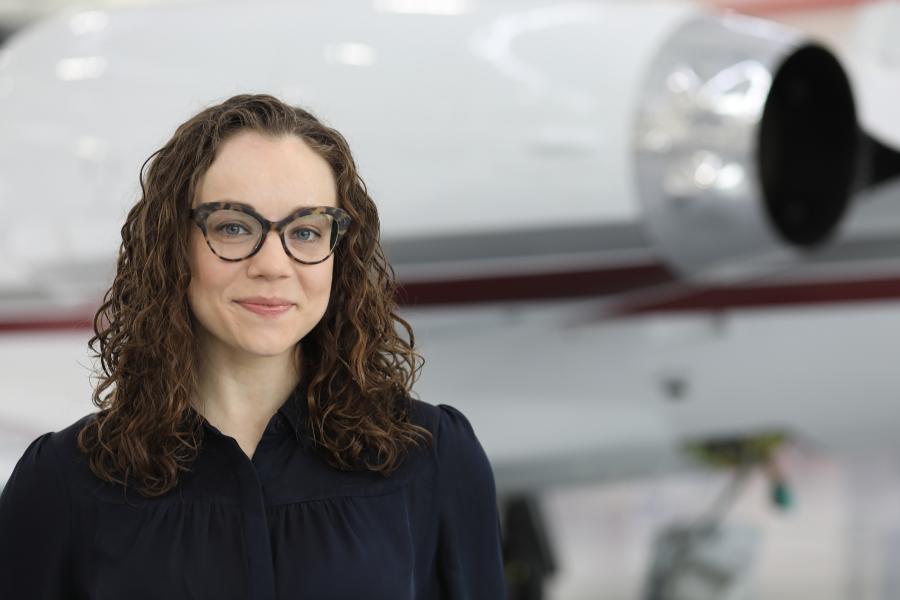 LINCOLN, NEB. — Duncan Aviation is pleased to announce that Leah Lenardic Alexander, a member of the company's Aircraft Sales and Acquisitions team, recently earned recognition as a Certified Aircraft Sales Broker from the International Aircraft Dealers Association (IADA).
"IADA is pleased to welcome Duncan Aviation's Leah Alexander into the prestigious ranks of IADA-certified aircraft brokers," said IADA Executive Director Wayne Starling. "Her exceptional background, reputation and mastering IADA's rigorous independent evaluation process bestow her with industry recognition as a highly skilled broker at the top of her profession."
IADA Certified Brokers have to pass a rigorous test and are verified by an independent firm. In addition, Accredited Dealers must engage in continuing education to pass a recertification processes, ensuring that IADA dealers possess relevant industry knowledge and maintain their adherence to the IADA code of ethics. Within the 48 IADA Accredited Dealers, there are currently 120 IADA Certified Brokers.
"In achieving IADA brokerage certification, I offer our clients not only decades of industry experience, but also assurance in the breadth and depth of knowledge required to guide each step of their aircraft sale or acquisition," says Alexander. "The IADA standard aligns with Duncan Aviation's commitment to the highest levels of service and integrity, strengthening our clients' trust that we will deliver the best experience possible throughout each aircraft transaction."
Alexander grew up in business aviation and began working in the industry over 20 years ago. She brings a combination of market analysis and business development expertise as well as experience with aviation management and consulting to her role at Duncan Aviation. She previously served as an analyst for the aircraft sales and acquisitions team, held a management position at Vertiport Chicago, and was principal of Business Aviation Insights prior to joining Duncan Aviation.
Alexander joins longtime member of Duncan Aviation's Aircraft Sales and Acquisitions team Rene Cardona as IADA-Certified Aircraft Sales Brokers.
Duncan Aviation is an IADA Accredited Dealer and founding member.
About the International Aircraft Dealers Association
Working for business aircraft owners globally, IADA provides a facility for professional standards, ethics and exchange of information among its members and to the public for the purpose of creating a more efficient market, facilitating transactions and providing transparency in transactions, thereby increasing business aircraft ownership and usage worldwide. With accredited Dealers, Certified Brokers and Verified Products and Services Members skilled in aircraft transactions, IADA is the acknowledged leader in developing industry standards for efficient, effective and ethical business aircraft transactions.
About Duncan Aviation
Duncan Aviation is an aircraft service provider supporting the aviation needs of business aircraft operators, government agencies, and other aircraft service providers. Services include major and minor airframe inspections, engine maintenance, major retrofits for cabin and cockpit avionics systems, full paint and interior services, engineering and certification services, fabrication and manufacturing services, and preowned aircraft sales and acquisitions. Duncan Aviation also has international aircraft components solutions experts available 24/7/365 at +1 402.475.4125 who can handle any aircraft system problem with immediate exchanges, rotables, loaners or avionics/instrument/accessory repairs and overhauls. Complete service facilities are located in Battle Creek, Michigan; Lincoln, Nebraska; and Provo, Utah. We also have dozens of other facilities strategically located throughout the United States to provide customers with scheduled regional support and the quickest response possible to avionics, engine and airframe Aircraft On Ground (AOG) situations.
For more information about any of Duncan Aviation's services, call +1 402.475.2611 or visit https://www.DuncanAviation.aero/services