Duncan Aviation Signs PRES Agreement With Honeywell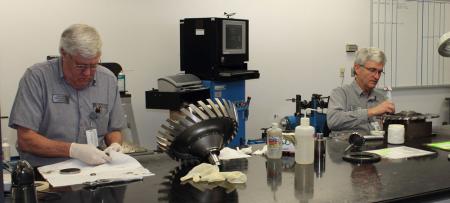 LINCOLN, NEB — Duncan Aviation is pleased to announce the signing of a new PRES (Parts Reclamation Engine Surplus) agreement with Honeywell Aerospace. This agreement applies to Honeywell TFE731-2 & -3 engines and engine parts and re-authorizes Duncan Aviation to purchase, inspect, repair as necessary, and recertify serviceable parts using Honeywell technical information. All parts are returned to service with a signed FAA 8130-3 and EASA dual-release tag.
There is real value in reclaimed engine parts. As an engine reaches its life-limit, it can still contain good components. Reclaimed parts are a lower-cost alternative that allows aging aircraft to continue to provide valuable flight services to their operating companies for longer periods of time. All reclaimed engine parts are authorized Honeywell parts that have been put back to work using OEM technical data.
"It's simple economics," says James Prater, Duncan Aviation Engine Services Manager. "Reclaimed engine parts give operators more options to control costs, experience faster turntimes, and reduce operating costs to extend the life of their aircraft."
Duncan Aviation is a Honeywell TFE731 Heavy Maintenance Facility and has had several years of experience buying, selling and exchanging TFE731 engines and engine parts. The two companies have worked together for nearly four decades to provide support to all models of the Honeywell TFE731 engines.
For more information, visit Duncan Aviation at booth #3896 during this year's NBAA convention from October 16-18, at the Orange County Convention Center at the Orlando Executive Airport in Orlando, Florida, or watch for announcements at www.DuncanAviation.aero/nbaa.
About Duncan Aviation
Duncan Aviation is an aircraft service provider supporting the aviation needs of business aircraft operators, government agencies, and other aircraft service providers. Services include major and minor airframe inspections, engine maintenance, major retrofits for cabin and cockpit avionics systems, full paint and interior services, engineering and certification services, fabrication and manufacturing services, and preowned aircraft sales and acquisitions. Duncan Aviation also has international aircraft components solutions experts available 24/7/365 at +1 402.475.4125 who can handle any aircraft system problem with immediate exchanges, rotables, loaners or avionics/instrument/accessory repairs and overhauls. Complete service facilities are located in Battle Creek, Michigan; Lincoln, Nebraska; and Provo, Utah. We also have dozens of other facilities strategically located throughout the United States to provide customers with scheduled regional support and the quickest response possible to avionics, engine and airframe Aircraft On Ground (AOG) situations.
For more information about any of Duncan Aviation's services, call +1 402.475.2611 or visit https://www.DuncanAviation.aero/services