Duncan Aviation STC for ACA Air Purification in Global Slated for July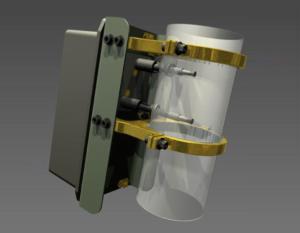 LINCOLN, NEB — Duncan Aviation is anticipating the completion and availability of its first Supplemental Type Certificate (STC) for the Aviation Clean Air (ACA) ionization system for a Global aircraft on July 24. The Duncan Aviation Engineering & Certication Services team is developing the STC to cover the installation of the safe and effective air ionization system, and the team is also working on paths to certify other makes/models, including a Challenger 300/350.
Designed to be installed in an aircraft's existing environmental control system, ACA is an air- and surface-purification system. The ACA system improves air quality throughout the aircraft and, more importantly, kills pathogens and removes allergens and unpleasant odors.
In May, lab testing conducted by independent lab Innovative BioAnalysis found the ACA ionizer effective at rendering harmless the novel coronavirus that causes COVID-19. The lab test showed that 99.4% of the virus particles were inactivated within 30 minutes.The system has been tested and proven to kill the coronavirus that caused SARS (Severe Acute Respiratory Syndrome), as well.
The ionized hydrogen molecules also deactivate other viral, bacterial, and fungal pathogens such as those that cause the common cold, flu (swine, avian, etc.), MRSA (methicillin-resistant Staphylococcus aureus), C. diff (clostridium difficile), E. coli (Escherichia coli), pneumonia, polio, and mold.
In addition to pathogens, the ACA component neutralizes potentially harmful gasses caused by fuel emissions, other VOCs (volatile organic compounds), and offensive odors caused by cooking or cleaning, cigarette and cigar smoke, stagnant air, and lavatories. Pet odors are also neutralized. The system will also reduce the static electricity in aircraft that's caused by the low relative humidity of the cabin air.
"Like our customers, we have always known there were dangerous viruses and bacteria in the world. We've all heard of the SARS and MERS viruses and drug-resistant bacteria, and now we can add COVID-19 to the list. Avoiding them mostly meant washing our hands often and thoroughly," says Michael Kussatz, Avoinics Regional Sales in the Eastern US. "After doing some research, we found that the ACA ionization system gives pilots and passengers a space where there is a very natural process going on that is deactivating these pathogens, rendering them harmless, as we travel in comfort."
Because installation can typically be completed in less than two weeks, Duncan Aviation can install the ACA air ionizer as a stand-alone event or part of a scheduled-maintenance event. To schedule time in one of Duncan Aviation's three main facilities in Battle Creek, Michigan; Lincoln, Nebraska; or Provo, Utah; or at many of our 28 Satellite Shops or workaway stations around the country (https://www.duncanaviation.aero/locations/#satellites), contact Regional Avionics Sales Manager Michael Kussatz at +1 531.207.3951 or email Michael.Kussatz@DuncanAviation.com.
For more information on the ACA air purification system, watch the Duncan Aviation Straight Talk webinar, "Sorting Through The Facts Of COVID-19 & Ionization Systems," featuring epidemiologist Dr. Rachel Sippy (https://www.duncanaviation.aero/resources/straight-talk/sorting-through-the-facts-of-covid-19-and-ionization-systems).
About Duncan Aviation
Duncan Aviation is an aircraft service provider supporting the aviation needs of business aircraft operators, government agencies, and other aircraft service providers. Services include major and minor airframe inspections, engine maintenance, major retrofits for cabin and cockpit avionics systems, full paint and interior services, engineering and certification services, fabrication and manufacturing services, and preowned aircraft sales and acquisitions. Duncan Aviation also has international aircraft components solutions experts available 24/7/365 at +1 402.475.4125 who can handle any aircraft system problem with immediate exchanges, rotables, loaners or avionics/instrument/accessory repairs and overhauls. Complete service facilities are located in Battle Creek, Michigan; Lincoln, Nebraska; and Provo, Utah. We also have dozens of other facilities strategically located throughout the United States to provide customers with scheduled regional support and the quickest response possible to avionics, engine and airframe Aircraft On Ground (AOG) situations.
For more information about any of Duncan Aviation's services, call +1 402.475.2611 or visit https://www.DuncanAviation.aero/services