Duncan Aviation Transforms Challenger Aircraft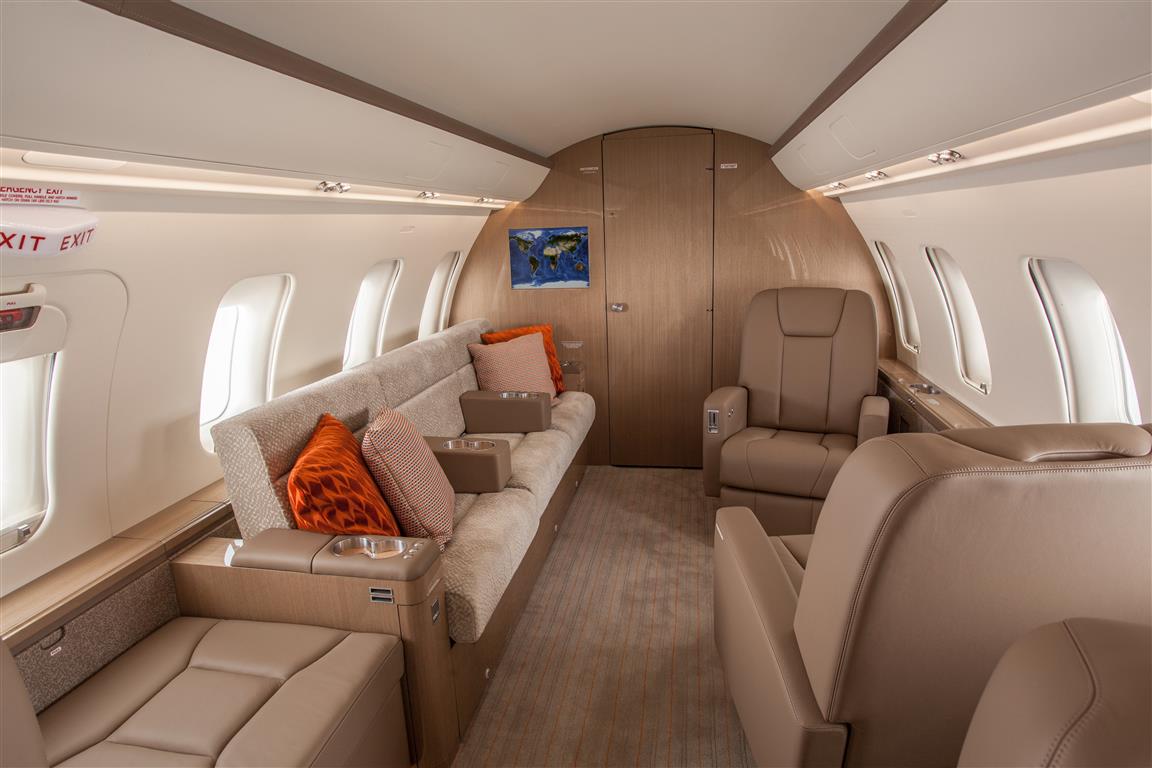 LINCOLN, NEB — Duncan Aviation is pleased to announce the completion of a fully customized Challenger 605 interior and exterior that took a former charter jet and transformed it into a proud company showcase for its new owner. The Interior Team and Paint Shop in Battle Creek, Michigan, started with a dated interior and exterior and completely redesigned, refurbished, and repainted the entire aircraft.
Scott Fitzgerald, a broker representing the owner, initially reached out to Duncan Aviation. "I initially called for a quote on paint and interior based on the company's reputation as one of the top paint shops in the industry," says Scott.
However, after viewing the 3D images of Duncan Aviation's Multimedia Illustrator, Ken Reita, the customer opted for a far more extensive renovation than he'd originally envisioned.
"When he saw the dramatic possibilities based on Ken's designs, our customer was delighted," says Completions and Modifications Sales Rep Adam Bruce. "Ken and I then flew to Miami with samples, and our customer selected the unique colors and materials to fully customize not only the interior but also the exterior of his aircraft."
The renovation featured contemporary styling—colors, textures, and materials, including quartz countertops, plush fabrics using a unique color palette, chrome plating, and high-gloss, light beige wood with graphite striations that are not radical by any stretch but aren't often seen in the interiors of business jets.
Designer Reita took the customer's location, Miami, with its bright hues, light and energy, into consideration when pulling together the color palette for the project.
The ability to converse in the cabin without shouting was also something the customer was concerned about. So the interior team brought in a specialist to gauge the noise levels in the cabin during test flights, and they conceived of a way to dampen the aircraft noise.
"We augmented the sound-proofing package and dropped the noise level in the cabin from 3.8db to 2.4db," says Completions and Modifications Sales Rep Adam Bruce.
"The Duncan Aviation team was a pleasure to work with from start to finish," says Scott. "They were accommodating and willing to adapt on-the-fly to our changes throughout the term of the project."
About Duncan Aviation
Duncan Aviation is an aircraft service provider supporting the aviation needs of business aircraft operators, government agencies, and other aircraft service providers. Services include major and minor airframe inspections, engine maintenance, major retrofits for cabin and cockpit avionics systems, full paint and interior services, engineering and certification services, fabrication and manufacturing services, and preowned aircraft sales and acquisitions. Duncan Aviation also has international aircraft components solutions experts available 24/7/365 at +1 402.475.4125 who can handle any aircraft system problem with immediate exchanges, rotables, loaners or avionics/instrument/accessory repairs and overhauls. Complete service facilities are located in Battle Creek, Michigan; Lincoln, Nebraska; and Provo, Utah. We also have dozens of other facilities strategically located throughout the United States to provide customers with scheduled regional support and the quickest response possible to avionics, engine and airframe Aircraft On Ground (AOG) situations.
For more information about any of Duncan Aviation's services, call +1 402.475.2611 or visit www.DuncanAviation.aero