Duncan Aviation Transforms Dated Gulfstream G550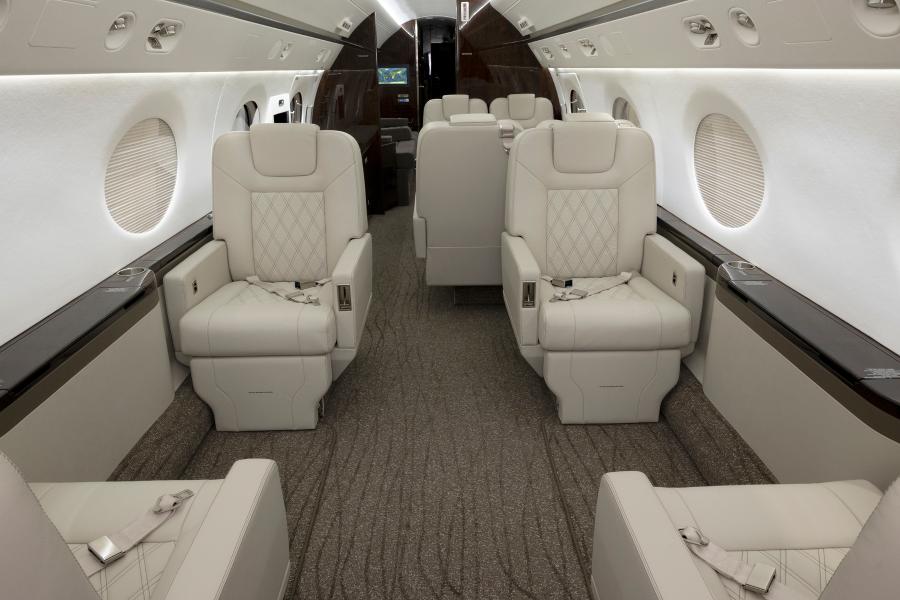 LINCOLN, NEB. — Duncan Aviation recently delivered a Gulfstream G550 that was transformed with a full interior refurbishment and avionics upgrades.
The previous interior was showing its age, so the customer wanted to refresh it with a sleek, new look. To achieve this, the Duncan Aviation Interior and Design teams incorporated modern styling cues, such as the seat design, plated handrails, and high-contrast materials.
Lead Designer Jack Bauder said the interior of this aircraft is highlighted by new seats and handrails inspired by the Gulfstream 600.
"The owner really liked the G600 seats, but the seat design is always limited by the seat drawings and certifications," said Bauder. "Our Upholstery shop did a fantastic job blending the G600 seat design with the existing structure to ensure the seats met certifications."
Achieving the plated finish on the cabin handrails was another challenge.
"Since they were too large to plate or hydrodip, the Finish Shop came up with a creative solution," said Bauder. "They sanded the existing rails down to bare aluminum and applied a transparent Cerakote finish to match the clear-coating on the cabin plating."
Bauder said the finished interior looks like an entirely new aircraft, and one of the most rewarding parts about being in the Design department is taking a dated aircraft and breathing new life into it.
The aircraft also received avionics upgrades that are a first to the G550.
Senior Avionics Sales Rep Mike Morgan said they installed the new KU/KA Tail radome that allows for the use of KA or KU Frequency Band Satcom Systems to be installed under the same radome.
"This is a big deal because this is a newer STC on the market, and we are now able to provide options for high-speed data system installations to our customers," said Morgan.
Another exciting achievement was the Viasat VMT-1500-C KU-Band Satcom system.
"After it was installed, we turned it on and it worked flawlessly," said Morgan.
Duncan Aviation also installed the Collins Aerospace Venue with AVDS Cabin Management System, an upgrade specific to Gulfstream aircraft that have existing legacy Collins ACMS or CMS-1 systems. The Venue CMS was paired with the Bongiovi audio system. (Learn more about the Bongiovi sound system here: https://duncanaviation.aero/news/duncan-aviation-installs-fourth-bongiovi-audio-system)
Bauder and Morgan both said that the customer was extremely happy with his new aircraft, and described it as "transformative" and "awesome."
About Duncan Aviation
Duncan Aviation is an aircraft service provider supporting the aviation needs of business aircraft operators, government agencies, and other aircraft service providers. Services include major and minor airframe inspections, engine maintenance, major retrofits for cabin and cockpit avionics systems, full paint and interior services, engineering and certification services, fabrication and manufacturing services, and preowned aircraft sales and acquisitions. Duncan Aviation also has international aircraft components solutions experts available 24/7/365 at +1 402.475.4125 who can handle any aircraft system problem with immediate exchanges, rotables, loaners or avionics/instrument/accessory repairs and overhauls. Complete service facilities are located in Battle Creek, Michigan; Lincoln, Nebraska; and Provo, Utah. We also have dozens of other facilities strategically located throughout the United States to provide customers with scheduled regional support and the quickest response possible to avionics, engine and airframe Aircraft On Ground (AOG) situations.
For more information about any of Duncan Aviation's services, call +1 402.475.2611 or visit https://www.DuncanAviation.aero/services