Duncan Aviation Welcomes 37 Interns This Summer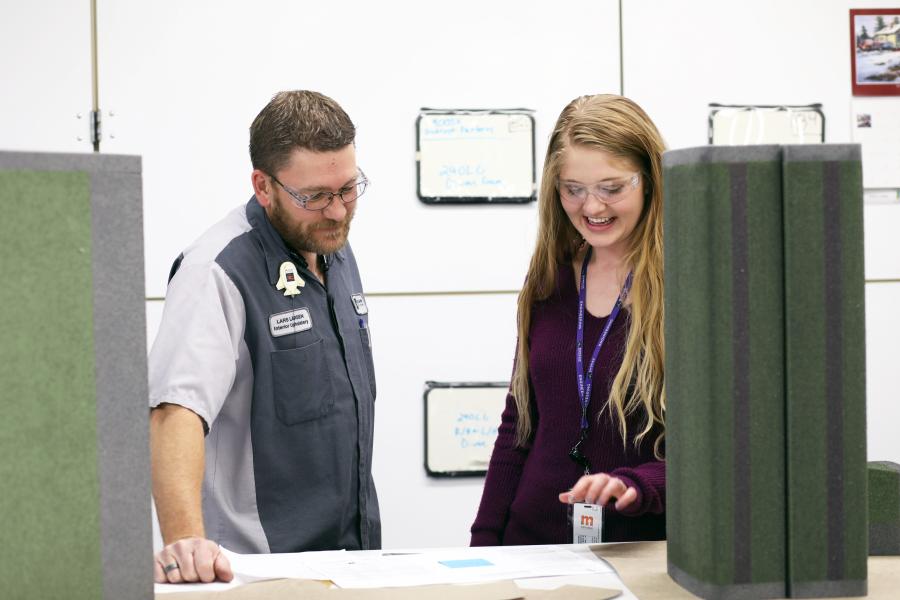 LINCOLN, NEB — This summer, Duncan Aviation has welcomed a total of 37 production interns to its three full-service facilities in Lincoln, Nebraska; Battle Creek, Michigan; and Provo, Utah. Each year, Duncan Aviation offers summer internships that allow students the opportunity to learn more about the company and explore possible career paths in business aviation service and support.
Human Resource Team Lead Jennifer Monroe says that summer interns typically work full-time from mid-May through the beginning of August, and spend time working alongside other team members. An internship is an opportunity for a student to gain real-world experiences in production, and a way to apply what he or she has learned in technical school to the real world.
"The internship program is a paid opportunity in which the students get to experience a new location for the summer and can network with others in the industry," Monroe says. "Over the last two years, we've put a lot more focus on our internship program, and it will continue to grow with the expansion of our third full-service MRO facility in Provo."
Interns at Duncan Aviation are treated like any other new hire. They attend full orientation to receive a solid understanding of the company and culture. They are also placed on teams, paired with a mentor, and are given actual projects to work on. By pairing the interns with experienced technicians, they get a chance to build relationships and learn at a deeper level than school can provide. In addition, they are held to the same standards as full-time team members.
Jeremy Rangel, a Duncan Aviation Airframe Services Manager, says, "We have made several long-term hires through our internship program. I think one of the most valuable benefits of the program is that interns get the chance to experience our culture. Duncan Aviation's culture is one of our biggest selling points, and it is difficult to explain when speaking to a group outside the company."
Avionics Install Manager Pat Mapes agrees that the internship program has done many wonderful things for his team.
"We are able to interact with the future of the industry in a meaningful way," Mapes says. "Having interns keeps us on our toes because they ask a lot of questions; these questions force us to stay sharp so we can provide good answers. We have the gift of providing them with some valuable education and experiences, and in return we get some good summer help, the connection with a potential employee, and a long-lasting summer relationship with them and the university or school they attend. In past years, we have hired many technicians who spent a summer interning with us."
The number of interns has risen consistently from 17 in 2017 to 30 in 2018 and 37 in 2019. In 2018, Duncan Aviation made full-time employment offers to 12 of its 30 interns.
Duncan Aviation's 2019 class of interns come from a diverse background, with some traveling to Lincoln from Indiana, Kentucky, South Dakota, Kansas, Maryland, Utah, and so on.
Angelina Kapp is currently an intern on the Duncan Aviation Avionics Install team in Lincoln, and says, "This internship has allowed me to see similarities between my college's lab work and the real career field. It's very refreshing to know what I am learning during the internship will help me prepare for my future career."
Airframe Technician Jacob Trowbridge was a student at Utah State University in Salt Lake City, Utah, when he earned an internship with Duncan Aviation in 2016.
"The internship prepared me for the actual job here at Duncan Aviation by showing me exactly what would be expected of me," Trowbridge continues. "My team didn't really treat me as an intern, more like a new hire that they just had to show the ropes to. The internship was immensely helpful in this way, and I accepted a full-time job with Duncan Aviation in 2017."
Shaylee Kreutzer also spent time as an intern in the Engineering department in 2017, and was hired full-time in 2018.
"As an intern, I interacted with professionals at Duncan Aviation every day. I learned alongside them throughout projects that I was assigned to. Prior to graduation, I got the full experience of what it was like to work in the field," Kreutzer continues. "Throughout the internship, I was able to learn more about the aviation field. I easily applied by skills I learned in college directly to my internship. Along with that, I learned many new field specific skills that I would have never been taught in the classroom."
Additionally, eligible interns receive a $1,500 housing stipend for the summer, and receive guidance on local apartment complexes and possible roommates. Duncan Aviation encourages interns get involved in the community, and they often receive tickets to sporting events and invitations to other events outside of work.
To learn more about the internship opportunities offered with Duncan Aviation, check out www.DuncanAviation.aero/Careers.
About Duncan Aviation
Duncan Aviation is an aircraft service provider supporting the aviation needs of business aircraft operators, government agencies, and other aircraft service providers. Services include major and minor airframe inspections, engine maintenance, major retrofits for cabin and cockpit avionics systems, full paint and interior services, engineering and certification services, fabrication and manufacturing services, and preowned aircraft sales and acquisitions. Duncan Aviation also has international aircraft components solutions experts available 24/7/365 at +1 402.475.4125 who can handle any aircraft system problem with immediate exchanges, rotables, loaners or avionics/instrument/accessory repairs and overhauls. Complete service facilities are located in Battle Creek, Michigan; Lincoln, Nebraska; and Provo, Utah. We also have dozens of other facilities strategically located throughout the United States to provide customers with scheduled regional support and the quickest response possible to avionics, engine and airframe Aircraft On Ground (AOG) situations.
For more information about any of Duncan Aviation's services, call +1 402.475.2611 or visit https://www.DuncanAviation.aero/services