Duncan Aviation Welcomes Ann Pollard As New Aircraft Sales & Acquisitions Sales Rep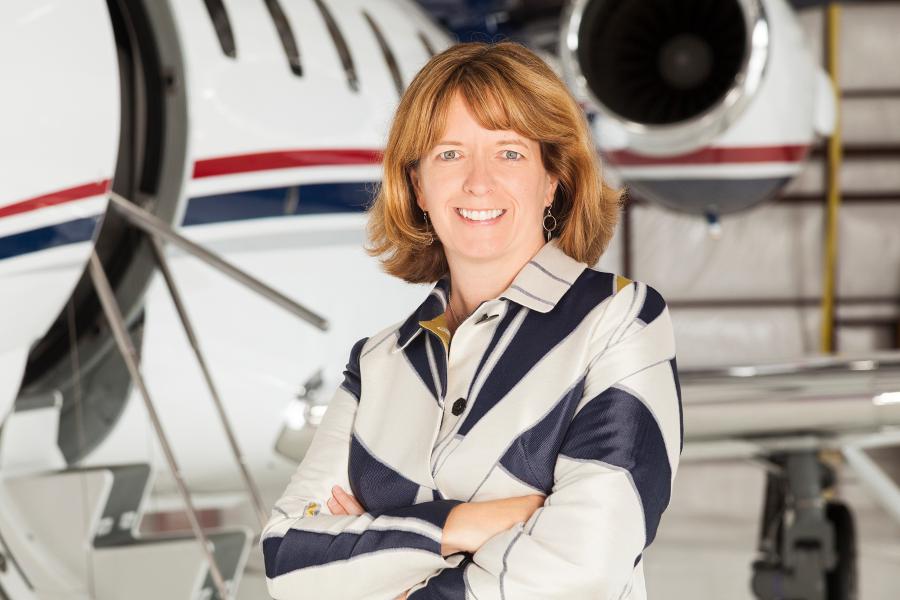 LINCOLN, NEB. — Duncan Aviation is excited to announce that Ann Pollard has joined its Aircraft Sales & Acquisitions team.
Ann Pollard is a skilled aviation professional with 30+ years of diverse experience. She has extensive experience with complex aircraft transactions, aircraft management relationships, and development/oversight of completion projects, inspections, and avionics/cabin upgrades. Before joining Duncan Aviation in September of 2021, Pollard held the positions of Vice President/Director of Sales & Acquisitions, Director of Charter and Managed Aircraft Accounts, Airport Manager, and FBO/Operations Manager at Shoreline Aviation. She has her FAA Private Pilot's License and MA Airport Manager License. Pollard will be based out of a new sales office co-located with the company's Satellite facility at Bedford-Hanscom Field, Mass. (KBED).
Pollard's passion for aviation started at a young age.
"My late father was a Naval aviator and one of the best pilots I've ever met," said Pollard. "He was a great inspiration and mentor. Two of my older brothers are also pilots; one is retired from the Navy and has an aviation engineering company and one is a retired airline executive with numerous pilot ratings."
Pollard had her first job in aviation when she was just 16, and was able to take flying lessons after work.
"I earned my pilot's license before my driver's license, mainly because I'm the youngest of ten children and there was never a car available to learn to drive," said Pollard. "Two of my nephews recently earned their wings, one as an Army helicopter pilot and another as a private pilot, and one of my nieces recently earned degrees in Aerospace Engineering and Astrophysics. Aviation is definitely in our blood."
Pollard said that Duncan Aviation is a big part of her former company's support network for their fleet of managed aircraft.
"I had the opportunity to get to know the Duncan Aviation culture over many years while collaborating on completion projects, inspections, and acquisition projects," said Pollard. "My time on Duncan Aviation's Customer Advisory Board provided a behind-the-scenes view of the principles that define Duncan Aviation as a company. Although I have 30+ years in the business, I knew I could continue to grow and learn from the collective experience of Duncan Aviation's 2,300+ dedicated aviation professionals."
Pollard is a detailed-orientated facilitator with a big picture view and has served on the NATA Board of Directors and several other industry boards. Her aircraft sales & acquisition, aircraft management, FBO, and airport management background helped her to develop a unique skill set.
"I can relate to the issues that owners, operators and service providers deal with on a daily basis and enjoy helping all parties collaborate to achieve a common goal," said Pollard.
Pollard is driven by the relationships formed with the companies and individuals she works with, and by finding creative solutions to their complex challenges.
"I pay attention to small details and strive to find ways to exceed client expectations," said Pollard. "Every transaction is unique and dynamic and the ability to think outside the box is essential. My goal is to ensure that all parties walk away feeling that they were treated fairly. Fostering and maintaining long-term relationships is important to me. I know that Duncan Aviation's core values will provide the foundation that will help me deliver the very best experience to our clients while supporting our team and the many communities in which we live and work."
Pollard estimates she has been a part of hundreds of aircraft transactions, and has been involved with many aircraft through multiple ownership changes. Some of her most interesting transactions over the years have involved owner-flown transactions.
"Watching someone realize their flying dreams and go from piloting a Diamond DA40 to a Falcon 2000LX (with several steps in-between) is pretty neat," said Pollard.
Director of Aircraft Sales & Acquisitions Steve Gade said that bottom line, Pollard understands the industry.
"Her perspectives of being an operator, an aircraft broker/broker dealer, a relentless client advocate, and a business person are unique and will pay dividends to both our clients and our organization," said Gade. "Prior to joining our team, I personally was fortunate to work with Pollard who was an active member of the Duncan Aviation Customer Advisory Board and provided us with valuable feedback and insight that helped us in our pursuit of continual improvement. I'm extremely pleased that she has joined Duncan Aviation as a member of the Aircraft Sales & Acquisitions team."
In 2020, Pollard purchased an Airstream Globetrotter, which was a longtime dream for her. She loves exploring the country and camping off grid, preferably near a river, lake, or ocean so she is able to fly fish. Her family has a lot of adventurous cooks, so she is always searching for interesting spices and farm-to-table ingredients.
She also enjoys giving back by serving on various boards and volunteering.
"My volunteer work generally focuses on community or educational initiatives and supporting children and families who are experiencing homelessness," said Pollard.
About Duncan Aviation Aircraft Sales and Acquisitions
Founded in 1956 as a business aircraft sales organization, Duncan Aviation has been locating, buying and selling business aircraft for customers worldwide for more than 65 years. Operating in all kinds of market conditions, Duncan Aviation's aircraft sales consultants and market analyst have the experience of more than 3,000 aircraft transactions to help them provide customers with the best acquisition and sales options to maximize their clients' aircraft investments. They are backed by the technical knowledge and expertise of Duncan Aviation's 2,100 team members, whose resources help the aircraft sales team make connections, value aircraft, determine future aircraft worth and truly understand the business aviation market.
About Duncan Aviation
Duncan Aviation is an aircraft service provider supporting the aviation needs of business aircraft operators, government agencies, and other aircraft service providers. Services include major and minor airframe inspections, engine maintenance, major retrofits for cabin and cockpit avionics systems, full paint and interior services, engineering and certification services, fabrication and manufacturing services, and preowned aircraft sales and acquisitions. Duncan Aviation also has international aircraft components solutions experts available 24/7/365 at +1 402.475.4125 who can handle any aircraft system problem with immediate exchanges, rotables, loaners or avionics/instrument/accessory repairs and overhauls. Complete service facilities are located in Battle Creek, Michigan; Lincoln, Nebraska; and Provo, Utah. We also have dozens of other facilities strategically located throughout the United States to provide customers with scheduled regional support and the quickest response possible to avionics, engine and airframe Aircraft On Ground (AOG) situations.
For more information about any of Duncan Aviation's services, call +1 402.475.2611 or visit https://www.DuncanAviation.aero/services