Duncan Aviation Welcomes J. Alejandro Díaz Reyes As Central-Bajio & Northeast Mexico Territory Manager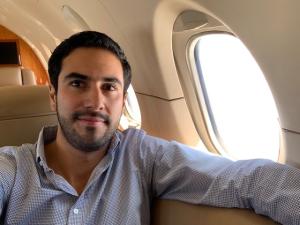 LINCOLN, NEB — Duncan Aviation is pleased to welcome J. Alejandro (Alex) Díaz Reyes to the team in Mexico. In May 2021, Díaz joined Duncan Aviation's Regional Manager in Mexico Rodolfo Rodriguez Zapata, as the new territory manager for the Central and Northeast Mexico Territory, with a base office soon to be in Guadalajara, Jalisco, Mexico.
"After spending time with Alex over the years, it's easy to feel his passion for the aviation industry, but mostly, it's his passion to see his customers be successful that really draws people to him," says Duncan Aviation Sales Manager Phil Suglia.
For as long as he can remember, Díaz has been crazy about aviation and everything related to airplanes. He loves working in aviation, being around airports and airplanes, and of course, flying.
"Being a part of the business aviation industry is a life dream come true," says Díaz. "In 2018 when I was working at the ALE Service Center and attended AeroExpo in Toluca, I met several members of the Duncan Aviation team. Later in the year, at NBAA in Orlando, Florida, I met Robert and Todd Duncan, and from them, I fully realized what an amazing company Duncan Aviation is. I continued building relationships with members of the Duncan Aviation team over the next couple of years, and I'm honored to now join the Duncan Aviation family and help share its philosophy, brand, and core values with customers in my territories."
At 15, Díaz joined his family's construction services business, and in his early 20s, he and his brother launched their own laser tag business in the entertainment industry. Although his brother now runs the company himself, Diaz was in charge of all commercial activity, and the experience exposed Diaz to customers and companies around the world.
After completing his Bachelor's Degree in International Logistics, he earned certificates in Continuing Education in the basics of supply chain production and inventory management and in modern strategies for sales, marketing, and customer service.
In 2011, Diaz worked as an intern at Airbus in Toulouse, France, in the aerostructure supply chain, quality, risk & performance department, where he worked alongside colleagues from all over the world. After the internship was completed, Díaz returned to Mexico to work at a customs agency and freight forwarder company as a sales representative.
After leaving the logistics world in 2015, he launched a small restaurant that he ran for a year until he had the opportunity to join the automotive industry as a sales executive for a Japanese manufacturing company. At long last, in 2017, Díaz realized his dream of pursuing a career in aviation as he joined ALE Service Center as a sales executive and begin learning the ins and outs of the business aviation industry.
"Now at Duncan Aviation, I'll put all of my effort, energy, teamwork, and passion into delivering high-quality results, helping acquire more satisfied customers, and growing Duncan Aviation's presence with Mexican operators in my territories," says Díaz. "I'm also looking forward to acquiring more knowledge and expertise in the business aviation industry."
When he's not busy building Duncan Aviation's customer base and learning more about the industry, Díaz enjoys playing golf, reading, traveling, and hanging out with his fiance, family and friends.
"I'm getting married in a couple of months, too," says Díaz. "And I'm very happy to join the Duncan Aviation family and am grateful for this opportunity. It's a dream come true. I want customers to know they can count on me!"
About Duncan Aviation
Duncan Aviation is an aircraft service provider supporting the aviation needs of business aircraft operators, government agencies, and other aircraft service providers. Services include major and minor airframe inspections, engine maintenance, major retrofits for cabin and cockpit avionics systems, full paint and interior services, engineering and certification services, fabrication and manufacturing services, and preowned aircraft sales and acquisitions. Duncan Aviation also has international aircraft components solutions experts available 24/7/365 at +1 402.475.4125 who can handle any aircraft system problem with immediate exchanges, rotables, loaners or avionics/instrument/accessory repairs and overhauls. Complete service facilities are located in Battle Creek, Michigan; Lincoln, Nebraska; and Provo, Utah. We also have dozens of other facilities strategically located throughout the United States to provide customers with scheduled regional support and the quickest response possible to avionics, engine and airframe Aircraft On Ground (AOG) situations.
For more information about any of Duncan Aviation's services, call +1 402.475.2611 or visit https://www.DuncanAviation.aero/services