Edduyn Pita Named New Manager of Duncan Aviation's Satellite Facility in Denver, Colorado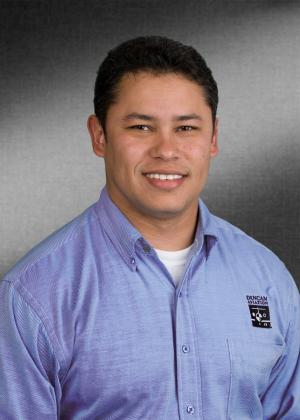 LINCOLN, NEB — Duncan Aviation is pleased to announce Edduyn Pita is now the Manager of the company's Denver-area Satellite at the Centennial Airport (APA) in Colorado. In addition to his 20+ years of experience in aviation, Pita set up the Duncan Aviation Satellite Shop in Atlanta, Georgia, and has managed it for the last 13 years.
After graduating from high school, Pita attended the Venezuelan Air Force Technical Academy where he studied Avionics Engineering. Shortly after completing the degree, he was hired by a company in Florida to work as an avionics bench technician. From there, he was recruited to manage one of Duncan Aviation's early Satellite Shops on Long Island, New York. The move was momentous for many reasons, not the least of which was that Pita saw snow for the first time in his life.
After 11 months, Pita accepted the challenge to start a Duncan Aviation Satellite Shop in Atlanta, Georgia, and he managed and grew that shop for 13 years.
"Edduyn and his team built something special in Atlanta from the ground up," says Manager of Satellite Operations Matt Nelson. "We're confident our customers in the Denver area are in excellent hands with Edduyn, and we know he'll continue to offer the same high-level of service our customers in Denver have come to expect from Duncan Aviation. We're excited to see what new ideas he brings to the position, too."
Although Pita is looking forward to representing Duncan Aviation and leading the team in Denver, leaving Atlanta is somewhat bittersweet.
"Of course it's been hard to leave Atlanta," says Pita. "That shop was my baby. I wish whomever takes over the very best. It's a great shop with a loyal customer base and skillful, dedicated technicians. I'm excited to move to Denver because it presents a new challenge at a bigger shop. Leaving Duncan Aviation wasn't anything I'd ever consider—Duncan Aviation is family—but when the position opened up in Denver, I was excited about the new opportunity in a new city."
The Duncan Aviation Satellite in Denver has been there for 27 years, and Pita will be managing a well-established crew of highly competent technicians. He has no intention of hitting the reset button or reinventing the wheel.
"The team here in Denver has demonstrated their competence and abilities for many years now, and they do a great job," says Edduyn. "It's one of our more successful Satellites in the network, and I intend to keep it that way. That's not to say, though, that I won't be looking for ways to make us more productive and efficient."
The Denver Satellite recently added interior SWAT services to its complement of avionics installation and repair services, so Edduyn will be working with SWAT Lead Tech Andrew Kleinkopf to help get the word out about those new services and grow that team.
When he's not busy taking on new challenges professionally, Pita enjoys spending time with his two sons, Manny (19) and Miguel (15).
"Both of my boys are excited for the ski season and anxious to take part in all of the outdoor activities in Colorado," says Edduyn. "I've never skied, but I'm going to do my best to get out on the slopes this winter."
About Duncan Aviation
Duncan Aviation is an aircraft service provider supporting the aviation needs of business aircraft operators, government agencies, and other aircraft service providers. Services include major and minor airframe inspections, engine maintenance, major retrofits for cabin and cockpit avionics systems, full paint and interior services, engineering and certification services, fabrication and manufacturing services, and preowned aircraft sales and acquisitions. Duncan Aviation also has international aircraft components solutions experts available 24/7/365 at +1 402.475.4125 who can handle any aircraft system problem with immediate exchanges, rotables, loaners or avionics/instrument/accessory repairs and overhauls. Complete service facilities are located in Battle Creek, Michigan; Lincoln, Nebraska; and Provo, Utah. We also have dozens of other facilities strategically located throughout the United States to provide customers with scheduled regional support and the quickest response possible to avionics, engine and airframe Aircraft On Ground (AOG) situations.
For more information about any of Duncan Aviation's services, call +1 402.475.2611 or visit https://www.DuncanAviation.aero/services