First Aircraft Paint Project Completed at Duncan Aviation's New Provo Facility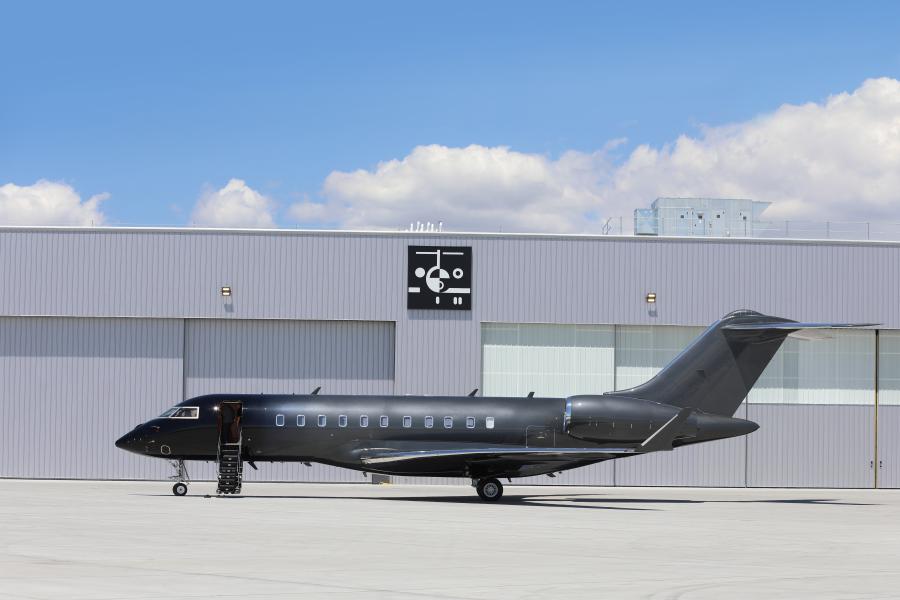 LINCOLN, NEB — Duncan Aviation recently delivered its first paint project from its new, state-of-the-art paint hangar at its full-service facility in Provo, Utah. The Global 5000 input in mid-April for completion of a complicated and eye-catching new paint scheme and delivered less than a month later to a pleased customer.
"Although this project was the first aircraft painted here at Duncan Aviation's Provo facility, it did not feel like it. Everyone working on the project had such confidence, and it really made me comfortable knowing that many of them had come from paint teams at the other Duncan Aviation facilities or had been training there for the past six months to a year," says Tom Indseth, Director of Maintenance for the Global.
Most members of the Duncan Aviation Provo paint team had been training and preparing together for months, working at the company's facility in Lincoln, Nebraska, with veteran paint experts. In April, Duncan Aviation opened its new environmentally friendly paint facility in Utah, and the paint team was fully trained and ready to go when the hangar doors opened. They were also excited to work on such a unique and complicated paint scheme.
"The last 18 months of planning, building and staffing our paint team in Provo has become a reality," says Duncan Aviation Director of Paint Operations Doug Bohac. "I had the confidence in the team to take on a special request—a Global 5000 custom paint with a black-to-charcoal fade—for our first paint job. The team did a phenomenal job, and we have an extremely happy customer."
The scheme was designed by Duncan Aviation designer Teri Nekuda. She's had a long relationship with the customer, so when they wanted their Global 5000 painted, she and Duncan Aviation 3D Designer Dan Ryba sat down with them to develop the perfect scheme.
"Tom looked over numerous designs before deciding to try a fade. The fade, which ranged from a metallic black to charcoal, really caught his eye, and he wanted to try it, especially after he saw Dan's 3D rendering of the design," says Nekuda. "The project was a complete team effort and was completed and managed very well in Provo. All that matters in the end is that the customer is happy."
Designed by Tectonic Management Group, a long-time partner with Duncan Aviation, the new 53,000-square-foot paint facility in Provo uses the latest technology available with down-draft air flow and automatic monitoring and alarms. It is designed to accommodate multiple aircraft at once, utilizing a two-zone airflow system. Duncan Aviation paint teams are able to able to perform stripping, sanding, painting and detail work on multiple aircraft simultaneously.
"Tectonic is proud to continue the tradition of designing and building world-class business jet service centers for Duncan Aviation," says Mark A. Stormberg, President of Tectonic. "Over the last 18 years, we have completed more than 20 major projects for Duncan Aviation and are excited to be leading the design and construction for this new facility in Provo. Opening in stages, we have completed a maintenance hangar and paint facility. Soon, we will finish another maintenance hangar and early next year will complete the campus with backshops, administration offices and other amenities."
About Duncan Aviation
Duncan Aviation is an aircraft service provider supporting the aviation needs of business aircraft operators, government agencies, and other aircraft service providers. Services include major and minor airframe inspections, engine maintenance, major retrofits for cabin and cockpit avionics systems, full paint and interior services, engineering and certification services, fabrication and manufacturing services, and preowned aircraft sales and acquisitions. Duncan Aviation also has international aircraft components solutions experts available 24/7/365 at +1 402.475.4125 who can handle any aircraft system problem with immediate exchanges, rotables, loaners or avionics/instrument/accessory repairs and overhauls. Complete service facilities are located in Battle Creek, Michigan; Lincoln, Nebraska; and Provo, Utah. We also have dozens of other facilities strategically located throughout the United States to provide customers with scheduled regional support and the quickest response possible to avionics, engine and airframe Aircraft On Ground (AOG) situations.
For more information about any of Duncan Aviation's services, call +1 402.475.2611 or visit https://www.DuncanAviation.aero/services