Florida's Gulf Coast Region Gets Much Needed Aircraft Engine Support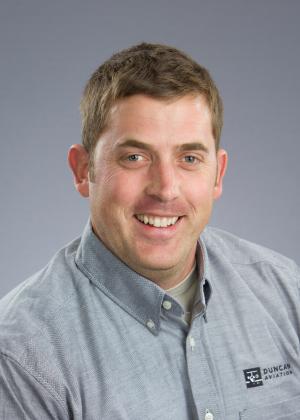 LINCOLN, NEB. — Duncan Aviation is now offering business aviation operators along the Gulf Coast of Florida more convenient access to its mobile engine services that include AOG support, most scheduled and unscheduled events, as well as engine R&Rs.
Duncan Aviation is not new to this area. For many years, customers have been supported through the Engine Rapid Response Team located in Fort Lauderdale.
According to James Prater, Turbine Engine Services Manager for Duncan Aviation, this region has more demand. "The Gulf Coast has been under-served with quick, convenient engine services," he says. "We are expanding our presence there to meet the needs of operators in the region and those who fly there frequently."
To accomplish this, Warren Wiatrek, Rapid Response Team Leader, relocated from Lincoln, Neb., to the Tampa area and immediately hit the ground running. Before he was able to unpack his U-Haul, he received a call and was off to replace a surge valve on a Learjet 31 aircraft.
"The word is out that Duncan Aviation is in the area," says Wiatrek. "Operators have found us and are calling."
Wiatrek started his engine career at Duncan Aviation in 2014 after serving in the both the United States Air Force and United States Army. He has several years of experience on GE, Honeywell and Pratt & Whitney engine models.
"Warren is the perfect person to establish our presence in Tampa," says Prater. "He's ready for the challenge and in the brief period of time since he arrived in the area, he's already traveled hundreds of miles to service our customers. His vast knowledge and experience across all engine and aircraft models makes him a huge resource for this region."
For engine service and support along the Gulf Coast, contact Warren Wiatrek at +1 719.464.6426 or Andrew Arcuri, Rapid Response Assistant Manager at +1 302.332.8391.
About Duncan Aviation
Duncan Aviation is an aircraft service provider supporting the aviation needs of business aircraft operators, government agencies, and other aircraft service providers. Services include major and minor airframe inspections, engine maintenance, major retrofits for cabin and cockpit avionics systems, full paint and interior services, engineering and certification services, fabrication and manufacturing services, and preowned aircraft sales and acquisitions. Duncan Aviation also has international aircraft components solutions experts available 24/7/365 at +1 402.475.4125 who can handle any aircraft system problem with immediate exchanges, rotables, loaners or avionics/instrument/accessory repairs and overhauls. Complete service facilities are located in Battle Creek, Michigan; Lincoln, Nebraska; and Provo, Utah. We also have dozens of other facilities strategically located throughout the United States to provide customers with scheduled regional support and the quickest response possible to avionics, engine and airframe Aircraft On Ground (AOG) situations.
For more information about any of Duncan Aviation's services, call +1 402.475.2611 or visit https://www.DuncanAviation.aero/services