Jeff Schipper Named Manager Of Modifications At Duncan Aviation Provo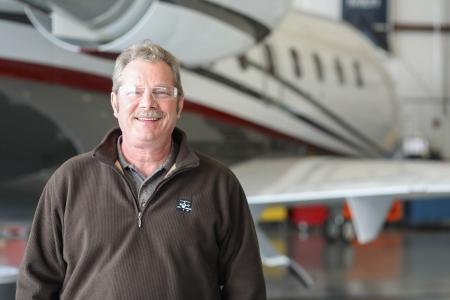 LINCOLN, NEB — Duncan Aviation is pleased to announce that Jeff Schipper has accepted the Manager of Modifications position at the newest Duncan Aviation full-service facility, which is located in Provo, Utah. In this position, Schipper will provide leadership for the Interior, Avionics Install and Avionics Line departments and for the next several months, his primary focus will be on growing and strengthening the teams' capabilities and sizes, and responding to the facility's growing market needs.
"Jeff's previous leadership roles at our Provo, Utah, and Battle Creek, Michigan, facilities and his years of technical experience combine well with his passion to serve our industry," says Vice President of Operations Chad Doehring. "Jeff will have a huge, positive impact on each of our Provo Modifications team members, and ultimately, our customers' experiences here at Duncan Aviation."
In this new role, Schipper plans to build on the already strong base team, increase equipment capabilities, and help the team prepare for the completion of the facility's backshop areas in early 2020.
Schipper began his career in aviation as a Flight Control Tech in the Paint Shop at Kal-Aero in Kalamazoo, Michigan, in 1987. A year later, he graduated from Western Michigan University's College of Aviation with an A&P and a Commercial Pilot License. To further his technical career, Schipper joined the Weekend Shift in the Airframe Shop in 1990, and he assumed the Shift Supervisor responsibilities in 1995. When Duncan Aviation acquired Kal-Aero in 1998, Schipper transitioned to the new company, and in 2001, Jeff was appointed to Assistant Manager of Airframe in Battle Creek. In 2010, when the call came for team members to relocate to Provo, Utah, to establish the groundwork for a new, full-service facility, Schipper was among the first to volunteer.
In his 32 years in aviation, Schipper has worked in different capacities of production and customer service. He has thoroughly enjoyed all of the relationships formed with team members throughout the organization as well as with customers, and he is excited to participate in this next major growth segment for the Provo facility.
"We have a great starting base for our Avionics and Interior teams, and I am really looking forward to working with both groups to grow our full-service capabilities," Schipper says. "My biggest priority in the coming months is to get the team fully staffed and equipped and ready to face next year's challenges."
He and his wife Callie have two children, Cianne (21) and Truman (19). Callie loves Utah and works as a ski instructor at Deer Valley in the winter. Cianne resides and works on Mackinac Island in Michigan year-round, and Truman is an aspiring actor, who is currently working to save money to pursue his dreams.
About Duncan Aviation
Duncan Aviation is an aircraft service provider supporting the aviation needs of business aircraft operators, government agencies, and other aircraft service providers. Services include major and minor airframe inspections, engine maintenance, major retrofits for cabin and cockpit avionics systems, full paint and interior services, engineering and certification services, fabrication and manufacturing services, and preowned aircraft sales and acquisitions. Duncan Aviation also has international aircraft components solutions experts available 24/7/365 at +1 402.475.4125 who can handle any aircraft system problem with immediate exchanges, rotables, loaners or avionics/instrument/accessory repairs and overhauls. Complete service facilities are located in Battle Creek, Michigan; Lincoln, Nebraska; and Provo, Utah. We also have dozens of other facilities strategically located throughout the United States to provide customers with scheduled regional support and the quickest response possible to avionics, engine and airframe Aircraft On Ground (AOG) situations.
For more information about any of Duncan Aviation's services, call +1 402.475.2611 or visit https://www.DuncanAviation.aero/services