Proceeds from Children's Book by Karen Duncan to Benefit the Arts and Business Aviation Education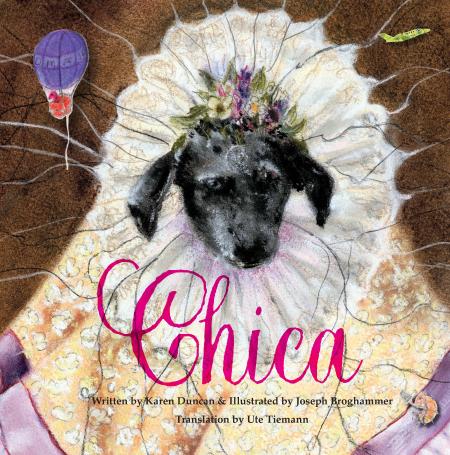 LINCOLN, NEB— Karen Duncan, wife of Robert Duncan, Chairman Emeritus of Duncan Aviation, recently published a children's book about the family's beloved dog, Chica.
Chica joined the Duncan family 13 years ago when she laid down by Karen's feet near a curb close to the El Tajin pyramids in Mexico. Karen took an instant liking to the dirty gray dog, although she was mangy and hungry. Karen fed her, gave her a bath, took her to a veterinarian, and eventually brought her back to the family's home in the United States.
"I don't know where Chica came from before we met," Karen says. "But in the book, I created a background for her that includes performing in a circus. Once she joined us, we traveled from El Tajin to Puerto Vallarta together, developing a strong bond and eating lots of scrambled eggs and beans on the way."
Omaha, Nebraska, artist Joseph Broghammer illustrated the book with pastel on paper.
"I chose Joseph to illustrate the story in part because he has great love for animals that comes through in all of his paintings and drawings," Karen says. "His artwork is beautiful and I am pleased with the finished product."
Chica is written in Spanish and English and brings attention to Mexican cultural events and places. A glossary at the back gives children a better understanding of those cultural references.
The book was published through the Clarinda Carnegie Art Museum (CCAM), which is a nonprofit organization founded by the Duncans. Half of the book's $20 purchase price goes to the museum. The book is available through the museum and signed copies will also be sold at Duncan Aviation locations that provide FBO services. For each $20 book purchased at its Battle Creek and Kalamazoo, Michigan; Lincoln, Nebraska; or Provo, Utah; locations, Duncan Aviation will donate an additional $10 to the International Aircraft Dealers Association (IADA) Business Aviation Scholarship.
For more information about Duncan Aviation's FBO Services, please visit www.DuncanAviation.aero/services/fbo/
About IADA
IADA is a professional trade association that Duncan Aviation helped to form more than 25 years ago. Promoting the growth and public understanding of the aircraft resale industry, IADA offers the world's only accreditation program for dealers, which delivers high standards of business conduct and transparency regarding aircraft transactions, leading to a more efficient market.
While only three percent of all aircraft dealers merit IADA accreditation, they handle more than 50 percent of the used business jet transactions. IADA represents a variety of product and aviation services that also operate with the highest professional standards in the industry. For more info go to IADA.aero and IADA Revolution Video.
About Duncan Aviation
Duncan Aviation is an aircraft service provider supporting the aviation needs of business aircraft operators, government agencies, and other aircraft service providers. Services include major and minor airframe inspections, engine maintenance, major retrofits for cabin and cockpit avionics systems, full paint and interior services, engineering and certification services, fabrication and manufacturing services, and preowned aircraft sales and acquisitions. Duncan Aviation also has international aircraft components solutions experts available 24/7/365 at +1 402.475.4125 who can handle any aircraft system problem with immediate exchanges, rotables, loaners or avionics/instrument/accessory repairs and overhauls. Complete service facilities are located in Battle Creek, Michigan; Lincoln, Nebraska; and Provo, Utah. We also have dozens of other facilities strategically located throughout the United States to provide customers with scheduled regional support and the quickest response possible to avionics, engine and airframe Aircraft On Ground (AOG) situations.
For more information about any of Duncan Aviation's services, call +1 402.475.2611 or visit https://www.DuncanAviation.aero/services