«Spring 2007
Gulfstream: Breaking New Ground in Service

Breaking New Ground in Gulfstream Service
Duncan Aviation Continues To Gain New GIV Customers
In the past year, Duncan Aviation has completed 140 unique GIV work orders between their Battle Creek and Lincoln facilities as well as their five major satellite locations. That number is expected to grow in 2007.
With several heavy maintenance inspections on early serial number GIVs on the MSG3 program under their belts, the Gulfstream Team is ready for anything. Pair that with
Duncan Aviation's comprehensive capabilities in interior reconfiguration, paint and avionics combined with the uniquely satisfying experience of working with Duncan Aviation and the choice becomes an easy one.
Duncan Aviation Expects Many GVs This Year
Duncan Aviation recently painted the Gulfstream GV pictured above. This is the first of many GVs due in during the first half of 2007.
Projects slated for this year include 96 month inspections as well as paint and interior design and refurbishment. Avionics upgrades such as EVS, entertainment and phone systems are also on the horizon.
Early scheduling is highly recommended. For more information call Doug Donahue at 800.525.2376 or Tim Klenke at 800.228.4277.
See More + Go Paperless + Be Safe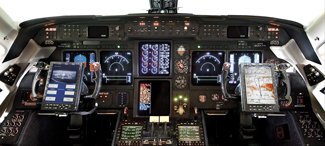 Duncan Aviation has installed many Max-Viz EVS-1000 systems in Gulfstream G-IVs and G-IVSPs with display on dual yoke-mounted CMC CMA-1100 Electronic Flight Bags.
The Max-Viz EVS system with display on the FAA-Approved electronic flight bags provides a comprehensive safety package. The addition of RAAS (Runway Alerting Advisory System) to your EGPWS further increases your safety during taxi, takeoff and landing.
The combination of EVS, EFBs and RAAS allows you to see more, go paperless and be safe by avoiding runway incursions.
All of this can be accomplished easily while your aircraft is down for maintenance. Call Dennis DeCook at 800.525.2376 or Steve Elofson at 800.228.4277 for more information.
+ See More with EVS - The Max-Viz EVS-1000 provides pilots with the ability to SEE AT NIGHT and in conditions of smog, smoke, blowing dust, rain, snow and various levels of fog.
Ability to see enhanced night imagery of airports, air traffic, terrain, taxi-ways, wildlife and runway conditions improves safety and creates the opportunity to "see and react."
+ Go Paperless with EFB - Yoke-mounted EFBs allow independent monitoring of approach charts, airport layout and aircraft GPS position.
+ Be Safe with RAAS - EVS combined with a RAAS upgrade is the ultimate in runway safety.