«Spring 2007
Battle Creek's Ultimate Unveiling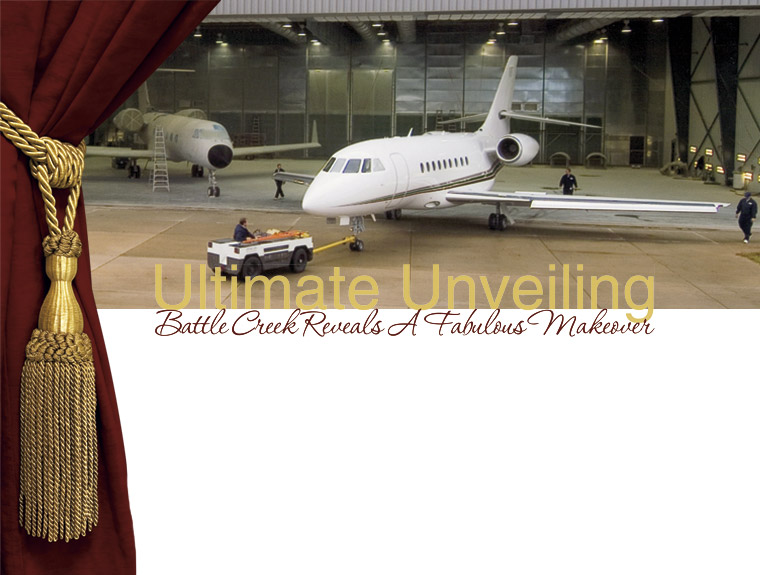 "Wow!"
This is the most common word uttered by recent visitors to the expanded and remodeled Duncan Aviation facility in Battle Creek, Michigan. A lot of visitors knew that Duncan Aviation was expanding – it is easy to spot the new 40,000-square-foot maintenance hangar from a distance – however, new visitors had no idea how deep the renovation went until they stepped into the lobby, the shops, the hallways and other revamped areas.
As they do with their legendary service, Duncan Aviation went above and beyond during the expansion. Yes, 123,000 square feet were added, but there's more. Way more. Every shop was moved and redesigned for efficiency. The customer areas were gutted, expanded and renovated with a contemporary aesthetic and a dedication to optimum convenience and comfort. New entry signs were installed providing a dramatic welcome to all who enter. Employee areas were upgraded and a new color scheme stretches across the entire campus from the front entrance to the most remote back-shop.
Duncan Aviation has always felt different somehow, it is not something that is easy to describe. The employees are happy, friendly and they smile a lot. The customers smile a lot too. The family atmosphere and fun attitude that permeates the Duncan Aviation culture is palpable. With this renovation, the Battle Creek facility looks as good as being there feels.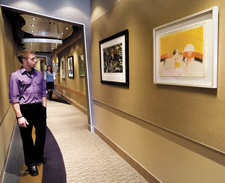 TOP: A completed Falcon 2000 leaves the new 19,200-square-foot, dual zone paint hangar as a GIV waits for the stripping process.
ABOVE: Contemporary light fixtures accent the surrounding colors, textures and unique styling of the recent renovations in Duncan Aviation-Battle Creek's main customer entrance.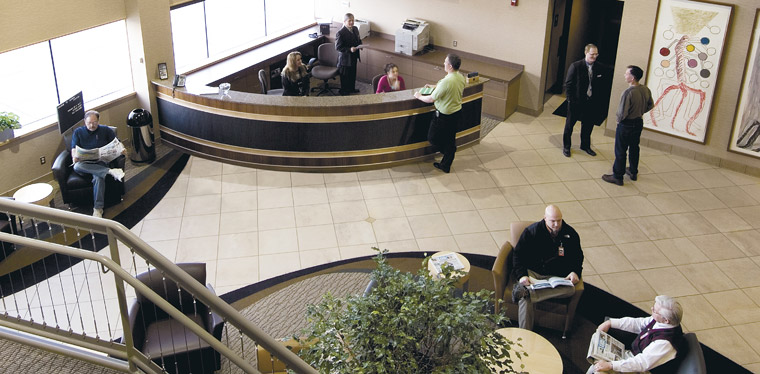 Every amenity that Duncan Aviation customers expect, and some they don't, have been added or expanded during the lobby and lounge renovations.
The lobby and lounges double as an internet cafe with free wireless internet as well as coffee and snacks. Eleven private offices with space to lock valuables are available for customers. Each office has a private phone and free wireless internet service. A large conference room is also available. Once again, there's more. These aren't your everyday offices. Curved walls, contemporary light fixtures and luxurious materials surround each guest. These spaces are not only places to get work done; they are comfortable, upscale second offices for Duncan Aviation customers.
Do you love the feel of leather seats? How about watching your favorite sport on a wide-screen TV while relaxing in a leather recliner? Duncan Aviation's TV room feels just like home to many. It is a perfect spot to relax, unwind and catch up on the headlines of the day and see the highlights of your favorite team's latest game.
All of these things would feel empty without Duncan Aviation's customer service team. Each member of this team of six in Battle Creek takes pride in finding that one thing, that extra piece of the puzzle, that makes each guest's visit special. They are the front line of the Duncan Aviation team's tenacious dedication to individual customer attention and care.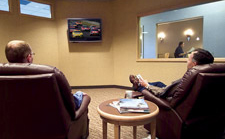 TOP: A new feel for the customer lobby, with direct access to the second floor sales and design offices. A contemporary aesthetic welcomes guests with a sense of open space and comfort.
ABOVE: It's home away from home for guests, who can sink comfortably into the luxurious, oversized leather recliners in the TV room.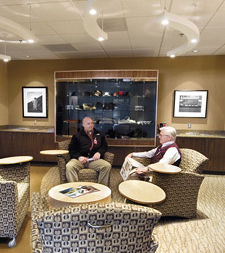 A lounge area for informal meetings is centrally located for easy access to everything.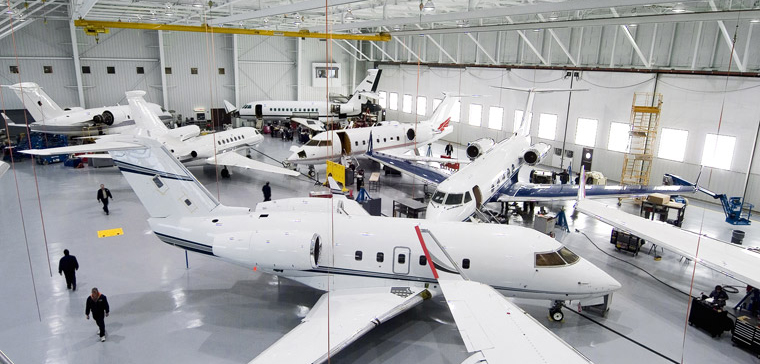 There seem to be no limits to the service of Duncan Aviation, just as there are no limits to your access to the teams working on your aircraft. Feel free to roam the hangars and the shops. When you do, you will witness the artistry behind your new interior and the ingenuity of the experts troubleshooting your squawks.
The following is a list of just a few of the shop renovation highlights; you are sure to find many more impressive details during your next visit.
The new 19,200-square-foot paint hangar was built with the latest in air flow technology, including automatic monitoring and alarms, to provide the best paint environment possible for aircraft and the technicians who paint them. To increase efficiency, the hangar was designed to accommodate multiple aircraft at once, utilizing a two-zone airflow system. With this design, Duncan Aviation paint teams can perform stripping, sanding, painting and detail work on multiple aircraft simultaneously. The meticulous team of 60 plans to paint 40 additional aircraft in this facility in 2007.
The new interior shops cover 9,000 square-feet over three floors. There are separate areas for creating and refurbishing cabinetry, carpet storage and cutting, finish (including two down-draft finish booths), sewing, burn testing and interior completions. All of these areas are spacious, feature excellent lighting and are conducive to the creation of interior artwork. The 112 members of the interior team are known for their professional, can-do attitude and the open nature of the shop areas allow for customer collaboration – an essential element for making customer dreams a reality.
The new avionics shop area is 6,300 square-feet, and houses the 61 Technicians, Team Leaders and Managers that make up the installations and line teams. The shop was designed for teamwork and efficiency with twelve workstations, an 800-square-foot sheet metal room, four fully loaded "repair benches" for line work, a Softset and an ESD (Electrostatic Discharge) floor. Customers have complimented the area for its convenient location and easy access. They are also very impressed with the clean, bright, modern and spacious layout of the area.
The new maintenance hangar is a jet technician's dream. Clean, efficient and state-of-the-art, this is a place where Duncan Aviation's specialized teams thrive and customers feel proud to bring their aircraft.
This expansion is for customers – more and more of them every year. This expansion is also for Duncan Aviation team members, the individuals responsible for each customer's satisfaction. The passion Duncan Aviation employees have for going above and beyond for every customer created the demand that necessitated this growth.
Come check it out and be prepare to be "wowed."
| | |
| --- | --- |
| | |
| The new avionics installations shop was designed with teamwork in mind, with ample space for large projects. This shop and the adjacent Avionics Line shop are ESD safe areas for repairing and troubleshooting electronic components. | The new interior completions shops cover 9,000 square feet across three floors. They feature excellent lighting for the 112 members of the interior team, and facilitate collaboration with customers. |
| | |
| A Challenger's old rosewood drink rails sit ready for re-veneer and reinstallation as craftsmen work in Battle Creek, Michigan's new cabinet shop. | Comfortable and efficient in their new shop, the seven members of the Battle Creek Accessory Team offer quick turn times and schedule flexibility. |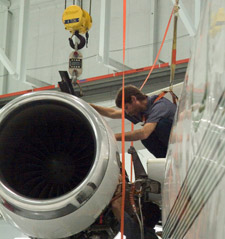 This photo shows roughly half of the new 40,000 square-foot maintenance hangar. The clean, safe and spacious environment is a jet technician's dream,with plenty of room to work, even when all three hangars reach maximum capacity at 55 aircraft.
Using the new four-ton overhead crane, Engine team members Alex May and Allen Goembel remove the #3 Honeywell TFE731-60 engine from a Falcon 900EX to perform a Service Bulletin.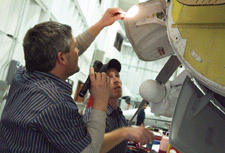 Airframe team members Steve Gehres and Chris Karinen install the Air Driven Generator (ADG) on a Challenger 600.