«Spring 2007
Battle Creek to Host Intelli-Conference 2007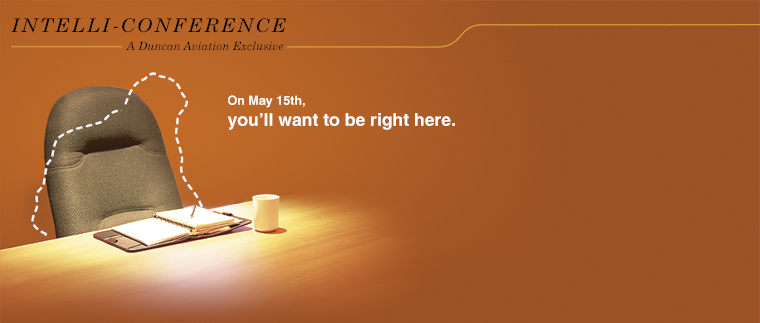 Battle Creek To Host Intelli-Conference 2007
Symposium offers face-to-face forum discussion with Industry Experts, IA credit classes
On May 15, we will be hosting our popular Intelli-Conference Symposium and unveiling our newly expanded and renovated 325,000-square-foot facility in Battle Creek, Michigan.
Many are familiar with our Duncan Intelligence newsletters – faxed and e-mailed publications packed with valuable technical tips for the most-used makes and models of business aircraft.
A natural extension of these publications, the Intelli-Conference Symposium is your chance to discuss aviation issues with industry experts in a face-to-face forum.
The one-day event will feature six unique sessions, four of which are approved for 2 hours of IA renewal credit. We will be giving tours of the remodeled and expanded facility and will wrap up the event with our signature dinner experience at the Gilmore Car Museum.
Hundreds of aviation professionals just like you have taken part in these events during the many years we have been hosting them. It has been a few years since our last event, and we know that the demand will be high. So don't delay, register early and be sure to get your first choice of classes – the schedule will allow you to take up to three. You will also have the ability to take a tour instead of a class if you wish.
Participants will also have the opportunity to meet with industry experts from AirCell, L3 Communications, Max-Viz, Rockwell Collins and Universal.
Class Topics
Auxiliary Power Unit Troubleshooting:
This presentation covers common APU problems, steps needed to properly troubleshoot the APU, and general APU familiarization is also covered. Maintenance crew, pilots and anyone associated with APU operations will benefit from this class. (2 hours of IA credit)
Corporate Aircraft Painting:
The class will present everything you need to know about the process of obtaining and managing the exterior refurbishment of your aircraft. From the crucial early steps of the service selection process to design selection to the job itself and after-delivery care, this class covers it all. (2 hours of IA credit)
Engineering and Certification:
This class offers an overview of the regulatory requirements for documentation of major alterations and repairs. It includes discussion concerning the various FAA designees (DER's and DAR's) and their roles in the approval and conformity process. (2 hours of IA credit)
Human Factors presented by FlightSafety:
The main focus of Human Factors In Aviation Maintenance is to heighten every aspect of awareness of the maintenance professional. The course will demonstrate how improved individual performance will improve organizational performance and how developing all of your talents will allow you to have a positive impact on your organization. (2 hours IA credit pending)
Panel Discussion of Hot Industry Topics:
With topics suggested by you, this 2-hour session will be an open discussion of current industry topics and trends.
The Future of Avionics Technologies:
This course educates maintenance personnel, pilots, and owners about emerging avionics technologies. It will cover systems for both the flight deck and the cabin to include: Cabin Systems, Satellite Weather, Satcom Telephones, High Speed Data, EVS, LCD EFIS Displays and various mandates.