«Summer 2011
A Day in The Life of a Duncan Aviation Tech Rep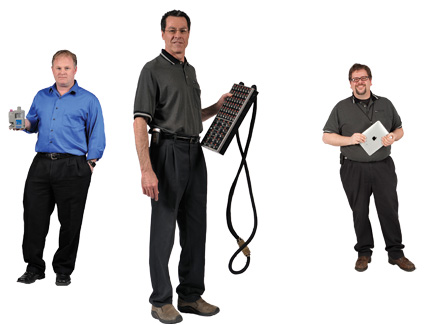 Left to right: Accessory Tech. Rep. Jerry Cable, Falcon Tech. Rep. Mark Goertzen and Avionics Tech. Rep. Adrian Chene.
Duncan Aviation Technical Representatives are experienced and respected as industry experts. They are called upon to troubleshoot problems in all areas surrounding business aircraft ownership.
Customers call them for technical advice, Original Equipment Manufacturers (OEMs) invite them to help shape industry standards and Duncan Aviation technicians seek them out for advanced technical troubleshooting. They travel to all points across the United States and around the world to provide and impart their elite knowledge in their area of expertise. They educate, guide, set procedures and serve as liaisons between Duncan Aviation mechanics, customers and OEMs.
For them, every day is different. We asked three of them to tell us what one April day was like for them.
Accessory Assistance
Jerry Cable, Duncan Aviation Accessory Tech Rep., helped his first customer of the day before he got out of bed. At 5:15 a.m. CST, he received a call from India about a steering squawk on a Global 5000. After listening to the symptoms and asking careful questions, he diagnosed the nose landing gear had failed and was in need of service. Due to a busy flying schedule, the customer didn't have time to send the unit in for repair. Knowing the customer needed a fast solution, Jerry put him in touch with Duncan Aviation's AOG Parts & Components to assist in locating an exchange unit.
Jerry answers his phone no matter what time it is. He understands that the sun is shining on the other side of the world and many customers still need his help. His day started early, but it was far from being over.
Airframe Activities
For Mark Goertzen, Falcon Airframe Tech Rep., the day begins on the run. Literally. Aboard a Falcon 50 going through a pre-purchase ground run, Mark tests two Duncan Aviation airframe mechanics on their skills and knowledge to safely operate an aircraft on the ground. This bi-annual test is required for all mechanics who are authorized to taxi an aircraft.
Mark listens, watches and tests each mechanic as they go through ground procedures, asking questions about general operations and proper protocol. "What three things do you need to check prior to starting your engines?" He wants to make sure they still have the necessary skills and haven't picked up any bad habits in the past two years. "How do you know the brakes are set?" And just for good measure, he'll simulate emergency situations that don't often present themselves, but would require proper response. "Your engines are on fire, what do you do?"
Mark wears many hats. After he is done testing and training mechanics, he spends many hours developing a Duncan Aviation pre-purchase guide for the Falcon 7X. Although they are a relatively new aircraft, several have already entered the secondary market. This work will help to establish Duncan Aviation's pre-purchase procedure checklist for the Falcon 7X.
Avionics Install Expertise
Just like Jerry and Mark, Adrian Chene, Avionics Installation Tech Rep., never really knows what his day is going to be like until he gets to work, listens to his voicemails and opens his email Inbox. "You just never know," Adrian says, when asked to describe a typical day.
After spending nearly two hours returning phone calls and responding to several emails, Adrian heads out to the hangar floor where a Universal EFI-890R project on a Falcon 10 is made more complicated by having international clients who are out of the country. He is faced with an STC provided by another Maintenance Repair Organization (MRO) that he describes as "woefully inadequate" for what actually needs to happen to make the new avionics suite work. The project includes hours of reconfiguring and testing an avionics component to the proper setting, consulting with Duncan Aviation Engineering on discrepancies and providing documentation to the structures team to evaluate skin waviness.
Two Dozen, At Your Service
All 24 of Duncan Aviation's Technical Representatives are here to answer questions from customers and help them troubleshoot aircraft and system issues. They are proactive in their education, taking the necessary steps to stay current on the latest technologies. They spend hours researching the latest Airworthiness Directives (AD), Service Bulletins (SB) and Service Letters (SL) released by the OEMs and impart that knowledge to technicians and customers.
No two days are ever the same. That unknown is exactly what Mark Goertzen likes about his job. "I enjoy the art of thinking on my feet, whether it's for a customer that's AOG or the guys on the floor needing assistance. It keeps the days interesting." Mark goes on to say, that his 'to do' list is neverending. "If I think for a second that my plate is cleaned, all I have to do is wait five minutes. It makes the day fly."