«Summer 2011
Choosing the Right Wi-Fi Solution for a Business Aircraft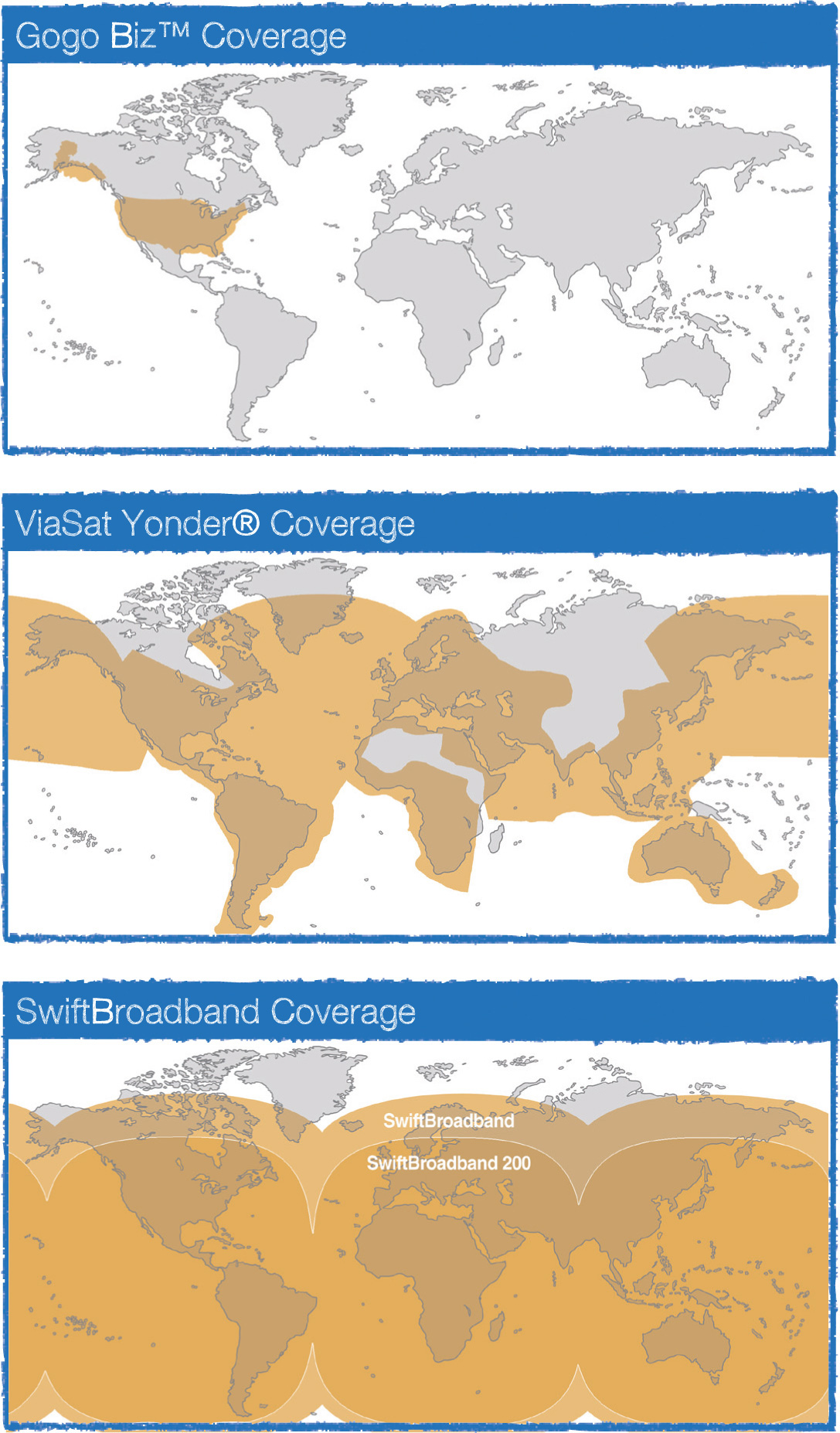 Identifying where an aircraft operates is a critical step to selecting a Wi-Fi solution. Please check with each provider for the latest coverage information.
As operators research Wi-Fi and inflight internet options, understanding the features, capabilities and service levels that come with each system option can get confusing. Several aspects need careful consideration, namely which inflight internet system best fits the passenger needs.
Selecting an Inflight Internet Solution
An aircraft's high-speed data (HSD) system is what provides an inflight internet connection. Before selecting an HSD system, a thorough understanding of passenger needs is essential. Do passengers want wired or Wi-Fi access? What devices will they use? Where will they fly? Will they need access to e-mail attachments? Will they need high-speed internet? Will they need to connect to a virtual private network (VPN)?
Steve Elofson works in the Avionics Installation Sales department at Duncan Aviation. When customers request in-flight internet options, one of the first questions asked is "Do you have a Satcom system?" Many times, customers already have a voice or data system that can be upgraded to support HSD and Wi-Fi—also referred to as "wireless"—connectivity.
Wi-Fi in the Sky
When an HSD system is installed, Wi-Fi connectivity is typically expected. However, Wi-Fi options can be limited, depending on whether a wireless router has been certified for the HSD system and aircraft type.
The Federal Aviation Administration (FAA) requires Wi-Fi routers to be installed by Supplemental Type Certificate (STC) specific to an aircraft's make and model. There are many types of wireless routers, and with all the different makes and models of business aircraft in operation, the demand for Wi- Fi STC development is high, says Steve. Duncan Aviation leads the industry in Wi-Fi router certifications, says Steve, and we work with customers and the equipment manufacturers to certify solutions.
Examples of aviation-grade equipment include: Aircell's Cabin Telecommunications Router (CTR), which can be added to an existing Aircell Gogo Biz Inflight Internet system; EMS Aviation's CNX- 200, and Honeywell's CG-710. Other HSD systems like Thrane & Thrane and True North have a built-in Wi-Fi router.
"The Wi-Fi systems we've installed todate have been quite reliable and easy to use," says Steve. He explains that using inflight Wi-Fi is much like using a wireless router at home or a public Wi-Fi service at a hotel or restaurant: the device detects the hotspot and can connect to it like any other consumer grade router.
"Business people typically use their VPN to provide a secure connection," says Steve. "There may be some companies or government entities with more stringent security protocols, and we handle these on a case-by-case basis."
HSD Service Providers
It's also important for customers to understand the different types of inflight internet services available, says Steve. "Some HSD providers offer unlimited usage, others charge by the megabyte. It's important for an installing agency to clearly describe each HSD plan so customers aren't surprised by the service costs after the aircraft leaves the hangar."
Different inflight internet service providers offer a variety of internet speeds and capabilities, and are available in different geographic regions around the world. For example, Aircell's Gogo Biz currently offers a very fast high-speed internet connection via a ground-based network in the continental U.S. Aircell offers an unlimited usage plan for a monthly fee as well as usage based plans.
Satcom Direct is a global service provider for Inmarsat, Iridium, and Yonder networks as well as datalink services. These networks have different capabilities, and monthly fee and usage based plans are available.
Sometimes more than one HSD solution can be installed in an aircraft to increase internet accessibility. A fast, domestic system can be installed alongside an international-capable system. Depending on the systems and router used, the transition from one service to the next can be almost seamless when crossing into areas with different coverage.
Wi-Fi Installation Considerations
Steve highly recommends choosing an authorized service center to install HSD and Wi-Fi systems. An authorized service center will have a better understanding of the aircraft and will have greater support from the equipment manufacturer, he says. "It's peace of mind."
Equipment dealership agreements are a necessity, as an installing agency must be a dealer to install the equipment, says Steve. Dealers are the most capable of resolving any equipment issues that may occur.
Duncan Aviation holds or has access to the following Wi-Fi STCs:
Citation X
Citation Sovereign
Challenger 300
Challenger 600/601/604/605
Hawker 800XP/850XP/900XP
Falcon 50/50EX
Falcon 2000/2000EX/EASy
Falcon 900/900EX/EASy
Gulfstream GIV/GIV-SP
Gulfstream GV
Learjet 45, 60
Embraer Legacy
It's also important to consider downtime when scheduling internet and Wi-Fi system installations. Scheduling an installation with another event, such as airframe maintenance or an interior modification, avoids duplicating interior removal and reinstallation costs that would be associated with a standalone event.
Steve estimates that Duncan Aviation has installed more than 100 HSD systems over the last three years, most of which have included Wi-Fi routers. The company holds several airframe service center authorizations and has many Wi-Fi STCs covering many makes and models.
Installations can be done at either of Duncan Aviation's full-service facilities in Battle Creek, Michigan, or Lincoln, Nebraska; or at any of Duncan Aviation's network of avionics shops located in more than 20 cities across the United States.
For more information about Duncan Aviation's HSD and Wi-Fi services, please contact Steve Elofson at 402.479.1603.