«Summer 2011
Market Timing & Aircraft Acquisition Expertise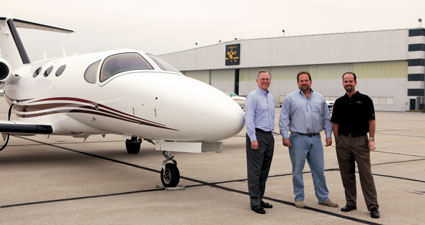 Doug Kvassay, Breck Collingsworth and Doug McClure.
Market Timing & Aircraft Acquisition Expertise Benefit Resort Lifestyle Communities
In a management-intensive business, Breck Collingsworth knows that while a lot can be accomplished with phones, emails and video conferencing, there are simply times that you need to meet face-to-face for business meetings, events and approvals. This couldn't be truer these days for Breck's quickly expanding company, Resort Lifestyle Communities (RLC).
Breck and his management team design, construct and manage independent-living retirement communities. The company's home office and first community are located in Lincoln, Nebraska. RLC now has seven locations across the country and a recent focus to expand even more. Growth goals include opening four to six new communities each year as the economic climate improves. With their targets on expansion into the south and southeastern United States, it became apparent to Breck that he needed a more efficient means of travel for himself and his team.
This past December, RLC found that method of travel with the purchase of its first aircraft, a Citation 510, also known as a Citation Mustang. Doug Kvassay, Duncan Aviation Aircraft Sales and Acquisition Representative, provided the specialized expertise to help Breck feel comfortable with that decision.
Specialists Provide Advantages
Breck has learned from his business success that people hire those who make them feel comfortable and raise their confidence in a good outcome. The more risk associated with a decision, he says, the higher the desire to rely on someone who really specializes in that craft.
That is a big part of why Breck hired Duncan Aviation and Doug to help with the aircraft purchase. Working with Doug, it was evident to Breck that he was working with a knowledgeable specialist.
"On a decision as complex as purchasing an aircraft, I wanted to have the confidence that I had made the best decision for my company. Having Doug advise me on this purchase did that for me."
- Breck Collingsworth, Resort Lifestyle Communities
"Doug has the experience that the sellers recognize," he says. "They know who they are dealing with and because of that we were able to get to the negotiating points faster. Doug was great; he was very open and very easy going for me to work with."
In this day and age, people rely on specialists like lawyers, accountants and consultants for lots of different things. Breck says, "I hire people who are considered experts. Especially on a decision as complex as purchasing an aircraft, I wanted to have the confidence that I had made the best decision for my company. Having Doug advise me on this purchase did that for me."
For Doug, it was refreshing to work with Breck on the purchase. "Breck is a very handson type of customer," explains Doug. "He was very involved in every aspect of the acquisition, striving to learn all that he could throughout the process." Doug says Breck has a get-it-done attitude, giving him advantage in the business world. "He is very decisive. Once he's got the right information, he is ready to move forward with it!"
Market Conditions Were Ripe
The two-year-old Citation Mustang now gives Breck and his team the opportunity to evaluate markets, approve sites and oversee construction in their newest locations.
"The construction side of the business, which includes architectural leads, will utilize the aircraft heavily throughout the expansion," explains Breck. In addition to the planning benefits, Breck is now assured that, if needed, he can literally be on-site at one of his communities with a half day's notice.
Breck admits, "In all reality, we are probably one to two years away from truly needing the aircraft, but as buyers, we recognized the market conditions were in our favor and took advantage of buying the plane now. We got exactly what we wanted at a price that hopefully will hold its value for the next four, five or six years."
Breck feels good about the purchase of the aircraft and its ability to be instrumental in helping RLC achieve its goals.
"We took advantage of the market rather than wait for the general economy to come roaring back," Breck says."I think we got the best plane out there for probably the most competitive price."