«Summer 2011
Time Management: Scheduling with Efficiency in Mind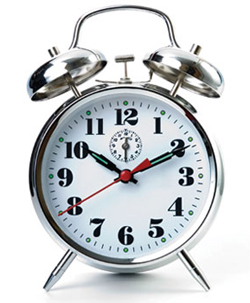 "The bottom line is always ensuring the schedule we put together will benefit the customer."
- Brian Barto, Scheduling Coordinator
Customers consistently tell us they appreciate the fact that we do everything possible to meet their aircraft's delivery date. If we commit to delivery on a certain day, they know we take the schedule seriously and will do everything we can to meet (or beat) that date. Doing so consistently requires more than proper planning, staffing and experience. It requires proper scheduling.
At Duncan Aviation, many things go into determining an aircraft project's schedule. We try our hardest to find a downtime for your aircraft that not only fits your schedule but that will also allow our teams to provide you with the quality of service, efficiency and results that you deserve.
Brian Barto, Scheduling Coordinator at Duncan Aviation's Battle Creek, Michigan, facility says, "The bottom line is always ensuring the schedule we put together will benefit the customer." We have a team of experts who have perfected the scheduling process, providing our customers with a carefully calculated maintenance event and our internal teams with the resources they need to efficiently achieve our customers' expectations.
Schedule Begins with Operations Planning Team
Between Duncan Aviation's two full-service facilities located in Lincoln, Nebraska, and Battle Creek, Michigan, we have a team whose job responsibilities ensure that hangar space and available labor hours provide maximum efficiency. Each facility is supported by an operations planning team that works with individual department schedulers and sales teams to manage pending projects, evaluate facility space and requirements, schedule aircraft projects and coordinate aircraft movements and hangar stacks at their respective facilities.
The scheduling process digs down deep and involves many steps, beginning with an accurate work scope being presented to the operations planning team. Our sales teams work with the department schedulers during the quote process to coordinate required dates, aircraft information, description of work for each production team involved and an accurate picture of the labor hours required for the project. After initial planning, the operations planning team takes a closer look at the customer's needs, reviewing all project requirements and asking the right questions of the customer and each other, they begin creating a detailed plan for the maintenance or upgrade activity.
Department Schedulers Analyze Schedule
Also critical to the scheduling process is a group of individual department schedulers. Each production team has one designated individual working to manage and schedule projects specific to their expertise. As each pending work scope is communicated from the sales team to the operations planning team, information is routed through these department experts. The team of schedulers work together, determining the required down time for the aircraft that maximizes capacity and manpower for all production teams involved.
Each department has a capacity of work that they strive to achieve and a maximum work load that their teams can manage. The teams understand how important it is to work together. Glenn Thompson, Airframe Scheduler from Battle Creek, explains, "There is a fine line between too much work and not enough. You have to pick the right projects to keep Duncan Aviation busy as a whole, taking a look at all numbers, not just your individual department." The measurements are analyzed on a weekly basis providing clear communication on the limits and needs of each department and facility.
Each department scheduler has their own method for evaluating and organizing pending projects. Dave Estey, Avionics Installations Scheduler in Battle Creek, explains, "I examine the total hours required to start, then I factor in things like modifications lead time and things that need to be done in sequential order."
For Scott Hollman, Engineering and Certification Scheduler, "the proposal must be evaluated and the requested schedule evaluated against the utilization of individuals possessing the appropriate skills and delegation, to accomplish the work."
Final Schedule Reflects Input From All
"Whether the customer has one aircraft or a fleet, we want to impact their downtime as little as possible."
- Brian Barto, Scheduling Coordinator
The teams take their individual needs and together weave a schedule that will keep the process at full efficiency. They consider lead times for parts and materials, needs for additional services, engineering and certification, and always look to determine the most accurate downtime and the most precise delivery date. It is with ample planning on every project that we are able to be successful on a daily basis. After all, accurate planning benefits not only a particular project, but positively affects the projects of dozens of other customers at our facilities.
This kind of in-depth analysis allows the entire team to coordinate events internally so that the aircraft's downtime is minimal. "I know how critical the downtime of a customer's aircraft can be," states Doug Schmitt, Lincoln Scheduling Coordinator. "Whether the customer has one aircraft or a fleet, having an asset down for maintenance changes the way they are allowed to conduct their business. We want to impact that as little as possible."
After input is received from all teams, a final schedule is assembled and presented to the customer through the lead salesperson. The schedule provides appropriate milestones and addresses any questions that came up during schedule planning. After customer approval, the schedule is "firm" and work on the project can begin.
Communication Before & During Increases Success
Once the plan is in place, the complete schedule, plan and flow is not only communicated to the customer, but must be effectively communicated to each team within the facility. Project flow charts are developed and published, allowing any Duncan Aviation employee to access the schedule. The project's plan and flow is continually referenced throughout the project and is updated with the most accurate information available as milestones are achieved.
Brain Barto explains that work-in-progress is a big factor in everything they do. Knowing how well a project is coming along and whether milestones are being met directly affects how the hangars are stacked and if they will be able to move an aircraft when needed. After all, the more detail that is provided to the teams coordinating the service, the better set up everyone is for on-time delivery.
"There is no comparison when it comes to efficiency and planning."
- Allen Ulmer, Sanderson Farms
Duncan Aviation's scheduling process and team set us apart. The relationships that they have with each other allow us to plan and offer reliable schedules. Lincoln Paint Scheduler Kurt Bohac sums it up, "To be a scheduler you have to be flexible, adapt to changes, be able to make decisions and work as a team."
When it comes to working together on a multi-shop project, the communication and effort of the Duncan Aviation scheduling team is remarkable. Our customers trust our process. Allen Ulmer, with Sanderson Farms attests that the Duncan Aviation planning and scheduling process is unmatched. "There is no comparison when it comes to efficiency and planning. Others could learn from Duncan Aviation's process," states Allen. "I have been coming to the Lincoln facility for thirteen years and it is always the same, first class."
---
Meet Steve Dillingham, BTL Operations Planning Specialist
Steve Dillingham began his career in 1997 working for Kal-Aero* in the Line Services department. He took on his current position one year later. Steve has a bachelor's degree in Aviation Science from Western Michigan University and enjoys solving problems and keeping projects on track for timely delivery. He also likes to camp, ride his motorcycle and mountain bike and enjoys air shows, flying and traveling. He volunteers his time for various Habitat for Humanity projects through his church. Offering the highest quality professional service to his internal and external customers is something Steve says he strives to do daily.
Meet Brian Barto, BTL Operations Planning Coordinator
In 1997, Brian Barto started at Kal-Aero* in the Records and Research department. In 2000, he became a project manager and took on his current role in 2004. Prior to Duncan Aviation, Brian served in the Marine Corps as an Infantryman and in Radio Communications. Brian has a bachelor's in Management and Organizational Development. He enjoys the interaction that his job requires with team members in sales, customer service and all production shops. This allows him to focus on the whole organization and not just one small segment. Brian is married and has one son. He enjoys NASCAR events, gardening and continuing his education in Economics and History. He volunteers with the Charitable Union and with Calhoun Christian school activities.
Meet Jeff Cram, LNK Operations Planning Specialist
Jeff Cram started at Duncan Aviation in 1999 in the Line Services department, working his way up to his current position. Prior to Duncan Aviation, Jeff worked for United Airlines. Jeff is married and has one son. He enjoys the challenges that each day at Duncan Aviation brings and strives to find creative solutions that benefit everyone involved. In his free time, he enjoys taking backpacking trips.
Meet Doug Schmitt, LNK Operations Planning Coordinator
In 1986, Doug Schmitt started at Duncan Aviation as a Line Service Representative. In 1991, he transferred to the Avionics Installations department. Doug was promoted to installations team leader before transferring to his current position. Prior to Duncan Aviation, he worked on the line for Crete Municipal Airport in Crete, Nebraska. Doug has an associate's degree in Electronics Technology and a bachelor's degree in Business Management. Doug is married and has two daughters. He enjoys hunting, sporting events and landscape work. He volunteers for the TeamMates mentoring program and is active in his church serving as youth group leader and men's ministry leader.
*Duncan Aviation acquired Michigan-based Kal-Aero in 1998.