«Summer 2011
When It Comes to Engine Work, We Respond… Rapidly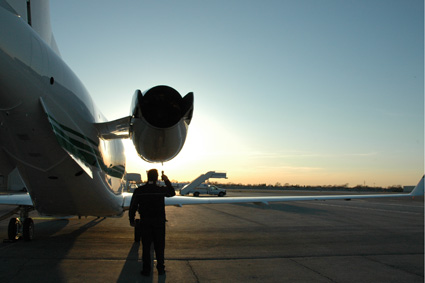 "Duncan Aviation, Joe speaking." That's how Joe LaCorte answers his phone, no matter when it rings. And some days, it begins to beep, buzz and ring very early in the morning. Joe is the Team Leader of Duncan Aviation's Engine Rapid Response Team (RRT) located at the Chicago Executive Airport in Wheeling, Illinois. He understands that AOG situations cannot be scheduled and when the phone rings, he and his team need to be prepared to respond.
Joe is joined by Joe Keller, a Rapid Response Engine Technician with 16 years of aviation experience. With their intimate knowledge of Honeywell and Pratt & Whitney engines and APUs, there isn't a business airport in the Greater Chicago Metropolitan area that this pair of Joes hasn't been dispatched to provide AOG engine emergency support, in addition to many scheduled and unscheduled events, including engine R&Rs. Mike Bruhn is the third and newest member of the Chicago RRT. Although he has more than 10 years of experience in aviation, he says he learns something new most everyday from his teammates.
The Call
Dan Vignieri, Chief Pilot from Crystal Air, was not pleased when he saw oil all over the engine cowlings of his Learjet 45 after flying eight hours to California and back. The evidence of an obvious oil leak was completely unexpected since he just took delivery of the aircraft the day before from another service provider. It had been down for scheduled maintenance and a required Honeywell engine inspection for corrosion in and around the intermediate case. This inspection involved the complete engine teardown, including the removal of the thrust reversers and engine mounts. The work was NOT performed by Duncan Aviation.
"Their keen attention to detail made sure the job was done right."
- Dan Vignieri, Chief Pilot from Crystal Air
Dan's first call was to his Honeywell Field Service Rep. His second call was to Joe LaCorte and the Duncan Aviation Engine RRT.
Dan first called Joe in 2005 on the recommendation of his Honeywell Field Service Rep. "I was instantly impressed," says Dan. "They were quick to respond to my call and worked around my schedule. Their keen attention to detail made sure the job was done right." Dan's been calling Joe ever since.
The Response
This call from Dan was different from most. It came at 9:56 p.m., and Dan didn't have the luxury of time. Joe LaCorte, along with Joe Keller, took off the next morning to the Kenosha Regional Airport where Dan hangars his Lear 45. It was easy for them to diagnose what was causing the engines to bleed oil. During the corrosion inspection at the other facility, the engines were reassembled with several oil lines, o-rings and seals improperly installed. Joe suspects it was a case of an inexperienced technician rushing through his work and not paying attention to the details. They resealed the lube and scavenge pump and attached several oil tubes. Dan's engines were cleaned up, closed up and all paperwork completed in time to meet his scheduled flight at 6 a.m. the following morning.
Then at 10 p.m. that night, Joe got another call from Dan. "Duncan Aviation, Joe speaking." Dan told Joe he had more oil leaking.
Joe listened intently as Dan relayed valuable information from Phoenix, asking questions and taking notes. It was determined that Dan could complete the flight and get back home. The RRT would troubleshoot the problem upon his return.
"I want our customers to consider my team a part of their staff, an extension. I answer my phone knowing I will work with this customer to troubleshoot a squawk until it is fixed."
- Joe LaCorte, Duncan Aviation Chicago Team Lead
This time, Joe Keller and Mike made the trip north to Kenosha as Joe LaCorte remained behind to change the magnetic carbon seal on a hydraulic pump head on a Falcon 7X at Chicago's Midway Airport.
On the Lear 45, they suspected a hairline crack in an oil line behind the pylon. It was not discovered during the first visit because it cannot be diagnosed with an engine run on the ground; it can only be diagnosed after a flight. Cracks like this occur when lines are over-torqued during installation. Parts were ordered and the work was scheduled to begin the next morning.
En route to Kenosha, Mike drove while Joe used the drive-time to return phone calls and take notes. They volleyed questions back and forth while discussing upcoming work. In the meantime, Joe's phone continued to ring. A Gulfstream G-200 would arrive at 6:20 p.m. at Chicago's Midway Airport. It was leaking oil. Joe suspected a leak of the carbon gearbox seal on this Pratt & Whitney engine. But he wouldn't know for sure until he got there.
On the Lear 45, Mike began to remove the cracked oil lines when Joe noticed a pink ring around a line leading into the hydraulic pump. It's the telltale sign of a leak. Dan gave him the goahead to remove the unit and determine the cause. The Teflon ring and o-ring were rubbing against the threads and became misshapen, allowing hydraulic fluid to escape. It's another mistake caught early to save a major headache later on. Before the job was complete, they also installed a new breather valve and scheduled a periodic inspection for the following week.
Dan explains why Joe and his team are his first call when it comes to engine maintenance. "All they do is work on engines. I trust their expertise and knowledge. I haven't once worried about their work. Now they are here to fix someone else's mistakes. As long as I'm Chief Pilot, they will be the ones I will call on to do my engine work locally."
The Service
Over the course of the day, Joe received more than 25 phone calls, text messages or emails seeking troubleshooting advice and scheduling periodic inspections. He doesn't mind and explains why every call gets his full attention.
"I want our customers to consider my team a part of their staff, an extension. I answer my phone knowing I will work with this customer to troubleshoot a squawk until it is fixed." It can take a lot of time, but he knows his customers appreciate the effort and will remember when it comes time for larger inspections and projects.
Joe never leaves a job without shaking the customer's hand. "I always want to thank them when the job is done." He goes to explain, "Of all the road teams they could choose, they called us. It's all about building that relationship."
On his way home, Joe stopped at Midway to meet the Gulfstream leaking oil. Just as he suspected, it was the carbon gearbox seal. Parts were ordered and the job was scheduled. After shaking hands with the Director of Maintenance (DOM), he turned to leave.
Before he got into his truck, his phone rang again…
---
AOG Rapid Response
The Chicago Engine Rapid Response Team is not the only busy Duncan Aviation road crew responding to a variety of engine AOG calls every day. A similar article could have been written about the teams from Atlanta, Dallas or Denver. And the phone rings just as much in Fort Lauderdale, Long Island, Scottsdale and Seattle as it does in Chicago.
Duncan Aviation's eight Rapid Response Teams are strategically located across the United States. With just one phone call, a team of experienced engine technicians is able to be dispatched to your location when an engine AOG situation arises, usually within hours. All but core access and MPIs can be performed on the road.
For events that require additional personnel and technical expertise, these teams are supported by Duncan Aviation's full-service maintenance facilities in Battle Creek, Michigan (BTL), and Lincoln, Nebraska (LNK). They also sometimes work with teams from Duncan Aviation's maintenance facility in Provo, Utah.