«Fall 2013
Aircraft Parts on Speed Dial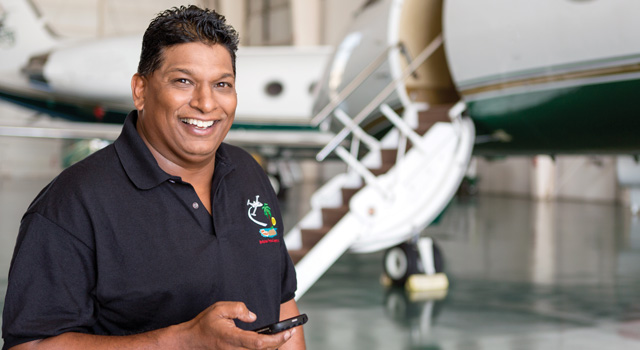 Kassim Khan has Duncan Aviation on speed dial. Actually, to be more specific, he has Duncan Aviation's Thad Aude on speed dial. As a co-owner of Aviation Parts & Supply, an aviation parts broker supporting several corporate flight departments, Kassim's go-to guy is Thad and Duncan Aviation is his only resource for aircraft parts. He doesn't need to call anyone else.
Thad is a Duncan Aviation parts and rotables sales rep who will, on any given day, locate and quote nearly 100 aircraft parts for customers around the world. Most of the time, the parts are housed in one of the many warehouses at Duncan Aviation and shipped within hours. With an inventory of more than 133,000 available parts valued at more than $15 million, it's no wonder. But on those rare occasions when Duncan Aviation doesn't have a part in its inventory, Thad has an additional 1.1 million parts valued at more than $21.4 million available through the company's aircraft parts consignment program.
Although Thad's primary focus is to process quote requests, his work does not end there. He enjoys the challenge of working with every customer to identify and meet their individual needs, no matter what the request. "If it is within my power to provide the exact aircraft part, service or support that my customer needs, then I will do what I need to in order to make it happen," he says. He quotes repairs, locates needed cores and, when working with customers worldwide, ensures that all international documentation is in order and correct so nothing is held up in U.S. Customs security.
It should come as no surprise then why customers like Kassim keep coming back. For 18 years, Aircraft Parts & Supply has relied solely upon Duncan Aviation to provide the parts needed to serve their customers. "The bottom line is that Duncan Aviation has never let us down. 99% of the time, they have exactly what I need," explains Kassim. "My customers continue to come back to me because I call Thad. He does everything he can for me, making it easy for me to serve my customers."
Kassim goes on to say that many of his customers return to him because he provides the highest quality aircraft parts to them. "Duncan Aviation's reputation in providing quality aircraft parts is great and widely known throughout the corporate aviation industry. The repair capabilities are top-quality and the prices are always a fair value. Anyone who has ever purchased an aircraft part that is tagged with a Duncan Aviation 8130 knows that they are getting a part that will be reliable with no warranty or failure issues. It's worth it to me to pay for the quality and solving the problem the first time."
Unlimited Reach…Unlimited Search
Thad works with a wide variety of customers: brokers, FBOs, other maintenance facilities and individual operators. He will conduct a search for any part on any model aircraft, even if the aircraft is not one that Duncan Aviation will typically service. Although not often, Thad will get a request for a part that is not in Duncan Aviation's inventory or available through the customer consignment program; when this happens, he turns to his large network of contacts and resources, such as web-based parts services like ILS or PartsBase.
Duncan Aviation is constantly adding to its inventory to ensure customers have a true one-stop shop when it comes to acquiring parts or exchange units. In 2012 alone, the company added more than 330 units, which are applicable to corporate jets, commuter airlines, commercial airlines and turboprop aircraft.
Thad has been with Duncan Aviation for 26 years. He has spent those years developing great working relationships with all of his customers. More than one of those customers have him on speed dial.