«Fall 2013
An Indirect Route: Brazil to Nebraska to India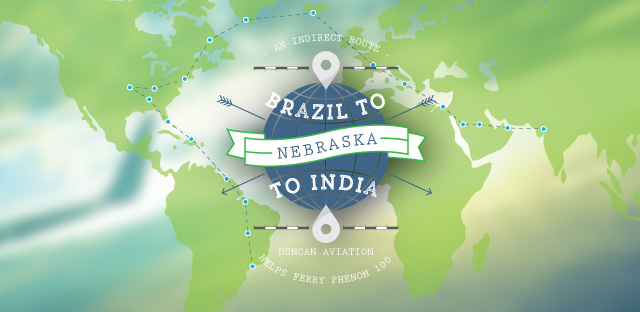 Duncan Aviation Helps Ferry Phenom 100
Last year, Duncan Aviation's Andy Fernandes, India regional manager, was contacted by Mr. Vincent Xavier, chief operating officer of Zest Aviation in Ahmedabad, India, asking if Duncan Aviation could help him take possession of a new Embraer Phenom 100. Andy assured Mr. Xavier that the situation was exciting and challenging but not difficult; Andy then went to work.
He enlisted the assistance of numerous Duncan Aviation team members as well as pilots, brokers and handling companies around the world. Andy coordinated the paperwork to export the aircraft from Brazil and import it to the United States. And based on the rules and regulations of India's Director General of Civil Aviation (DRCA), Andy lined up the necessary permits to export the new Phenom from the United States to India. He also secured the necessary documents for Reduced Vertical Separation Minimum (RVSM) approvals.
Among the many aviation professionals who Andy contacted was Guilherme Monte Claro, a customer account manager at Embraer Executive Jets. Together, they worked out the certification, exit permits and delivery on Mr. Xavier's behalf. Andy arranged additional paperwork with the customer's broker, Timothy McCulloch, from Phoenix. And he contacted Jetex Flight Support in Dubai, United Arab Emirates, to devise the flight plan with all of the necessary stops between Embraer's facility in Sao Jose Dos Campos, Brazil, and Duncan Aviation's facility in Lincoln, Nebraska, and then from Lincoln to Ahmedabad.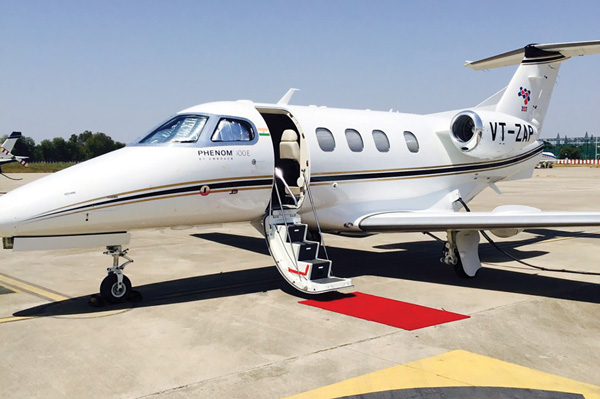 Because Mr. Xavier's pilot, Akshey Chouakshey, could not have flown all of those hours himself, Andy also lined up Embraer pilots to fly from Brazil to Lincoln. A second pilot then flew with Akshey on the trip from Lincoln to India.
Before Mr. Xavier and Akshey went to Brazil, Andy reached out to Duncan Aviation Airframe Tech Rep Tim Garity and asked him to meet them in Brazil on behalf of Duncan Aviation. In September 2014, Tim took a commercial flight from Lincoln to Sao Paulo. Embraer sent a car that took Tim to Sao Jose Dos Campos, where he met Mr. Xavier and Akshey.
"Mr. Xavier didn't have any technical people on his staff," says Tim, "so he contacted us to provide technical assistance. We had helped Mr. Xavier before with other new aircraft he's purchased, and we'll provide this service for any of our customers who ask."
Tim reviewed the logbooks for the aircraft and engines for accuracy, and he accompanied the crew when they took the Phenom up for its test flights. When Mr. Xavier took possession of the Phenom, Tim walked him through the paperwork regarding the technical issues.
Tim and the group from India were in Brazil for seven days, and they were all impressed with the Embraer facilities. Tim says the hangars were spotless, and everyone they encountered was warm, friendly and knowledgeable.
"I spent quite a bit of time with Captain Eloy Neto, Embraer's demonstration and delivery pilot, and he piloted the plane from Sao Jose Dos Campos to Lincoln," says Tim. "During the lengthy flight, Captain Neto imparted a great deal of information about the Phenom to Akshey."
Although free time was scarce while they were in Brazil, Mr. Xavier, Akshey and Tim managed to meet for dinner at a local steak house one evening. Their waiter, who claimed his name was Harley Davidson, entertained the group with his wit and banter.
"Mr. Xavier and Akshey were personable and down to earth," says Tim. "It was a pleasure to work on their behalf and to get to spend a little time relaxing together, too."
Once the ferry permit was issued, Tim (who was considered essential personnel) accompanied Eloy and Akshey on the new Phenom. The 20-hour flight from Sao Jose dos Campos to Duncan Aviation included eight flights, seven fuel stops and two overnights.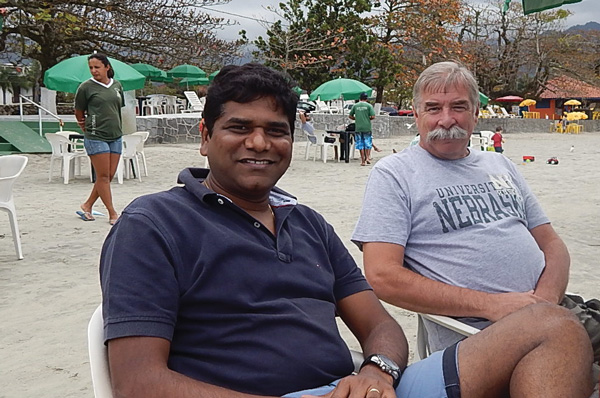 Mr. Vincent Xavier, chief operating officer of Zest Aviation (left) with Tim Garity, Duncan Aviation Tech Rep.
"On the first day, we flew about 1,800 miles, stopping for fuel in Palmas and then Belem, Brazil, where we stayed overnight," says Tim. "The second day, flying about 1,300 miles, we stopped for fuel in the Republic of Suriname and Barbados, where we spent the night. The final leg of our journey was the longest at 3,250 miles, and it included fuel stops in Puerto Plata, Dominican Republic, Fort Lauderdale, where we also went through U.S. Customs, and St. Louis before arriving in Lincoln."
During his first-ever visit to Nebraska and Duncan Aviation, Mr. Xavier toured Duncan Aviation's facilities, meeting and interacting with several team members. With help from the Duncan Aviation certification team, Andy secured the Standard Airworthiness Certificate and the Export Certificate to India for the Phenom.
Andy says, "Mr. Xavier was very pleased with every aspect of his experience with Duncan Aviation. He was impressed with our two new maintenance hangars and our facilities on the east and west sides of the Lincoln Airport. He was struck by the can-do attitudes and friendliness of everyone he encountered during his few days in Lincoln."
Several days later, Mr. Xavier flew back to India on his new Phenom 100. All told, the aircraft touched six continents and 13 countries during its 21 stops.
"Zest Aviation would like to compliment each and every person who directly or indirectly participated in the project to ferry the Phenom 100 to India. It was an adventure and we learned more about the aircraft's capabilities, which included its endurance, too. We experienced extreme conditions—21 stops and four overnight stops. We sincerely thank Duncan Aviation team members for their valuable contributions and we look forward to working with Duncan Aviation again on some new project," says Mr. Xavier.