«Fall 2013
AOG Avionics…even faster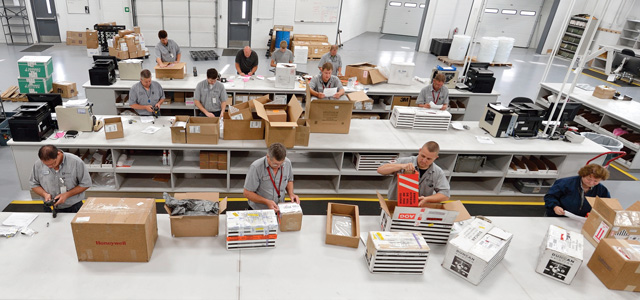 An AOG situation cannot be predicted and almost never occurs at a convenient time. The best way to endure such events is to have a plan in place for when they do occur, because at some point they will. Your plan needs to include Duncan Aviation.
Since 1966, Duncan Aviation's avionics and instruments shop has worked on tens of thousands of avionics units. All those years of experience has resulted in a shop that offers the fastest AOG turntimes in the industry, the highest quality of repairs and overhauls and an ever-growing list of capabilities on components from the most popular corporate aviation airframes. So how do you improve on the best? You make it better.
In an effort to become more efficient, Duncan Aviation has consolidated its shipping and receiving operations in Lincoln, Nebraska, to one new centralized receiving location. Now with the use of radio frequency technology and a special FedEx zip code, all AOG packages are delivered first thing in the morning.
And it begins with just one phone call.
1 800.562.6377
Meet Andrew Theis. Andrew is on the team of customer account reps who, when you call, coordinates a team of avionics/instruments professionals dedicated to work for you. He gathers the necessary information about your unit and the experienced squawk; setting up a tentative AOG work order. He doesn't hang up until he has answered all of your questions and given you the proper shipping instructions. With the click of a few buttons, your incoming unit is scheduled with the appropriate bench and Duncan Aviation's shipping & receiving team is notified to be on the lookout for the AOG unit arriving on the FedEx truck the next day (if you're in the United States) or in a few days (if you're located in a different country).
Duncan Aviation—68500
When using the right address and zip code combination with FedEx, you are able to get your priority package into Duncan Aviation at the same time as Early AM without the cost of an Early AM delivery.
Duncan Aviation, Inc.
Shipping and Receiving
4001 N Park Rd
Lincoln, NE 68500
Duncan Shipping & Receiving
Meet Tyler Lauer. He is on Duncan Aviation's shipping and receiving team who processes more than 200 packages from all shipping carriers, including FedEx. Everyone on this team is on the lookout for your AOG unit when it is scheduled to arrive. Once it arrives, he immediately opens the box, officially receives it into the Duncan Aviation system and the work order is changed from tentative to open. This change in status flags Andrew and the appropriate bench that your unit is now at Duncan Aviation and will be arriving at the bench shortly. AOG units are typically on their way to their repair destination within minutes of being processed.
Avionics Technicians Take Action
Meet Rod Walther, Duncan Aviation avionics/instrument team leader. Your AOG unit has been hand-delivered to his bench and his team of technicians, prepped and ready, immediately step up to begin working your squawk. With more than 45,000 different repair manuals and a large team of avionics repair technicians, whether you send us a panel-mount radio, Universal FMS or any unit in-between, our team works for you.
Keeping You Flying
Duncan Aviation avionics & instruments bench technicians can turn your AOG unit in as little as a few hours to a few days, depending on the squawk and the required repair or overhaul. When your unit is returned, it arrives with a Duncan Aviation 8130 and a guarantee of the highest quality workmanship available.
When your AOG plan includes Duncan Aviation, you have the best team working for you. We already had the fastest in AOG turntimes…and we just got faster!