«Fall 2013
Interior Investments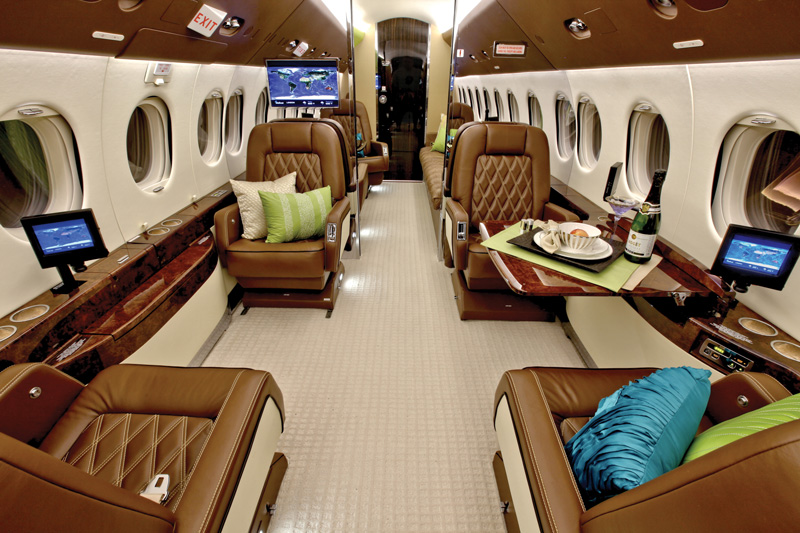 Everyone knows that owning an aircraft is an investment. In addition to increasing an owner's productivity and privacy, owners often invest heavily in their aircraft aesthetics and functionality with custom configurations, state-of-the-art cockpits, personalized interior décor and artist-rendered exterior paint. When they're ready to sell, they'd like to see the highest possible return on their investment. Buyers, too, are making a sizeable investment when committing to an aircraft and they have fairly high expectations regarding nearly every aspect of the aircraft, but particularly the interior.
As with the housing market, aircraft markets fluctuate, depending on a number of factors. We're currently in a buyer's market in the business jet industry.
Bob McCammon, an Aircraft Sales and Acquisitions expert, observed that just a few years ago, the trend for business jet buyers was to completely refurbish the interior so it reflected their personal tastes. "Not so, today," Bob says. "Business jet buyers are like current home buyers who want a house that is move-in ready."
"WE ARE SEEING BRIGHTER COLORS FOR ACCENTS. THROW PILLOWS IN BRIGHT, BOLD COLORS, PATTERNS AND TEXTURES: ORANGES, TEAL BLUE AND APPLE GREENS, STRIPES AND CHEVRONS."
- Mary Lee, Senior Aircraft Interior Designer
Neutral Colors & Updated Materials
When you're selling your aircraft and looking for the greatest return on your investment, look at your interior with a critical eye. Mary Lee, a senior aircraft interior designer, says that at the very least, the overall look of your interior must be up to date, especially if it's more than six years old. An interior with a busy, patterned carpet in bold colors, older seats with dulled leather and light-colored veneers will detract from the return on investment because that interior won't enjoy broad appeal on the open market.
If the color schemes are neutral and the seats relatively new, a thorough cleaning is a necessary bare-minimum investment before attempting to sell the aircraft. Remove spots and stains from the carpet and re-dye the leather for the seats, she says. Fix any loose armrests, and make sure all backrests lock fully upright without wobbling.
The goal is to make the interior as attractive as possible to potential buyers. If upgrading the entire interior is not an option, consider replacing a few items, such as the lower sidewall finish or the fabric covering on the divan with a neutral color and a conservative texture or pattern for a clean, new appearance. Replace any throw pillows that show wear or are in colors or patterns that are out of date.
Reupholster the worn, dulled seats to perk up a neutral-colored cabin. Currently, popular pearlized leather with its slight sheen brings a contemporary finish to older seats. Matt Spain, a Senior Completions and Modifications Sales Rep, says, "When you're refurbishing a seat and upgrading the upholstery, remember to replace the foam. If the leather is worn, the foam is worn and deteriorating, too. If you sit in the same seat all of the time, you'll notice a depression where the foam has worn down—just like in your easy chair at home."
A potential buyer may see worn out seats with new upholstery as a superficial upgrade and wonder what other short cuts the seller has taken. Matt says, "Remaining within the regulations for the seat's type certificate, you can change out the foam to different densities to firm the seats and make them far more attractive to a potential buyer."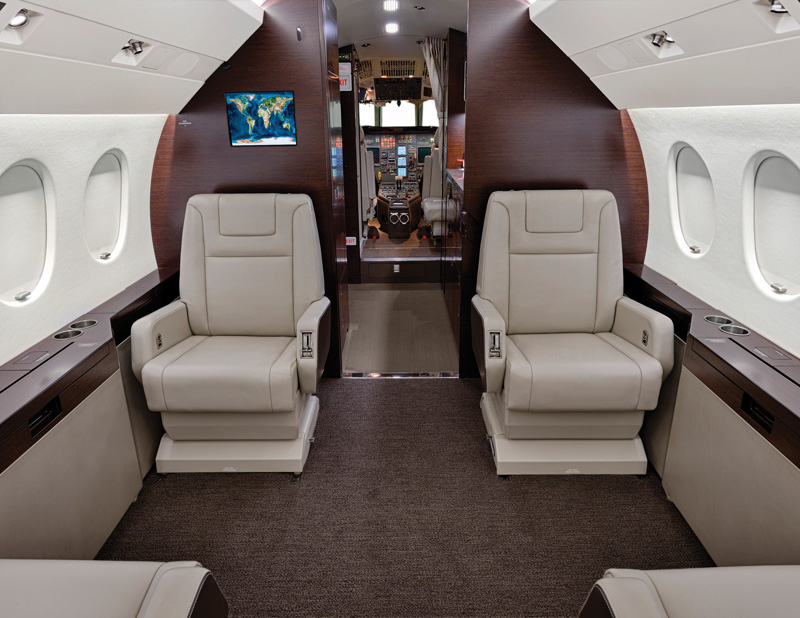 Interior Refurbishment
Nothing shows the aircraft you're attempting to sell to its greatest advantage like a new interior. Updating the seats, carpet, veneers, table tops and galley counters, sidewalls, panels, headliner and lighting will greatly appeal to buyers who are in the market for a turn-key aircraft.
"Typically, interior décor is considered out of date when it's older than six years," Mary says. "At that point, owners who are looking to retain or enhance the value of their aircraft should consider updating the interior. Updating the cabin with new or reupholstered seats, new side panels, and a headliner that features today's clean, neutral colors and conservative textures and patterns will appeal to a broad range of buyers."
Colors. Popular color schemes used for aircraft interiors change, just as they do for home interiors. Neutral colors (beige, off white, gray) are always prudent color choices, but accent colors change with time. "As an example, for years, a cool blue-gray was the predominant neutral color used in aviation interiors." Mary says, "Today, the color palate has shifted to the warmer end of the gray spectrum."
Potential sellers can update the color scheme without touching the configuration. "Although the dominant colors feature neutrals, we are seeing brighter colors for accents. We've seen throw pillows in bright, bold colors, patterns and textures: oranges, teal blue and apple greens, stripes and chevrons," she says. "Colors are definitely moving away from shades of blue and mauve."
She also said the influence of the auto industry has affected the colors requested for use on seats in business aircraft, too. Two-tone color contrasts, featuring color tones like cognac, are popular on new seats. The seat covers are typically still in the lighter, more neutral tones, but buyers are asking for darker-colored leather for inserts or armrests, contrasting stitching or cording to bring visual interest.
Veneer. Veneer is a big-ticket item, but as with everything else, styles come and go. The light-colored, cross-grain veneers with burls that had been popular in the past decade or more are now considered quite dated. The European influence with its emphasis on simple lines, darker colors and straight grains are what current interiors are trending toward.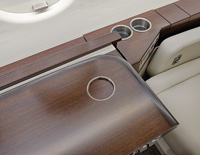 Business jet buyers are also moving toward greener, more eco-friendly materials, and vendors are complying by providing veneers in composite or reconstituted materials. Many of the wood species used in the older veneers are difficult to find now, and buyers are asking for materials that prevent further damage to forests that are home to exotic, endangered wood species.
Mary says, "Other more eco-friendly materials being used for cabinetry in the place of previously used exotic veneers are painted finishes and an array of metal laminates."
Floor covering. Although neutral-colored carpet is still the most popular floor covering in cabins, the granite countertops and stone floors used in contemporary homes are making a transition to business aircraft, too. Mary says, "We're getting more requests than ever for natural stone floors in the galley or entry as an alternative to carpet." The stone is mounted over a substrate of aluminum, which keeps the material light so it won't adversely affect the overall weight of the aircraft.
In addition to the flooring, make sure the appliances in the galley are clean and current. "Buyers are increasingly looking for microwaves and coffee makers that are roughly the same size and have similar functionality to those in their home kitchens," Matt says.
Lights. As with home décor, nothing affects the interior ambiance like lighting. Today's light-emitting diode (LED) bulbs are effective, cost-efficient sources of light for aircraft. LEDs provide directional lighting, meaning the light is focused in a single direction, making a strong beam, as opposed to incandescent and fluorescent bulbs that emit light and heat in every direction, which causes the light to lose some of its strength.
LEDs contain a heat sink, so the energy used is concentrated on producing light rather than heat. As a consequence, LEDs enjoy a far longer lifespan than other bulbs. There's also a weight savings with LED lights—not only do the lights themselves weigh less than fluorescent tubes, the power supply for LED lights also weighs less than that necessary for fluorescent lights.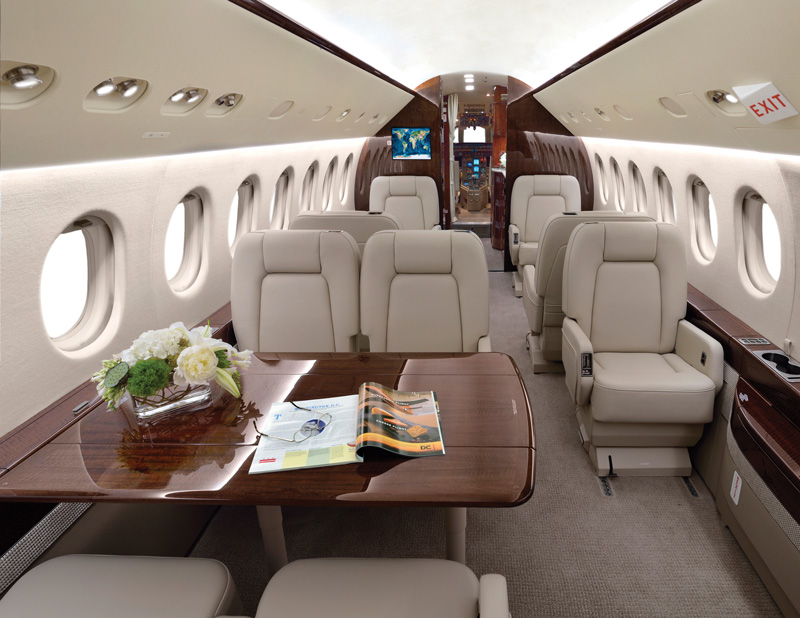 Configuration
"Before someone buys an aircraft," Matt says, "he or she has a configuration in mind—the number of seats and how they're situated. We're seeing a lot of buyers looking for Falcon 2000s with 10 seats. Standard factory configuration has either 8 or 10 seats, but the 10-seat configurations are in demand right now. We tell our customers, though, not to rule out an otherwise perfect aircraft if seat configuration is the only issue. Duncan Aviation can reconfigure the plane to add two more seats."
Unique to Duncan Aviation's completion center is our custom, one-piece Passenger Service Unit (PSU) panel, which is an overlay panel for Falcon 2000 and 900 models. The design not only adds value, but it also updates the look and functionality of an older aircraft. Duncan Aviation was the first to offer these custom PSUs, too.
Cabin Management System
An up-to-date cabin management system (CMS) will greatly enhance the value of an aircraft, and the converse is also true: An outdated system will dramatically decrease an aircraft's value. The CMS controls all the electrical items in the cabin such as the reading and table lights, overhead lights, electric divans, electric shades (if the aircraft is equipped with them), temperature and entertainment systems in an aircraft. Today's business jet owners, and often their families, want the same functionality on their aircraft that they enjoy in their connected offices and homes.
"It's especially important to consider CMS upgrades during a major event," says Steve Elofson, Senior Avionics/Installation Sales Rep. The system may soon be obsolete if it has certain types of analog switches (push-button type controls, which are typically embedded in the cabin side ledges). Replacement parts to repair switching of some analog systems are becoming more difficult to find. Upgrading to newer, digital controls that integrate software-based switching into a touch-screen panel that controls the entire CMS will positively affect the value of the aircraft.
"For instance," Steve says, "Most Gulfstream aircraft built between the late '80s and early 2000s have Pacific Systems switches. Pacific Systems changed hands numerous times over the last decade and now Rockwell Collins is responsible for the continued support of this product line. Rockwell is doing its best, however, there are simply no parts available to repair or change functionality in most cases. Quite often, the only option is to replace the system, and a potential buyer will not look favorably upon an aircraft outfitted with obsolete and non-supported switches."
Conversely, an upgraded cabin switching system definitely enhances the return on investment. "When customers schedule for other major events such as significant airframe inspections or interior work and we see that the aircraft is equipped with analog-based switching," says Steve, "we suggest that they consider upgrading to the new state-of-the-art and fully supported CMS systems available today.
In Flight & Online
The demand for a connected aircraft today is quite high. Because smartphones, laptops and tablets (iPads, Nooks, etc.) are so ubiquitous, business travelers want to have this same functionality on their aircraft. In fact, iPads are quite popular additions to cabins; all of the functionality of the mounted touch-screen controls are available on an iPad through an application. iPad-based cabin control has become very popular due to the larger screen space, ease of use and portability.
"In the last five years," Steve says, "smartphones, with their intuitive operation, have carried over into the cabin. Even people who don't want to use a computer or laptop are familiar with smartphones, and they want that level of control and ease of operation to be available on the devices in their cabins, too. Potential buyers definitely want the same level of entertainment and internet capabilities on their aircraft that they enjoy in their businesses and homes, which makes Wi-Fi connectivity a must."
Aircell's Gogo Biz and Inmarsat Swiftbroadband are popular service options offering high-speed, in-flight internet connection so business travelers can research online, send and receive email, and be entertained through sites such as YouTube. The services do not support streaming content well, though, so don't expect to use NetFlix in-flight. Aircell's Gogo biz service is available throughout the United States, where ground stations are in place. The service is now expanding into Canada. Inmarsat's Swiftbroadband service is available nearly worldwide but at slower speeds.
"Lack of internet connectivity negatively affects the resale value of an aircraft," says Steve. "It has become so popular that when we see business jets without an internet connectivity system, we always encourage owners and sellers to consider the upgrade. A system can generally be installed in two weeks, and sellers will enjoy a great return on their investment."
Internet connectivity doesn't always support phone calls from airborne aircraft through an internet connection. Voice Over Internet Protocol (VOIP), the data standard for internet voice calls, uses a lot of bandwidth, which is not consistently available during flight. Look for this ability to become more available over time as systems evolve, becoming more efficient and as bandwidth increases.
Entertain Us!
DVD players and Satellite TV are still considered favorable values for resale, but they're no longer considered must-have items, nor are they as popular as they once were. These older systems don't support high-definition, and that's what's popular and in demand now.
For truly state-of-the-art entertainment, look into an Audio Video On-Demand (AVOD) server, such as Rockwell Collins' Skybox. These AVODs let business jet passengers enjoy music and movies stored on-board the aircraft or streamed from iPads, iPods and smartphones to the on-board high-definition TV.
"Streaming music or movies live on an aircraft isn't practical because it's far too much data flowing continuously," says Steve. "The Skybox is like having an Apple TV with up to a terabyte of memory in one unit. You can now transfer new music or movie content purchased through iTunes to the Skybox, so your library is available on the aircraft. You can play this content on the aircraft entertainment system or stream it to an iPad and vice versa. Content on the iPad can be streamed to the Skybox and aircraft entertainment system."
New CMS systems with this level of capability are big-ticket items that are currently quite popular. You'll see a substantial return on your investment when this state-of-the art technology is integrated into the aircraft.
Turntime
As you prepare to sell your aircraft, carefully and critically assess the interior, making sure it contains all of today's contemporary colors and conveniences. Bob says, "Business jet buyers don't want to wait while the interior is refurbished; they want to buy an aircraft with an interior that's clean, classy and up-to-date."