«Spring 2013
Transformation. Unlike any other.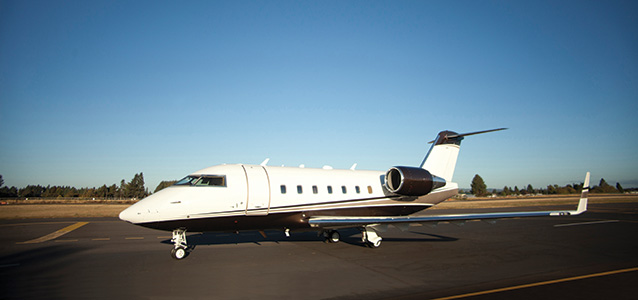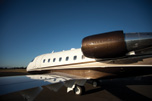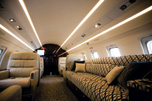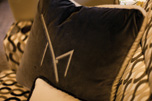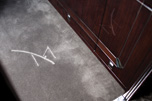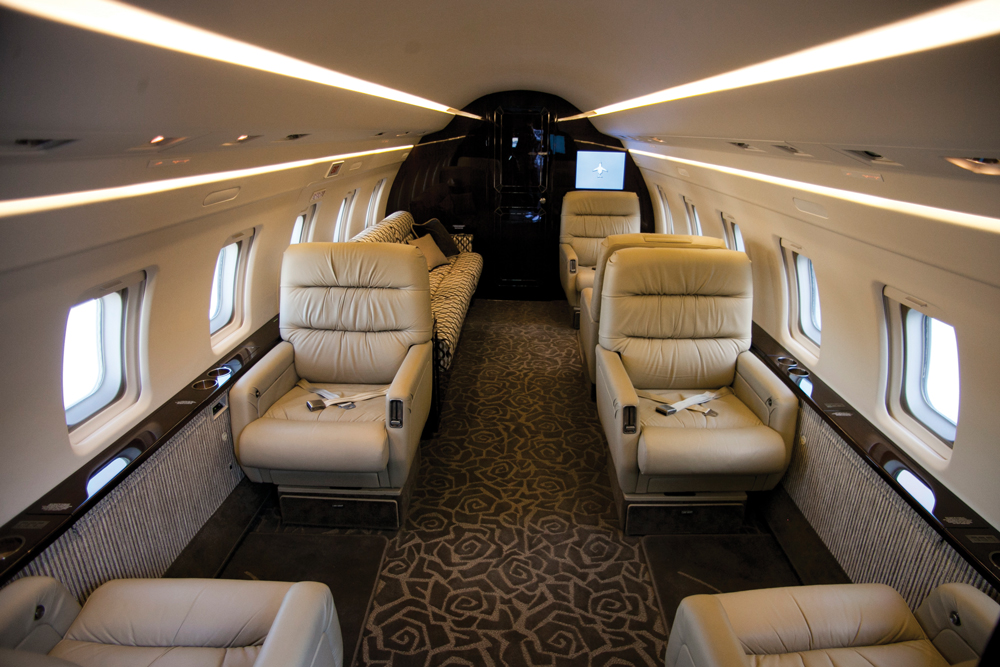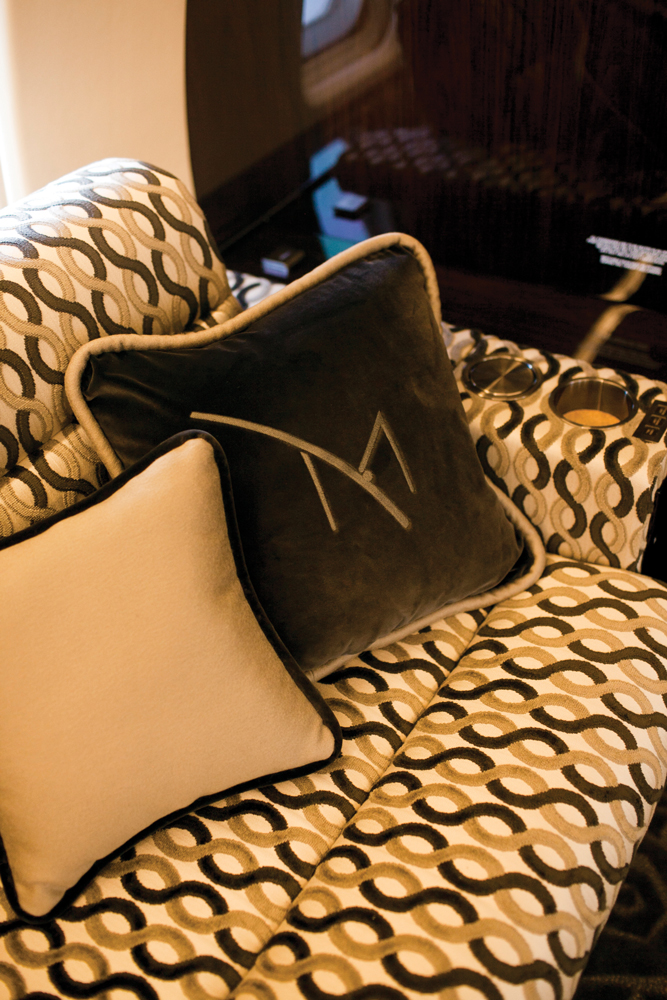 In performing this Challenger prepurchase evaluation and nose-to-tail update work, Duncan Aviation's goal was a flawless and timely finish while providing the customer with an experience unlike any other.
From the very start, Ernie Sturm, Aircraft Management Solutions (AMS) President, knew he wanted to work with Duncan Aviation based on his past experience with our project managers and myDuncan online project management system. But first, he needed to track down the right aircraft.
He spent three months searching for a jet with intercontinental range, a cabin that could comfortably carry up to 10 passengers and a basic equipment platform that could be upgraded to today's navigation and communication standards.
"We wound up focusing on the Bombardier Challenger 601-3A because it has the same airframe and engine combination as the newer Challenger 604 and 605 models. With the addition of an extra fuel tank modification – adding the "ER" designation – it flies at the same speed and has essentially the same range as a 604 or 605," says Ernie, a longtime Northwest-based business aviation industry veteran.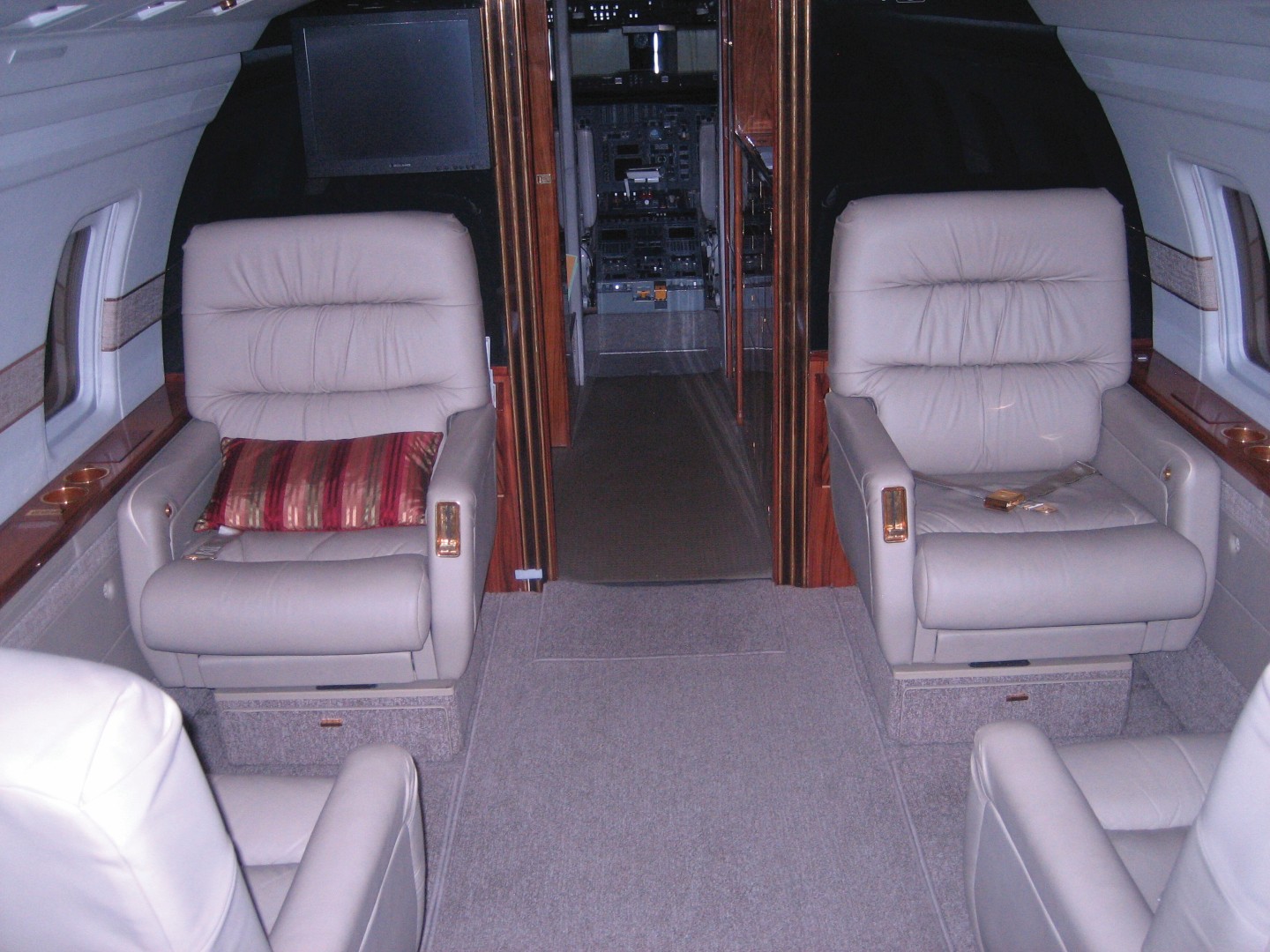 This is how the Challenger looked before transformation.
Sturm tracked down a Challenger for sale, but it needed a substantial amount of maintenance in order for it to comply with the Federal Aviation Administration (FAA) standards and its interior as well as exterior needed complete refurbishment. An aircraft demanding that much work is typically a bit nerve-racking to invest in. But Ernie was confident with the capabilities, expertise and dedication of Duncan Aviation and knew we would be there to support him.
Ernie had an airframe team from Duncan Aviation's Battle Creek, Michigan, location take a look at the aircraft and conduct a thorough pre-purchase evaluation.
Duncan Aviation team members worked to get a good handle on the status of the aircraft as pre-purchase evaluations and new aircraft acquisitions can present unique opportunities as well as challenges. The physical condition of the aircraft combined with the historical status of its records are key in determining whether an aircraft will meet the operational needs of its prospective buyer.
"The team was very responsive and as soon as they landed, they hit the ground running," says Ernie.
Within a couple of days, the two technicians and a documents research expert nailed down every concern they could anticipate. Sturm and his client purchased the aircraft and sent it to Duncan Aviation's Lincoln, Nebraska, campus for its transformation.

"THE TEAM WAS VERY RESPONSIVE AND AS SOON AS THEY LANDED THEY HIT THE GROUND RUNNING."
Efficiency with Apps: myDuncan
Ernie worked with both Duncan Aviation's Battle Creek and Lincoln locations on a variety of smaller aircraft in the past, but this Challenger was one of the most involved projects he says he had ever tackled. Ernie needed to pair up with an MRO who could handle the project quickly, efficiently and manage everything in one location from start to finish. He remembered using Duncan Aviation's myDuncan app and the one-on-one attention he received from his very own project manager. It was a match.
"I feel Duncan Aviation's project management system is the best in the industry. Between the project manager and the myDuncan app, I was always informed and the project was constantly moving forward because the system allows me to send approvals quickly. That's the main reason I chose Duncan Aviation for this project," says Ernie.
After a brief overview of myDuncan, Ernie caught on quickly and the app allowed him to stay in the loop, any time of day or night. It documented everything and allowed him to go back and check on action items completed days or weeks ago. Ernie says it was a great way to communicate and made the process go much faster.
"Using the app is much better than making a phone call and going back and forth, trying to get your phone call returned and only getting partial information," says Ernie.
It took five months, but once the project really got going, Ernie says he was on myDuncan at least once a day. The project had 680 total items on the work orders, including quoted items and additional items that were added once the aircraft was in-house.
"That's 680 things that needed to be tracked, completed and approved. Without that type of system, it's next to impossible to keep track of it all," says Ernie.
Project Manager: Tracy Hein
Duncan Aviation was able to handle everything for the Challenger in-house, which lowered the overall cost and shortened the aircraft's transformation timeline significantly. But a key ingredient to achieving this level of efficiency is utilizing project managers. Project managers like Tracy Hein are constantly juggling the needs of the customer, maintaining a Duncan Aviation-level quality of work and keeping costs at or under budget – all with one eye on the clock. Because when it comes to staying on schedule, every hour counts. Ernie says Duncan Aviation's project manager concept is not something universal, and it's the second reason he chose Duncan Aviation for this project.
"It's nice to just make one phone call and have one person to contact. I've had other experiences where if I had an interior question or avionics question, I had to talk to the interior or avionics people. At Duncan Aviation, if I had a question, I called Tracy. It simplifies everything across the board, for everyone, really," says Ernie.
"BY THE TIME WE WERE DONE, WE TOUCHED EVERY INCH OF THAT AIRCRAFT."
Within hours of the aircraft's arrival in Lincoln, Tracy and the rest of the Duncan Aviation team began the substantial workscope to complete the comprehensive 20-year airframe inspection, 10-year landing gear overhaul and numerous other inspections and repairs. Tracy says that prior to arriving at Duncan Aviation, the Challenger hadn't flown in nine months.
"By the time we were done, we touched every inch of that aircraft. We did paint, an airframe inspection, a completely new interior, added Wi-Fi, upgraded cockpit avionics, rewired outlets, added lighting, designed custom wine racks … from nose to tail, Duncan Aviation was represented everywhere," says Tracy.
When asked about the project's completion, Ernie boldly states that the project was done on time. He then pauses and corrects himself.
"We were in the timeframe we were expecting. Things get added to the workscope that affect the out-date. A project as big as that, if you can be finished within 10 days of the date you forecasted several months ago, that's pretty good," says Ernie.
Not only was this project finished within 10 days of the original out-date, it was finished just three days behind it. The three-day delay was directly attributable to a customized piece added after the initial quote. Ernie says the incredible schedule adherence was because Tracy had her eye on the clock and the calendar, pulling strings behind the scenes to make sure all the team members were on the same page.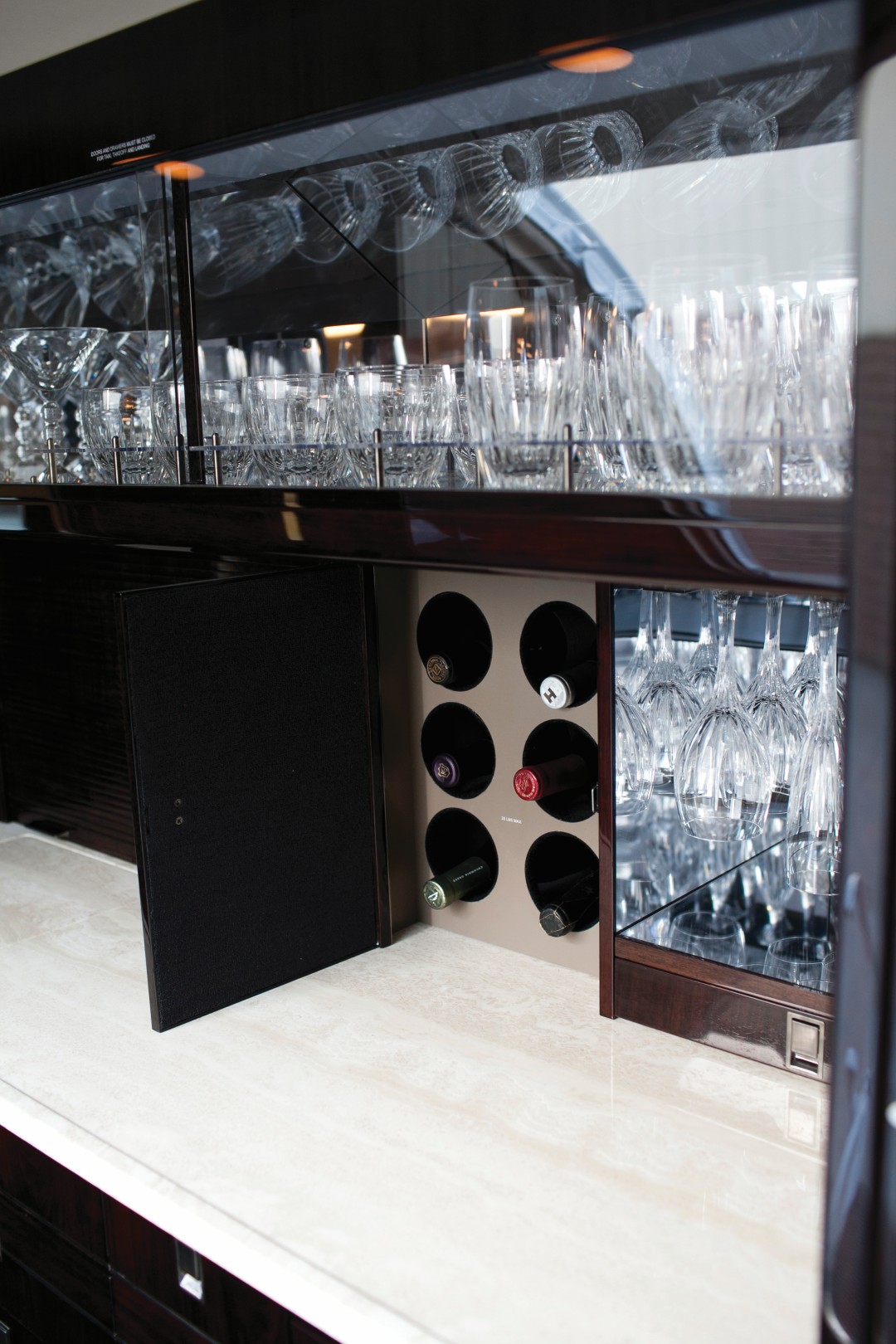 A custom wine rack and cabinets house previously purchased crystal.
Classic, Yet Customized
Ernie and his end-customer wanted the more than 20-year-old Challenger to look and feel like it just completed its first landing. With an experienced design eye as well as input from the customer, the aircraft left looking fresh and contemporary.
"When an aircraft is owned by an individual, it ends up being a statement of their style and what they want it to look like. That often involves some unique customization," says Ernie. "The customer wanted a certain type of crystal in the galley. We bought it and Duncan Aviation refashioned a cabinet to house just it. Everything was one of a kind."
Working with Duncan's interior design department, Sturm and his client chose colors and materials for a total refurbishment of the interior, including new carpet, new wood and metal finishes, new counter surfaces and a galley/refreshment center redesign reflecting the client's taste.
"Occasionally, I get a customer who comes in and chooses something I genuinely love, one who really has a very similar style to my own. I thought the finished product was just gorgeous – a perfect combination of old and new," says 23-year-veteran Designer Teri Nekuda.
Teri's process allows the customer to put his or her personal stamp on the aircraft, sometimes literally.
"The customer had a somewhat hands-off approach to the aircraft project, until it came to the interior and paint. He flew out to set parameters and the interior department worked within those. They were even able to incorporate his custom logo throughout the aircraft," says Ernie.
Additionally, Duncan Aviation's paint shop created a custom exterior paint scheme that included retaining the client's special aircraft registration number as well as a deviation from the common white or gray base paint.
But customization isn't all about appearance. In addition to the maintenance, interior and exterior enhancement, the airplane's navigation and communication equipment was upgraded.
"We upgraded the GPS and Flight Management Systems to incorporate the Wide Area Augmentation System (WAAS), so now we can fly the new approaches that don't rely on ground-based equipment and will be a key component in the FAA's NextGen air traffic control system," explains Sturm.
And for the passengers, Duncan Aviation team members installed wireless internet capability.
Thinking Green: Saving Money and Reducing Waste

Existing wood was refinished to save time and money.
Duncan Aviation's design team loves to build new interiors, but sometimes, if it isn't broken, there's no reason to fix it. In this Challenger, Duncan Aviation team members designed a plan to keep all the existing wood and simply refinish it to save time, money and remain a bit more environmentally conscientious.
"When I suggested it, I thought I'd get some pushback, but the team embraced the concept and it just turned out gorgeous," says Ernie.
The Challenger traded in a dated light wood for a much darker, high gloss alternative that transformed the entire cabin with a superficial swap. The team also decided to keep the leather seats because they were in great shape and meshed well with the design.
When it comes to saving money and crunching numbers, two heads are often better than one. Ernie and the design team were trying to determine the best and most economical way to soundproof the aircraft. After milling over several options, they found a way to get the same effect for almost half the price. A little extra planning and searching saved a lot of time and money.
"I appreciated the flexibility people had. When we said, well, have you thought about this? They thought about it and found alternatives. They didn't say 'this is the way it has to be done,'" says Ernie.
A Squawk-Free Test Flight
At the end of the day, Duncan Aviation team members combine all their skills and efforts to please the customer. They don't produce a product that just looks the part – it delivers as well.
A complete overhaul on a jet for private use is an extremely personal experience. It needs to be functional, fiscally reasonable and really represent the owner. This is an experience only Duncan Aviation can offer in its large, world-class facilities that have a small-town culture of values and personal connection with customers.
"This aircraft was taken apart and rebuilt, and it's remarkable that we had an essentially squawk-free test flight. It was a major project that went incredibly well when so much could have gone awry," says Ernie.