Learjet Finds Potential Cracks In Actuators
February 2010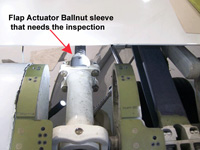 Flap Actuator Ballnut sleeve that needs the inspection
Learjet has recently discovered the potential for cracks developing in the Flap Actuator Ballscrew Sleeve of the Learjet 45 flap actuator and has released alert SB A45-27-40 and SB A45-27-25, requiring these actuators to be Non-Destructive Inspected (NDI). If cracks are found and span more than 75% of the length of the sleeve, the actuator must be replaced. If the crack is less than 75%, it must be modified.
On-going Inspections
Effective January 29, 2010, according to Temporary revision 5-75, this inspection must be performed every three months. Currently, there is no replacement unit to nullify this inspection requirement. This three-month inspection cycle must continue, even after an aircraft has had an actuator replaced or modified.
Your 45-day Window Is Closing Fast
Thirty minutes of inspection labor is covered for 45 concurrent days from January 11, 2010 (February 25, 2010). If the aircraft is still within its new Aircraft Warranty, parts will also be covered during the same 45 concurrent day period. After February 25, 2010, the costs associated with these inspections and actuator replacements will not be covered by Learjet and are the sole responsibility of the owner/operator.