The Advantages and Benefits of a 406 MHz ELT
December 2015
In 2015, it is still legal to fly an aircraft with a 121.5/243 MHz Emergency Locator Transmitter (ELT). While it is legal, it may not be prudent. In 2009, the satellites that monitored the 121.5 MHz frequency were decommissioned. There is currently no satellite based system in place that will automatically trigger a Search and Rescue (SAR) if one of these older type beacons is activated.
Conversely, newer distress beacons such as all 406 MHz beacons are monitored by a global network of Satellites operated by Cospas-Sarsat, offering automatic detection.
121.5 MHz vs. 406 MHz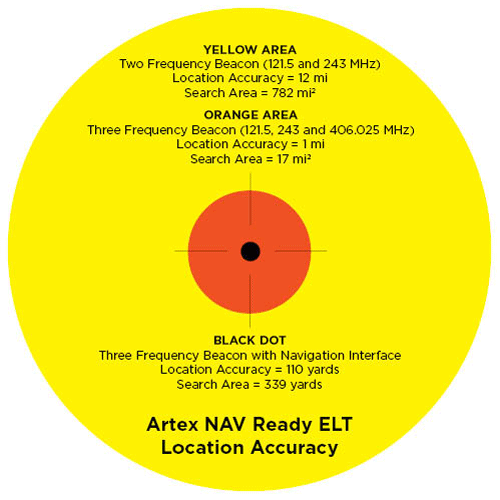 The improvement in speed and accuracy in locating one of the newer 406 MHz ELTs as compared to the older 121.5 MHz are dramatic. Once detected, the older 121.5/243 MHz beacons could only provide positional accuracy of a 12-15 NM radius, leaving SAR crews a 782 square mile area to search. Compare that with a 406 MHz ELT which has a satellite based accuracy of a 1-3 NM radius. This offers a significant improvement over the older ELT technology by giving SAR only a 17 square mile area to search.
Further, the 406MHz ELT utilizes a digital signal allowing additional information to be encoded to the signal, such as a GPS position. The addition of the GPS position data to the ELT from the aircraft GPS antenna improves the accuracy to fewer than 100 yard radius or a 339 square yards of search area. This allows SAR crews to proceed directly to the site of the rescue very quickly, cutting the average rescue time for the newer 406 MHz ELTs to only 4.5 hours average.
Compare that to an average of 40.25 hours for aircraft using the obsolete 121.5/243 MHz ELTs and the advantages of the 406 MHz ELT (with the addition of the NAV Interface) system becomes very clear.
Navigation-Interface vs. Built-In GPS
The 406 MHz ELT does not require a GPS position fix in order to work, but the benefits to adding this feature are enormous. As stated above search and rescue becomes much more precise, and recovery much quicker.
There are two ways that an ELT can add position information.
Navigation-Interface
With a navigation-interface system, the ELT is simply connected to the GPS (via Arinc 429 or possibly RS232 data) that is already part of the aircraft which allows the ELT to continually track and update the aircraft's last know position during flight. It is the simplest and least expensive method of adding position information to the ELT broadcast.
GPS
Some manufacturers produce an ELT with a built-in GPS. However if the GPS is to function during flight it will need both aircraft power and an external antenna to detect the satellites. This makes the installation more difficult and much more costly. It should be noted that while there are ELT manufacturers that offer a built-in GPS solution, unless the ELT has aircraft power and an external GPS antenna, the GPS cannot function during flight and therefore will not be tracking the last known position.
ARTEX ELT
For the quickest, safest and smallest SAR area, we recommend the ARTEX ELT with NAV-Interface. Duncan Aviation is an authorized ARTEX ELT Service Center with the capability of installing and servicing the NAV-interface on ARTEX ELTs. In the very near future, exchange unit ELTs will also be available.
For more technical information about ARTEX ELT systems, repairs and reprogramming please contact Duncan Aviation Customer Account Rep Andy Theis or NAVCOMM Team Leader Rod Walther,
For ARTEX ELT exchanges, please contact Duncan Aviation Rotable Manager Jamie Blackman.