Windshield Sun Protection Can Cause Irreparable Damage
March 2018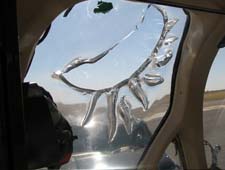 Before you know it, we will be experiencing hot sunny temperatures and again be tempted to apply the stick-on sunshields and fold-out sunscreens to the inside of cockpit windshields and side windows to protect the cockpit interior from heat and UV damage.
The dark tint of the sunshields absorbs the heat and the interior fold-out sunscreens reflect it back into the window when the aircraft is parked in direct sunlight. Both have the potential to damage the acrylic material on the window, causing irreparable and expensive damage that could require window replacement.
To reduce the potential for damage to the front windshield, use only sunshades designed and approved by the OEM for your aircraft.